Forrest Griffin vs. Tito Ortiz III- Why You Shouldn't Get Excited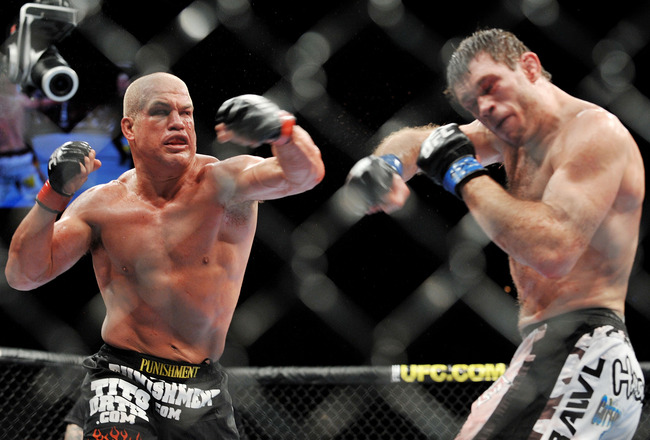 Griffin vs. Ortiz 3 is probably going to be a main or co-main event on a card this Spring. Why? Nobody knows.
Jon Kopaloff/Getty Images
Tito Ortiz and Forrest Griffin. Two men who helped build the UFC into what it is today. Both former light heavyweight champions. Locked in a sure-to-be intense battle that will end with Ortiz walking off into the sunset after an illustrious career. At least, that is what the fight is being billed as. As with any high-profile fight, this one has UFC President Dana White "rounding up" when it comes to the actual impact of this bout.
For a variety of reasons, this fight is, above all, a poor decision by the UFC. Both Griffin and Ortiz are in a position in their careers where this was not a fight that they should have made, and the inevitable efforts to portray this fight as something other than a gimmick fight should not be taken seriously.
Whether or not the fight proves to be a successful main or co-main event financially (the UFC 148 card is not completely arranged yet), it undeniably tangles up two of the division's top draws when the promotion needs them to help sort out the pileup of rising stars in the promotion.
Griffin Is Not a Top 10 Light Heavyweight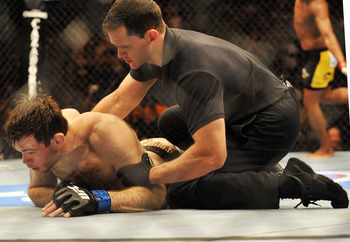 Griffin is just one loss away from fighting on undercards.
Jon Kopaloff/Getty Images
While the official B/R LHW Rankings have Griffin slotted in at the No. 8 spot, a strong case can be made to have "Rampage" Jackson, Alexander Gustafsson, Mo Lawal and Antonio Rogerio Nogueira slotted over him. In fact, Gegard Mousasi, Thiago Silva or even Stephan Bonnar all have resumes that can edge out Griffin on-paper.
Griffin has struggled mightily in recent years. After working his way to the top, he ended up quickly being knocked back down by Rashad Evans, who thoroughly bested him in his one fight as champion. After this came the infamous, embarrassing knockout at the hands of Anderson Silva.
From there, Griffin managed to put together back-to-back wins that were separated by more than a year. Shortly after his loss to Silva, he took the place of an injured Mark Coleman in the main event to UFC 106 to set up for Griffin vs. Ortiz 2, which he won by split decision.
He was then lined up to fight Antonio Rogerio Nogueira. This did not come to be, however with Griffin suffering a shoulder injury that put him out of commission for the entirety of 2010. He returned in February 2011 to a battle with on-again, off-again middleweight Rich Franklin. Griffin, one of the biggest fighters in the division, used his major sized advantage to clinch and grapple Franklin en route to a decision win.
His most recent fight was another harsh knockout loss to Mauricio Rua, the only top-10 opponent he has faced since being bested by Evans. Even if Griffin does make the cut on some rankings, it is undeniable that he is well outside the title picture.
Tito Ortiz Is Not a Top 10 Light Heavyweight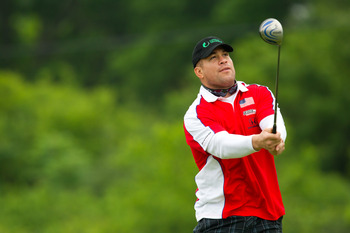 If any other fighter performed the way Tito has the last four years, they would have would been golfing full-time years ago.
Michael Hickey/Getty Images
Ortiz's struggles in the last six years are very well-documented and surround him whenever his number is called to fight. Since his last fight against Ken Shamrock, he is 1-6-1, his one win being a total shocker over Ryan Bader.
Ortiz, since getting bested by Chuck Liddell a second time at UFC 66, has been dangerously close to being released by the UFC on multiple occasions. Part of this is because he has been consistently over-matched. While other fighters from the UFC's "golden age" like Vladimir Matyushenko and Mark Coleman have faced folks like Stephan Bonnar, Igor Pokrajac and Alexandre Ferreira, Ortiz has been matched against guys like Lyoto Machida, Rashad Evans and Matt Hamill.
Whether or not this is Ortiz's fault for refusing lesser competition or UFC matchmaker Joe Silva's for booking Ortiz based on past performance and not recent difficulties is a mystery, but irrelevant. The way the division is shaking out right now, a bout against Forrest Griffin was not the way to go.
This Fight Does Not Help Forrest Griffin's Career

Griffin vs. Bonnar 3 would have been more-exciting and would have had more consequences in the division than Griffin vs. Ortiz 3.

Where ever Forrest Griffin wants to be in his career, or where ever the UFC wants him to be, fighting Tito Ortiz does nothing to help him. Griffin needs to find where he is in the division. It is hard to tell if he is a stepping stone or a legitimate part of the title picture.
There are numerous matches that could have been made toward either of those ends, and having Griffin face Ortiz is a waste for the entire division. A fight like Griffin vs. Phil Davis or Alexander Gustafsson would do wonders in figuring out the order of the pesky third tier of the LHW division. Bonnar vs. Griffin 3 would be a viable main event for a card and would have serious implications in either bringing Bonnar into the upper echelon of the division or cementing Griffin among that lot.
Those hypothetical fights could go in any given direction. What is not hypothetical is the effect Griffin vs. Ortiz 3 will have on his future prospects. If he wins, Griffin gains nothing in terms of reasserting himself as a main event-caliber fighter, and he does not move closer to title contention. Meanwhile, if he loses, it could be the biggest stumble in his career and could move him back to fighting on undercards.
In a lot of ways, it is perplexing why Griffin would take this match, and why the UFC would set it up. He is still a relatively popular fighter, and if he loses (which is always a possibility), he will be in a similar position to Stephan Bonnar in 2009.
This Fight Does Nothing for Ortiz's Legacy

Tito Ortiz's legacy is set in stone, one way or another. This fight will not change that.

Ortiz could win in this fight in absolutely spectacular fashion and it would not matter. Ortiz could knock Griffin out with an Anthony Pettis-style "Showtime Kick" and while it may end up on Sportscenter and go viral on YouTube, in five years it will be nothing but a footnote in Ortiz's fighter profile.
Depending on the fan, Ortiz will be remembered as either one of the most successful champions in UFC history, and one of the best coaches ever seen on The Ultimate Fighter reality show, or he will be remembered as the poster boy for fighters that should have quit while they're ahead. There is no middle ground among aficionados in that discussion.
Ortiz is already owner of one of the most dominant streaks in UFC history from 1999-2002, and one of the worst streaks to ever be tolerated by the UFC brass from 2008-11. Fans will remember him for one or the other.
Ortiz's naysayers will not see an error in their ways if he happens to beat Griffin, and his fans will not be able to claim this as a fairytale ending to his career. If he loses, he is just further weighing down his record and adding another "L" above his heyday.
Neither Fighter Is Especially Popular Anymore

Both Ortiz and Griffin have struggled to put together back-to-back wins after losing the title.

Forrest Griffin beat Stephan Bonnar in the finale to the first ever season of The Ultimate Fighter. This fight is widely regarded as a turning point for the UFC and made the two fighters favorites of Dana White. At this same time, Tito Ortiz was still a top light heavyweight, with memories of his reign as champion still fresh in many minds and pair of decision victories over Patrick Cote and Vitor Belfort showing there was still something in the tank.
That was almost six years ago. When Griffin won TUF, and when Ortiz was still a top light heavyweight, "Candy Shop" by 50 Cent was the top song on the Billboard Hot 100. Bleacher/Report was about three years off from existence. Only about 33 percent of American homes were using broadband internet. Your cellphone probably had an antenna, and no camera.
While both Griffin and Ortiz deserve credit for the roles they played in making the UFC what it is today, with Ortiz becoming one of the early stars after the promotion was acquired by Zuffa, and Griffin for his TUF performance, the memories of that time are not fresh in many minds.
The UFC has grown in the last six years. While Ortiz and Griffin both have their cults, a large portion of the present UFC fanbase jumped aboard after Griffin had saved the company, and never saw Ortiz put together back-to-back wins. While Griffin has his everyman appeal (in spite of his complete lack of technical prowess in his striking or grappling), Ortiz is one of the biggest heels in the promotion.
These are two fighters with falling stock and no end to this fight will change that. The fight itself may or may not be a good one. But good does not mean it will be career-defining and, truly, neither fighter's career will be impacted by this fight.
Keep Reading