Final Four 2012: Key Matchups in Each National Semifinal Game
March 29, 2012

Jim Rogash/Getty Images
The college basketball gods have seen fit to grant us an outstanding Final Four this season.
There isn't much to not like about the two Final Four matchups that will be played this Saturday. One is a matchup between two bitter instate rivals with outstanding programs, and the other is between two outstanding programs that both feature some star players.
At the very least, we can rest easy knowing that neither game is going to be a blowout. No team has gotten to the Final Four by way of an accident, and the teams are too evenly matched.
There are a couple of key matchups that will determine each game. Here's a quick rundown of the most pressing ones you need to know about.
No. 4 Louisville vs. No. 1 Kentucky (Saturday at 6:09 p.m. ET)
Gorgui Dieng vs. Anthony Davis
Anthony Davis is the most dominant big man in the country. He creates matchup nightmares on both ends of the floor, and Kentucky is virtually unbeatable when he's at the top of his game.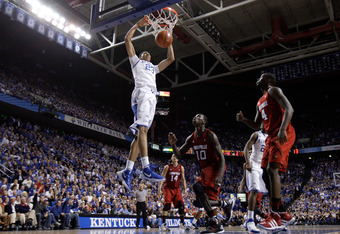 Andy Lyons/Getty Images
But Gorgui Dieng is no slouch.
He's not an elite offensive threat, but Dieng will get his share of points and rebounds in a given game. And much like Davis himself, Dieng's biggest asset is his ability to block shots.
The Wildcats know all about that.
Dieng blocked six shots against Kentucky way back on New Year's Eve. Unfortunately for the Cardinals, Dieng could only manage five points and five rebounds, and he was badly outplayed by Davis. 
All the same, Dieng is a big-bodied player who will make life tough for Davis on the offensive of the floor, where Davis is actually a little underrated. Dieng isn't much of a match for Davis on offense, but he will be able to get Davis in foul trouble if he's aggressive enough.
If Davis has to take an early seat, the playing field in this game will be leveled enough for Louisville to have a fair shot at an upset.
Every basketball game is a battle of wits between coaches, but this NCAA tournament hasn't seen a chess match quite like the one that will take place between Rick Pitino and John Calipari on Saturday.
Calipari is a better recruiter than Pitino, but there should be no doubt that Pitino is a better coach. Based on talent alone, the Cardinals have no business being in the Final Four—they're in the Final Four because of Pitino's coaching.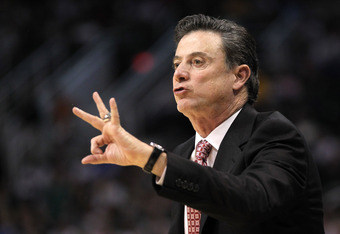 Jamie Squire/Getty Images
Kentucky is way more talented than Louisville, but that will count for nothing unless Calipari can come up with ways to deflect the various curveballs Pitino is going to throw at him.
Pitino is going to have his Cardinals show the Wildcats numerous defensive looks, and that could easily become an issue given the collective youth and general inexperience of Kentucky's players.
Think back to the game on New Year's Eve.
Louisville lost, but made Kentucky play a very sloppy game. Had the game been somewhere other than at Rupp Arena, Kentucky could have lost, and Pitino would have been praised as a genius.
If the Cardinals beat the Wildcats on Saturday, that praise will come.
No. 2 Ohio State vs. No. 2 Kansas (Saturday at 8:49 p.m. ET)
Jared Sullinger vs. Thomas Robinson
This is a matchup that we didn't get to see when these two teams hooked up in early December. Sullinger was battling a back issue at the time, leaving Robinson free to score 21 points and pull down seven rebounds.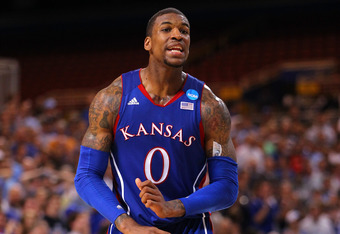 Dilip Vishwanat/Getty Images
Robinson will find the game to be much tougher with Sullinger watching him on Saturday.
Sullinger is a better offensive player than he is a defensive player, but he's not a guy Robinson is going to be able to blow past on his way to the bucket—Sullinger's big body will be in the way.
When Sullinger has the ball, it will be interesting to see how Robinson will play him. He's an above-average defensive player, but he hasn't had to play an opponent like Sullinger, who has more post moves than any forward in college basketball.
It's going to be an outstanding individual matchup, and certainly one of the best we've seen in this tournament. When it comes to college power forwards, Sullinger and Robinson are at the top of the list.
Aaron Craft vs. Tyshawn Taylor
Tyshawn Taylor's specialty is offense, as he averaged 17.3 points and 4.8 assists per game during the regular season.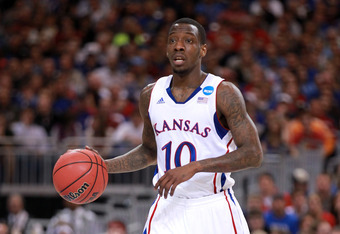 Andy Lyons/Getty Images
Aaron Craft's specialty is defense.
He's one of the peskiest defenders in college basketball, and Craft specializes in picking his man's pockets. Indeed, he picked Taylor's pocket several times back in December.
Taylor is capable of being brilliant on a good day, but his tendencies to disappear on offense and turn the ball over could be killers for Kansas. Craft is just the guy to exploit those tendencies, and he'll give the Buckeyes a very good chance of winning if he shuts down Taylor.
Robinson will not be able to beat Ohio State by himself, especially not matched up against Sullinger.
The danger for Ohio State is of Craft getting in foul trouble, which can happen easily with his style of play. His matchup with Taylor is a classic tightrope matchup that could go either way.