Mel Kiper Jr 2012 NFL Big Board: 3 Places the ESPN Analyst Got Wrong
March 28, 2012

Chris McGrath/Getty Images
On his latest Big Board, Mel Kiper pegged Alabama's Trent Richardson and Mark Barron too high, while Illinois' Whitney Mercilus is completely off the board. He might need to get those glasses checked.
You can check out Mel Kiper's latest Big Board here.
Read on to find out why ESPN's NFL Draft guru has some flaws in his latest rankings.
Kiper's Big Board: No. 4
Trent Richardson, RB, Alabama 
Richardson may be a top rushing talent. He's the most talented college running back I've ever seen in person. He runs downhill with a purpose and never goes down after the first hit. 
Richardson won't be selected at No. 4 because he is not good enough. He will get passed on because of the NFL's evolution into a passing league and the emergence of the RBBC (running-back-by committee).
Running backs are no longer needed to shoulder the entire workload of the running game. Now teams employ two or three backs to adjust to their team's down and distance. Power backs are utilized in shot-yardage situations, while passing downs call for a pass catcher with speed. 
This RBBC's aren't just a fad in the National Football League, they're a full-blown trend. Examine the running backs on the past three Super Bowl winners. All of them were without a top-10 running back from that season and boasted at least two running backs getting double-digit carries.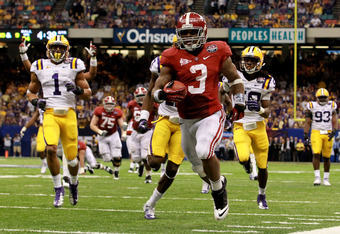 Ronald Martinez/Getty Images
In addition, running back usage is declining in the stat sheet as well. Five years ago, the most carries attempted by a running back were 416. In 2011, Maurice Jones Drew led the league with 343. And the Jags couldn't pass last year.
The NFL Draft's recent high RB selections may have become household names, but the investment in them is not protected. The last two running backs to get drafted in the top 10, Darren McFadden and Adrian Peterson, both suffered season-ending injuries. Drafting a running back in the top 5, or even top ten just isn't worth the risk.
Kiper wasn't wrong about Richardson being an elite talent. He was incorrect, though, if he thinks he'll be a top five selection. A running-back needy team is more likely to take the plunge for the Alabama RB somewhere in the teens.
Kiper's Big Board: No. 7
Mark Barron, S, Alabama
Quarterbacking a star-studded defense at Alabama, Kiper has grouped Barron with his teammates Dre Kirkpatrick and Courtney Upshaw as a bonafide first-round selections. Seems like a realistic possibility.
But ranking Barron as the seventh overall prospect though? Ludicrous.
Barron has yet to work out for NFL scout's due to a double hernia he suffered before the NFL Combine. His injury has been categorized as a 'sports hernia,' which has to be a red flag to NFL talent evaluators, considering Barron tore his pectoral muscle in his sophomore season.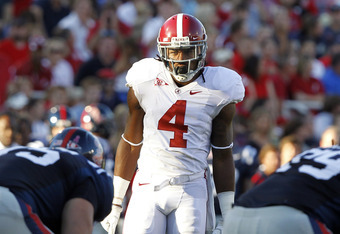 Butch Dill/Getty Images
Kiper must know something that other draft 'experts' don't. B/R's own Matt Miller does not even have the Alabama safety ranked in his top 32 prospects. NFLDraftScout reports that Barron's reputation as a consistent open-field tackler is shortsighted and cites that his man coverage skills need work. That may be a concern for defensive coaches that need defensive backs to counter 5-wide receiver sets.
Barron will be in action at his second pro day Thursday. He'll need a strong showing to cement a first-round grade.
Unlike Mel Kiper, I don't believe Barron has a chance at cracking the top ten, even with a strong workout. There is too much talent, especially at the lineman positions, to spend a first-rounder on a safety that doubles as a medical risk.
Kiper's Big Board: Unranked
Whitney Mercilus, DE, Illinois
Three weeks ago after Mercilus's stellar pro day, Kiper placed him at 18th in his mock draft, citing he may be a steal for the Chargers at that spot. 
Three weeks later, Mercilus is off the board for no apparent reason.
After all, Mercilus' draft stock has only gotten higher since working out for NFL scouts. The Illinois defensive lineman is the tallest 3-4 OLB prospect in the draft pool, standing at 6'6" feet. He burst onto the college football scene in his senior season, leading the nation and the Big Ten in sacks.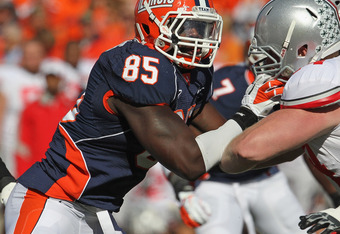 Jonathan Daniel/Getty Images
Mercilus is drawing comparisons to New York Giants stud OLB Jason Pierre-Paul for his incomparable measurables and an huge increase in sacks from his junior to senior seasons. Pierre-Paul had a similar profile and he worked out just fine in New York, becoming a main cog in the Giants Super Bowl run this season.
The worry that Mercilus could be a one-hit wonder is a ridiculous notion. What's the difference between his senior season and when a NFL player performs well in his contract year?
Mercilus knew he needed to rise to the occasion in final year as college eligible. Now he is reaping the dividends of a fantastic senior campaign. There is no argument to dismiss that. 
Mel Kiper better get back to the Big Board. He needs to do some shuffling.