Final Four Schedule 2012: Kansas vs. Ohio State Sure to Be an Instant Classic
March 28, 2012

Jamie Squire/Getty Images
Kansas and Ohio State are ready to combine for a 2012 NCAA Tournament first when they hit the floor during this Saturday's Final Four in New Orleans—the Buckeyes and Jayhawks stand a significant chance of putting up the first buzzer beater since March Madness began during the First Four round.
From OSU's Jared Sullinger vs. Thomas Robinson to OSU's Aaron Craft vs. Tyshawn Taylor and coach Thad Matta vs. Bill Self, Saturday's second game is a marquee matchup pitting No. 2 vs. No. 2 and featuring the Ohio State Buckeyes looking for revenge after the Jayhawks defeated OSU 78-67 at home on Dec. 10, 2011.
If you're looking for excitement, look no further.
Both teams defeated their region's No. 1 seed to get to this point—Ohio State beat Syracuse while Kansas defeated North Carolina—and both the Buckeyes and Jayhawks simply play tough basketball.
Ohio State and Kansas matchup thusly: 
| | | | |
| --- | --- | --- | --- |
|   | Ohio State | Kansas | Advantage |
| Points per Game | 75 | 74 | Ohio State |
| Rebounds per Game | 37 | 38 | Kansas |
| Assists per Game | 15 | 15 | Tie |
| Field Goal Pct  | 48.3  | 47.6  | Ohio State  |
| 3-pt FG Pct | 33.6 | 34.5 | Kansas |
| Turnovers per Game | 12 | 13 | Ohio State |
| Steals per Game | 7 | 7 | Tie |
| Blocks per Game  | 3 | 6  | Kansas |
| Overall Record | 31-7 | 31-6 | Kansas |
Sullinger was not available during the December defeat; had he been, that 78-67 game very well could have gone to overtime—at full strength, the teams are so evenly matched, we might still be playing overtime, even petitioning the NCAA to adopt a sudden death procedure for basketball.
When two teams match-up and neither team is significantly better than the other, we expect to see an offense-defense or size disparity, as is the case in the Louisville vs. Kentucky game.
Instead, the stats confirm the OSU-Kansas deadlock that has fans on both sides absolutely adamant that their respective school will win.
Meanwhile, Las Vegas and its sportsbooks have decided to favor the Buckeyes with a projected final score in the ballpark of 83-80.
No matter how you slice it, this game will be one for the ages with Ohio State and Kansas projected to play to a 2.5-point spread.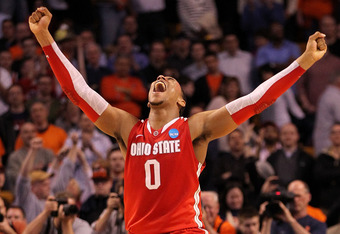 Jim Rogash/Getty Images
According to OddsShark's stats, the Jayhawks are 2-7 SU when playing as underdogs, while the Buckeyes are 0-2 after playing Syracuse.
Then again, Ohio State is 8-2 on Saturdays, though Kansas is 4-1 and 1-1 after playing the Tar Heels. When the Buckeyes beat the Orange, they were 2.5-point spread favorites due in part to Fab Melo's ineligibility for Syracuse, while Kansas also covered as a two-point favorite vs. UNC.
Nonetheless, all the stats in the world can't take away from what promises to be a long-lasting legacy and instant classic of a Final Four showdown. ESPN analysts Andy Katz and Doug Gottlieb project a game that will be decided by a final possession, and I agree.
If nothing else, make sure you tune into this game with no less than two minutes remaining in the second half.
And if you miss it entirely, don't worry.
I have a pretty good feeling this game will be shown on ESPN Classic sometime soon.