CBI 2012: Pittsburgh Panthers Will Take Game 2 from Washington State
March 28, 2012

Washington State escaped a near defeat at the hands of a tenacious Pittsburgh squad in game one of the CBI final, but they will not be so lucky in the second game. 
Basketball is a game of momentum, and there is no bigger sign of that than what transpired in the first of a three-game series. 
Pittsburgh got off to a hot start to open the game and maintained control through the majority of the early going, heading into the half with a 38-35 lead. 
That is when Washington State answered with great shooting, burying Pittsburgh in a 12-point deficit. The Cougars would finish with a 67-66 win and shoot 51.2 percent from the field, but it was the come from behind effort by Pittsburgh that signaled doom on the horizon.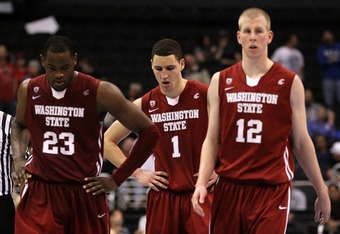 Washington State now heads into Petersen Events Center, where a late falter will not end as kindly for the Pac-12 team. 
Just when it seemed like Pittsburgh would go quietly in game one, they fought back with the fierce tenacity that has come to characterize this team. 
Their efforts may have been squandered, but it serves to show how dangerous this team can be in the span of a few minutes. 
They came within a Tray Woodall layup of pulling off a dramatic win from behind. In the end, the attempt was blocked by D.J. Shelton, and the Panthers were sent packing. 
With Woodall playing the way he is, it's tough to peg Pittsburgh as underdogs coming into a must-win game two on Wednesday night. 
The Pittsburgh guard was hungry in the waning moments and ended with 16 points and seven assists, making him the most dangerous asset headed into a home game. 
The crowd will be on the Panthers side. That will help negate any kind of cold streak, like the one that hit Pittsburgh to start the second half in game one. 
This has all the signs of a series that is going the distance. 
Schedule:
Game 2 - Wednesday, March 28th - 7 p.m. ET- HDNet
Game 3 - Friday, March 30th - 7 p.m. ET- HDNet