Liverpool's 15 Greatest Anfield Victories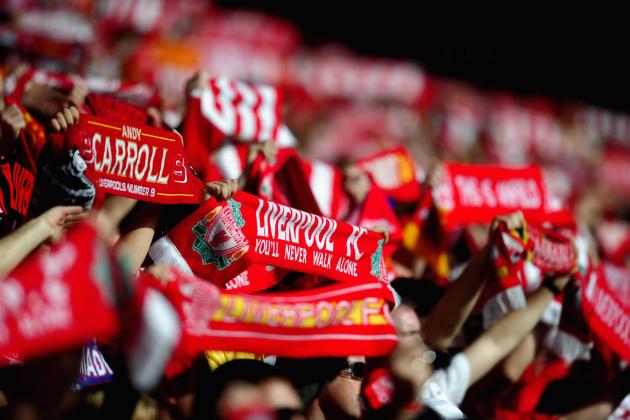 Laurence Griffiths/Getty Images

Liverpool Football Club are in serious need of something...like morale.
Sure, the weekend defeat to Wigan would have drained a good part of it out of the club. Moreover, pundits across the globe haven't been all too helpful.
Kenny Dalglish's crucifixion for his apparent failure in delivering a team capable of winning matches is a point worth noting.
Of course, the team has failed to produce the desired results at home and this has affected the team's overall performance.
And the spotty fan opinion over what exactly constitutes a successful season for the Reds hasn't helped the situation one bit.
It is not clear as yet if the Anfield King will recover from the recent setback and lead the team to victory against Newcastle United this weekend.
But, as supporters, we can do our bit in restoring some part of the lost morale by recounting a few of the greatest Anfield victories.
I have listed a few classics off the top of my mind. Forgive me if there is too much of Premier League history here; the old first division had a minuscule role to play during my childhood.
I don't know if this will help change the fortunes of a team that has misplaced the trick book explaining the knack of winning at home, but let's just hope that it provides some inspiration.
Begin Slideshow

»
Because Liverpool head into this weekend with Newcastle United in mind, let's start off with the same fixture going back 15 years in time.
One year removed from the "match of the decade" (later in the slideshow), Liverpool raced to a 3-0 lead at halftime courtesy of goals from Robbie Fowler, Steve McManaman and Patrik Berger.
Then-Newcastle manager Kenny Dalglish inspired his team to fight back and they did, with three goals inside 17 minutes in the second half. The Magpies' equaliser came with two minutes left to run on the clock.
But God decided otherwise, as Fowler himself scored in injury time to make Liverpool the victors. History repeated itself on that night and the jubilation in the Anfield crowd was deafening.
Now, if only the fans could get a similar spectacle at St. James' Park this Sunday…
As I had mentioned in the intro slide, this match is one of the few classics that I had the good fortunes of witnessing.
It was the final season of First division football before the Premier League ushered in a new era.
Alex Ferguson's Manchester United were battling Leeds United for the league title. It came to a point where Fergie had to win at Liverpool to take the title.
As it turned out, he left red-faced from Merseyside that day, as Ian Rush and Mark Walters spoiled the party for him.
Leeds United went on to snatch the title from under their rivals' noses. But as fate may have it, fortunes turned upside down that very day.
Manchester United went on to win 12 titles in the Premier League era and built a territorial dominance reminiscent of the Liverpool squad of the '70s and '80s.
Few fans would have forgotten this monumental game.
In spite of a weak lineup—unlike the other entrants in this list—Liverpool still managed to come up with a massive result against cross town rivals Everton.
Steven Gerrard was in inspirational form and his second Premier League hat trick handed Liverpool a full points haul.
Some fans do point out to the fact that David Moyes fielded a weaker Everton squad, but Everton didn't lack in spirit on that day and the Reds did well to overcome their blues.
Whatever is said and done, this victory remains one of the two biggest victories in this season for the Reds, the other being the Carling Cup Final success over Cardiff City.
Who can forget the magical moments that Fernando Torres provided for Liverpool fans during his time with the Merseyside club?
It was yet another derby match against our London rivals and Fernando Torres proved why Chelsea was his favourite opponent, as he singlehandedly won the game for the Reds.
Liverpool were going through a torrid time under the Roy Hodgson regime, but Torres lived up to his billing as he scored his seventh and eight goals against Chelsea in only his sixth appearance.
Hmmm… now who said Torres doesn't score goals?
Hat tricks against the Red Devils mean a lot to the Kop faithful.
Players who score a hat trick against Manchester United earn a free pass into the club history books.
Peter Beardsley secured his with a scintillatingly awesome threesome against the then-holders of the FA Cup.
Liverpool were the defending champions at the time—the last time they were league champions—but later went on to lose to Arsenal in the title race following the chaos surrounding Kenny Dalglish's resignation.
This was one of the greatest Liverpool victories of all time. Peter Beardsley's hat trick record stood the test of time for 21 long years, until finally when this man broke it…
This one is my personal favourite from the last season.
Dirk Kuyt scored the first hat trick of his Liverpool career as the Reds comprehensively thrashed their rivals at home.
In doing so, Kuyt also became the first Liverpool player to score a hat trick against Fergie's boys since Peter Beardsley.
While some remember the game for Kuyt's hat trick, others remember it for a tricky Uruguayan who was responsible for it.
Luis Suarez literally owned the Manchester United defence on that day and was just unlucky not to have walked away with a goal to his name. Nevertheless, it was a fantastic match for the spectator.
Although Liverpool have won quite a lot of Champions League fixtures at home, this one takes the pie.
I mean, we all still vividly remember those many encounters with Chelsea and Arsenal, but beating Real Madrid with an abusive score line is really something special.
Real Madrid came crashing to the ground under the lights at Anfield as the deadly combo of Torres-Gerrard ransacked the then-Spanish champions.
Goals from Torres, Stevie G and Andrea Dossena condemned Real Madrid to a gruesome 4-0 defeat and a 5-0 aggregate loss.
Fernando Torres was literally untouchable on that night and only a one-man show from Iker Casillas saved them from further humiliation.
It is worth noting that it was the last time that Liverpool progressed into the knockout stages of a Champions League campaign.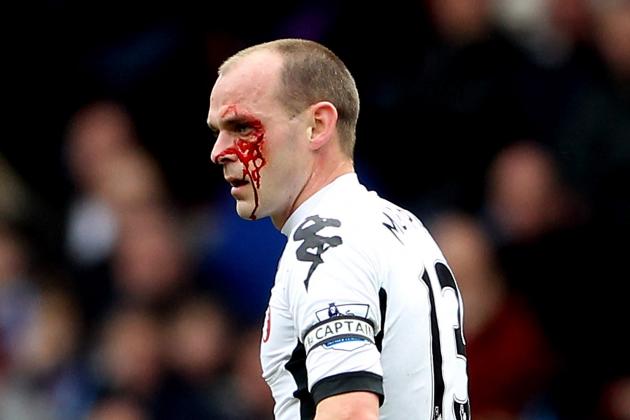 Scott Heavey/Getty Images

This match may not be in the list of many folks, but what a scintillating game of football did the Kop witness that day!
It was a barnstorming encounter where the Rovers managed to equalise every time that the Reds took the lead. However, the Rovers just ran out of time for a fourth as Liverpool hung onto their slender lead in the closing minutes of the game.
Old boy Danny Murphy—in his 150th appearance for the Reds—opened the scoring with a deflected shot, but Rovers hit back through Damien Duff.
Nicolas Anelka, Andy Cole, Sami Hyypia and Mark Jansen recorded their names on the score sheet. Emile Heskey then scored a late winner for Liverpool with only a few minutes to go on the clock to cap off a brilliant game with excellent to-and-fro action.
Peter Crouch. Peter Crouch. Peter Crouch.
It was three times fun for Crouchy on that day, as he scored a classic hat trick in Liverpool colours.
Crouch opened the account with a deft right-foot finish and then followed it up with a brilliant header towering over Arsenal defenders.
Daniel Agger then made it three for Liverpool before William Gallas pulled one back for the North Londoners.
Crouch then converted a left-footed shot following some brilliant footwork tricking the Arsenal defenders to commit folly and slotted home nicely to a fantastic reception from the Kop.
Watching the video over and over again, I pushed myself into doubting whether Kenny made a folly when he chose Andy Carroll over Peter Crouch. I mean, if he felt it right to bring back Bellamy, then why not Crouch?
After all, he does score some spectacular goals. Ask Joe Hart, if you know what I mean…
Liverpool were fresh off their Cup treble-winning season and had gotten off to an impressive start to the new season.
Cue Manchester United, as the defending champions arrived at the Red half of Merseyside looking to gain advantage at the top of the table.
Liverpool, however, had other plans, as a brace from Michael Owen and an absolute rocket of a free kick from John Arne Riise tilted the points in the Reds' favour.
For the Red Devils, Captain David Beckham pulled one back midway through, but it wasn't enough, as the Reds saw off the threat comfortably.
It was one of Wes Brown's nightmare games in defence for Manchester United, but one of the best games for Sami Hyypia in Liverpool's defence.
As it stands, this was the only Premier League season when Liverpool managed to finish above Manchester United in the standings. Arsenal won the league as Liverpool finished in second, just above Man United.
This was another one of those remarkable games played out at Anfield.
Moreover, this game also had its "I was there when it happened" moment, as Robbie Fowler, after equalising from the penalty spot, burst into his now-infamous cocaine snorting celebration.
Tensions were flying high during the match, but Everton silenced the Kop when they took the lead within a minute after the game had kicked off.
Fowler, following his equaliser, scored again with a header and Patrik Berger finished the game off with a screamer from range.
Liverpool then conceded again in the closing stages of the game. The Reds looked to have stepped off the gas and Everton nearly made the Reds pay for their mistake but for Steven Gerrard.
As a budding 18-year-old making his grades at the club, Steven Gerrard produced a moment of brilliance when he blocked a goal-bound shot as keeper David James watched helplessly following a massive mix-up in the penalty area.
The goal was empty, James was a few yards out and there was no defender near the Everton striker when he unleashed that shot on goal, but then Gerrard popped out of nowhere to deny them a share of spoils.
It was the God's game and He was in full form that afternoon.
In fact, Fowler was in such a hurry to finish the game that he did it in less than five minutes.
Robbie Fowler's triple strike scored in four minutes and 43 seconds still holds the record for the fastest Premier League hat trick.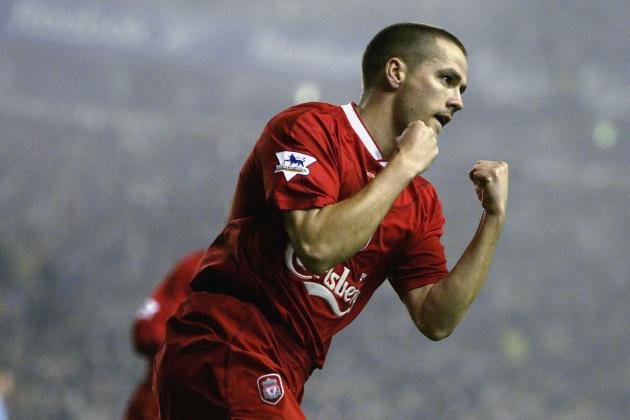 Alex Livesey/Getty Images

Newcastle United and Liverpool are fantastic competitors on the field.
So much so that some of the best matches of the '90s had to have one of these teams. Here we have yet another classic encounter between the two sides.
Newcastle United stormed to a two-goal lead in the first half despite being a man down. Didi Hamann—in his first season in English football—was the man sent off.
Liverpool took advantage of the German's absence in the midfield and hit hard through four second-half goals—two from Michael Owen and two from Karl-Heinz Riedle.
One of the most entertaining matches in Premier League history and a comeback never tasted better.
What a goal it was from Neil Mellor!
In the dying seconds of injury time, Mellor comes up with the dad of all strikes from range that spun better than a Shane Warne delivery and settled into the net outside the reach of Jens Lehmann.
Arsenal were the Invincibles, but Xabi Alonso and Mellor ensured Liverpool triumphed despite a Patrick Vieira equaliser that threatened to end the match in a draw.
This game was as much an unforgettable moment for me and several million fans around the world as it was for Mellor.
But it just falls short of this one…
The greatest Premier League match ever—period.
Voted by the public and a panel of football experts as the "Match of the Decade" during the 10 Season Awards held in 2003 and listed as the No. 1 live broadcast match in Sky Sports' 20th anniversary list, this match is just great.
And I'm one of the lucky guys to have witnessed the greatest sporting moment in Premier League history.
Martin Tyler's description—"Collymore closing in"—was followed by a thunderous left-foot strike that tore the net and 35,000-plus Liverpool supporters erupted in joy. That really was my all-time sporting moment until Istanbul came along.
Kevin Keegan hanging his head over the advertising board was an epic shot and it told the entire story.
Newcastle had surrendered a 12-point lead and gave the Premiership title away to Alex Ferguson's Manchester United following this fixture.
Laurence Griffiths/Getty Images

Liverpool certainly need to get back to winning ways for Kenny Dalglish to prove to the supporters that they have made some progress with respect to their league form.
But if the Reds continue to be inconsistent going into the next season, calls for Dalglish's head will intensify. That is a situation that the Liverpool hierarchy wouldn't want to be in.
Thanks for reading. I'd also like to apologise beforehand for any omissions.