Seattle Mariners Need 5 Players to Step Up to Be Contenders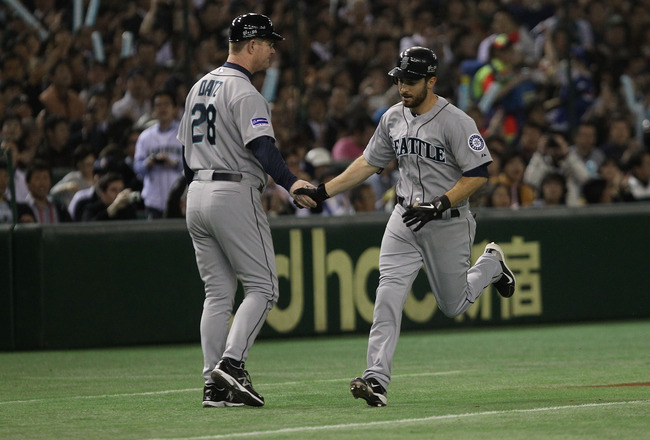 Chris McGrath/Getty Images
No matter what team or what year, every campaign begins with a certain amount of optimism in the unknown, and the belief that it just might be their year.
Things certainly felt that way for Mariners fans exchanging a bit of sleep for loyal fandom Wednesday morning. An offense that had 2011 hero Mike Carp hitting all the way in the six hole felt like it could be formidable, even if the middle of the lineup was rusty. Felix Hernandez looked like he could win another Cy Young Award.
The matter of the fact was that it was just another M's type of win, a 3-1, extra-frames affair. But still, the Mariners sit atop major league baseball with a 1-0 record, and for a couple days, anything is possible.
I think it's too early to dismiss the M's as 'still rebuilding' right now. Granted, it's a long shot, but when you've got upside in the lineup and solid pitching all-around—well, crazier things have happened.
If the M's want to win, they'll need to count on some key performances from these players.
Chone Figgins, 3B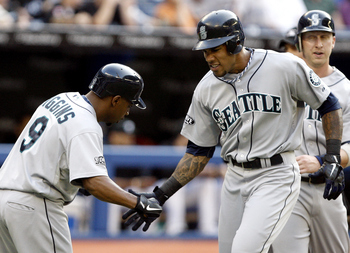 Abelimages/Getty Images
First and foremost, I'd like to give a quick moment of silence for the late Greg Halman, whose bright attitude and potential won't be gracing the Mariners clubhouse again.
It's difficult to make judgements on just one game, and we'll need to see a lot more, but Figgins 2012 has only looked marginally better than Figgins 2011. Going 1-for-4 as the leadoff hitter, he might have held up the offense, as Dustin Ackley and Ichiro Suzuki both collected multiple hits after him.
It's hard to say at this point. I'll take a .250 batting average to start, but the M's will have painful decisions to make if Figgins pulls another, well, Figgins. Do they move Ichiro back to the top?
This offense will probably be built around stringing a couple of singles and doubles together, and it starts at the top of the order with a performing Figgins.
Justin Smoak, 1B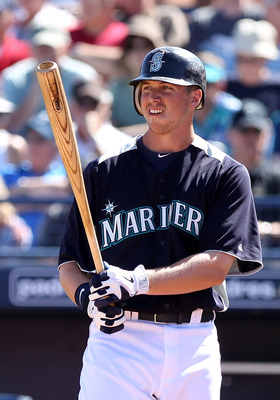 Christian Petersen/Getty Images
Smoak was a disappointment on Opening Day after many hoped that his health issues were behind him. They were, but his batting left much to be desired as the first baseman went 0-for-5 on Opening Day.
It's bad news for the M's if Smoak doesn't find his groove. The Mariners need his power, especially since he bats cleanup. If the team wants to compete now and/or in the future, they'll need an offensive first baseman like virtually every contender in baseball.
The bottom line is that Smoak needs to be a big cog in the offense, and if by the end of this season he can't perform at a .250 BA, 20+ HR level, the front office may need to begin to reconsider his role.
Jason Vargas, SP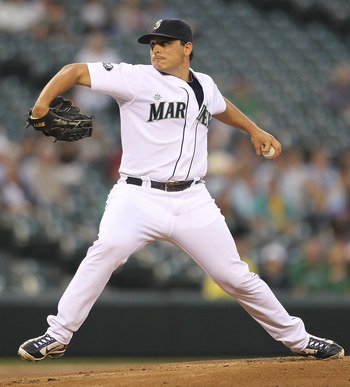 Otto Greule Jr/Getty Images
As the No. 2 starter in the rotation this year, Vargas carries a large burden on his shoulders.
It's a burden that's bigger than we'd like to admit.
When you consider that the rest of the rotation can't exactly be counted on yet, his role in the success of the M's will be monumental this year. The Mariners will be a more powerful team if they can trot out back-to-back top pitchers rather than rely on "Happy Felix Day."
If Vargas can achieve a sub-4.00 ERA this season, he'll be keeping the M's in games for long enough. If he's inconsistent and erratic in his performances, the M's can say goodbye to any hope of making noise.
Dustin Ackley, 2B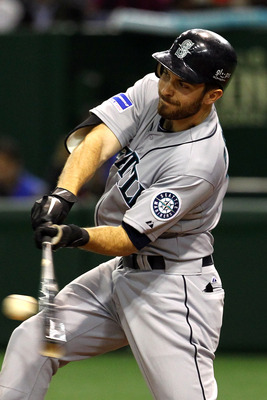 Koji Watanabe/Getty Images
Fun Factoid: Dustin Ackley is on pace for 162 home runs!
All kidding aside, Ackley is ready to become one of the faces of the franchise for the Mariners. He's got the veteran suave about him and he brings an impact bat to the team.
The Mariners will need Ackley to step up even more this year and become one of those faces if they want to become a perennial playoff team in the future. They'll need for him to become a Chase Utley type (minus the injuries) that hits for power and average.
Mike Carp, LF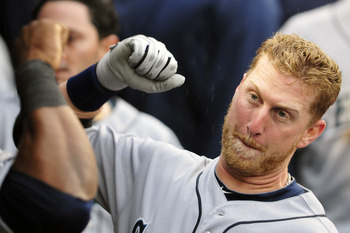 Jason Miller/Getty Images
I was looking through the Mariners lineup this morning and thought to myself, "The middle of the order is pretty damn strong."
Then, I remembered that Mike Carp is still in prove-it mode, for the most part. He looked mediocre in the outfield, and wasn't swinging at the best pitches at the plate.
Of course, the M's would like nothing more than for him to be a fixture in left field, and if they are to contend now or in the future, Carp would have to be an important part of their success.
If Carp continues to hit for power as he did last year, and rounds out his game so he can thrive in left field, the Mariners can be a dangerous team. If all goes as planned, opposing pitchers would be faced with studs at the top of the lineup and formidable young hitters like Smoak, Montero, and Carp would continue doing damage.
Keep Reading

Seattle Mariners: Like this team?