CBI 2012: Why the NCAA Would Be Wise to Look at CBI's Championship Series Format
March 28, 2012

Joe Robbins/Getty Images
The NCAA tournament's 68-team format is flawed and college's forgettable postseason tournament of inconspicuous repute has the answer.
For those wondering what "CBI" might stand for, follow along—NCAA tournament, NIT, CBI. Get it?
The College Basketball Invitational presented by Zebra Pen—the tournament's official title that also explains why we'll call it "CBI" from now on—might conclude Wednesday evening when the Washington State Cougars take on the Pittsburgh Panthers.
Then again, it might not.
That's because the CBI is college basketball's only postseason event that plays a best-of-three series in its final round—Washington State won Game 1, 67-66, meaning a Game 2 win equals a CBI trophy; a Game 2 loss means a third game for all the marbles. If necessary, Game 3 will take place on Friday, March 30.
Since its debut in 2008, the CBI has made champions out of third-rate basketball programs Tulsa, Oregon State, Virginia Commonwealth (VCU) and Oregon with each team winning a best-of-three championship series to claim their title.
When it comes to crowning a champion, the CBI knocks the NCAA out of the water—to clarify, the CBI's championship series is a best-of-three while the remainder of the CBI Tournament is the standard best-of-one, just like the NCAA and NIT Tournaments.
Famous leagues and events that use a series to decide champions include MLB, the NBA, NHL, NCAA baseball, PGA and NASCAR's Sprint Cup.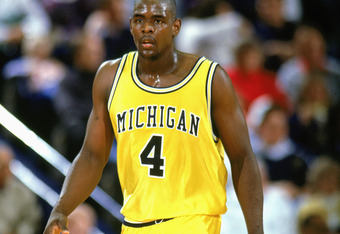 Duane Burleson/Getty Images
Famous leagues and events that use a single game to decide champions include the NFL, UFC and boxing and many NCAA and high school leagues.
The MLB, NBA and NHL series are all best-of-seven and are successful in generating high ratings, though the NFL's Super Bowl is constantly television's highest rated program year after year.
When it comes to the athletic side of things, however, professional basketball and the CBI get it right by playing a best-of series.
With a one-game final, the effect of any one play, any one injury or any one gaffe is huge—if Chris Webber doesn't call that timeout in 1993, Michigan has a chance to set up a game-winner and walk away with the national championship, though if the referee calls Webber's earlier traveling violation, North Carolina gets the ball back without the two free throws—so many possibilities, it's a shame that year's championship couldn't have been decided over the course of two or three games.
MLB got it right—Just last year, with the World Series in the Rangers' favor 3-2, the Cardinals completed a huge Game 6 comeback to tie the series at three games apiece, sending it to a decisive Game 7 the next night. When the 2002 Anaheim Angels were down 5-0 to the Giants in Game 6 of a series the Giants were poised to win, their own Game 6 comeback tied the series at three to set up a winner-take-all Game 7.
The NBA got it right—In 1992, the Chicago Bulls won Game 6 to capture the series' momentum and set-up a Game 7 clincher. If a team is powerful enough to win a National Championship, they will be able to do it over the course of multiple games—if the 1992 NBA Finals started and ended earlier in that championship round, there would be chance of a comeback, no possibility of multi-day heroics and no sense of impending doom (for Portland) or anticipation (for Chicago).
In the meantime, a clearly dominant team that sweeps Games 1-4 (MLB, NBA, NHL) or Games 1-2 (CBI) will walk away with the title regardless; the excitement of the series comeback is a huge element in sports that the NCAA tournament is sorely lacking.
Though we have not yet seen any this year, the NCAA Tournament has set up some wild buzzer-beaters to win games, but who wants to lose the championship on one buzzer-beater, one potential mistake (Webber) or even a referee's blown call?
What if a Jim Joyce-esque missed call decides a national championship—one close play alone should not be the end-all in a game of such magnitude. The solution is to switch to a series wherein a team can avenge their misfortune during a subsequent game.
Changing the NCAA tournament's championship game format from a single game to a best-of-three series would allow for the creation of storylines between Games 1, 2 and 3, give teams a chance to correct mistakes and adjust their strategies after Game 1 and extend the excitement of March Madness.
It would generate more excitement, buzz and—for financial minds out there—revenue in the college game.
Let's go to a National Championship series. It truly is a better system.
Gil Imber is Bleacher Report's Rules Featured Columnist and owner of Close Call Sports, a website dedicated to the objective and fair analysis of close or controversial calls in sports.