Final Four 2012 Predictions: Stars Who Will Struggle in New Orleans
March 28, 2012

Andy Lyons/Getty Images
Every basketball star has a bad day.
In the Final Four on Saturday, three basketball stars in particular will have bad days.
Whether it be the defensive pressure they have to face or the offensive powers they have to try to stop, it will all come crashing down upon their heads in New Orleans.
Here's a look at three players who have meant a lot to their respective teams in the NCAA tournament, and how their days will turn ugly.
3. Marquis Teague, PG, Kentucky
I'm not as concerned about Marquis Teague as some of the other guys, but I do think he will struggle against the Louisville Cardinals.
Teague, while extremely talented, is still a freshman, mind you. He still has room to develop, evidenced by his 41 percent shooting and 2.8 turnovers per game this season. In 30 minutes against Baylor in the Elite Eight, he had just three assists, while committing four turnovers.
Louisville's defense has been known to cause nightmares for opposing offenses. The Cardinals shut down everyone in their path en route to their Elite Eight matchup with Florida. When Florida shot a high percentage in the first half, Louisville switched from zone to man coverage and changed the outcome of the game.
Teague will be matched up with junior Peyton Siva in the Final Four. Siva, the leader of the Cardinals, has averaged 1.7 steals this season while constantly creating pressure. I think he will disrupt Teague's game on Saturday.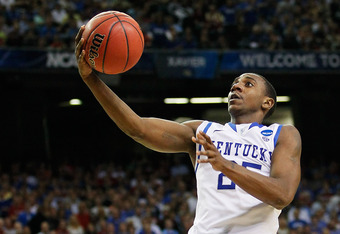 Kevin C. Cox/Getty Images
2. Gorgui Dieng, C, Louisville
Gorgui Dieng isn't a college basketball star per se, but he is a star for the Cardinals.
Dieng has averaged 9.0 rebounds and, more importantly, 3.2 blocks this season. He's been the Cardinals' enforcer in the paint and he's a big reason they knocked off Draymond Green and the Spartans.
But, let's be honest, not even Dieng can contain Kentucky's freshman sensation Anthony Davis. Davis, the probable No. 1 overall pick in the 2012 NBA draft, can score, rebound, block shots and run the floor like a guard. Beyond that, he's a highly explosive athlete.
Dieng has had a tremendous season for the Cardinals, but Anthony Davis is a force he's never faced before.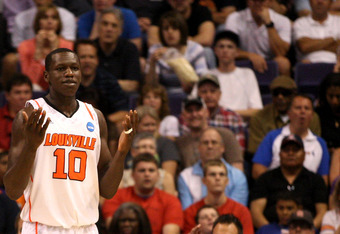 Christian Petersen/Getty Images
1. Tyshawn Taylor, PG, Kansas
After a miserable start to the NCAA tournament, Tyshawn Taylor stepped up big for Kansas against North Carolina in the Elite Eight.
Taylor racked up 22 points, six rebounds, five assists and five steals in the Jayhawks' 80-67 stunner.
But I still worry about Taylor's propensity to unravel at times. We saw it against Missouri on Feb. 4 when he had six turnovers and we saw it for much of the NCAA tournament.
The worst part for Taylor is, he's matched up against one of the peskiest defenders in college basketball when he faces Ohio State in the Final Four.
Taylor will be matched up against Aaron Craft, whose last name does him justice. To say Craft is crafty would be an understatement. He's averaged 2.5 steals this season and has 13 steals in four NCAA tournament games. He's also always fighting for loose balls and applying constant pressure on the ball.
Craft is the last player the inconsistent Taylor wants to face.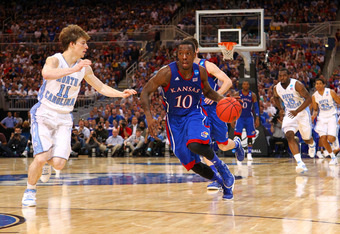 Dilip Vishwanat/Getty Images
Follow me on Twitter. We can talk about the Final Four together.