WWE WrestleMania 28: 5 Twists and Turns the Divas Tag Match Could Take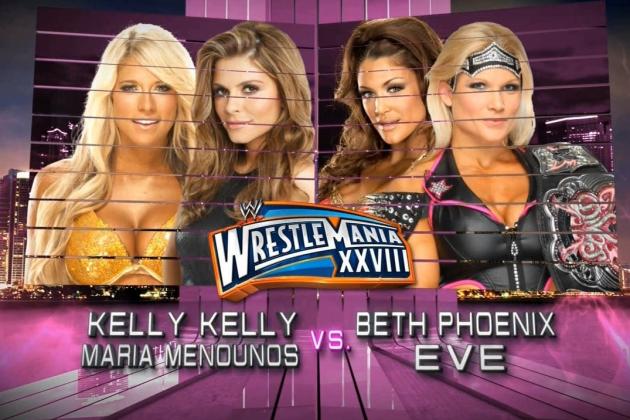 theoclardy.wordpress.com
The Divas match at WrestleMania this year is hardly what we expected -- or at least hoped -- it would be.
With Kharma's status up in the air after the tragedy of her baby's death, Natalya dropping stink bombs everywhere and the Divas Champion virtually absent from television, the division isn't in the best shape right now.
Even so, I think it's safe to say none of us saw Maria Menounos coming.
The NBC Extra host isn't a complete stranger to the WWE. She's a huge fan, and WrestleMania 28 will actually be her third time stepping inside the squared circle. In October 2009 she took part in a six-Diva tag match on RAW, in which she slapped Beth Phoenix. At last year's Tribute to the Troops she squared off against Phoenix again in an eight-Diva tag match.
Menounos was victorious in both bouts. That doesn't bode well for our Divas champ on Sunday.
Then again, Menounos does have two broken ribs. That certainly changes things, and it could lead to some surprises in Miami.
Here are five twists and turns the Divas tag match could take at WrestleMania 28.
Begin Slideshow

»
This thing between Zack Ryder and Eve just refuses to die.
Perhaps Zack will come out to ringside just to show his support for Eve while the entire SunLife Stadium chants "hoeski" at the top of their lungs. He'll cause enough of a distraction to throw Eve off her game, thus causing Kelly Kelly and Menounos to pick up the "W" and souring their relationship even further.
Considering Ryder's involvement in the 12-man tag match, this doesn't seem too terribly likely to happen. But with the WWE, you can never really tell.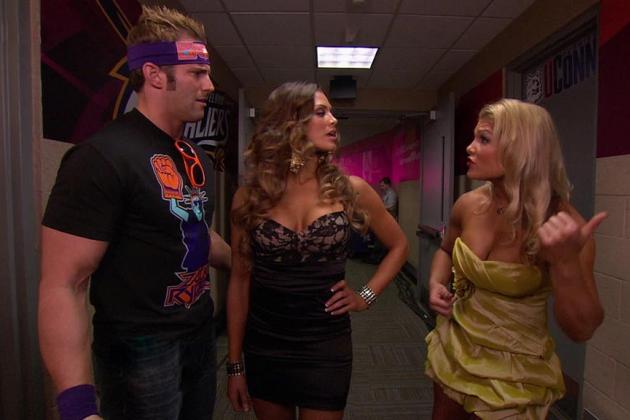 WWE.com
This wouldn't be all that surprising as it's one of the oldest tricks in the book: the two heels can't work together and end up blowing the match. Even so, it doesn't mean that it couldn't create something interesting moving forward.
Beth is upset because she doesn't believe she's been getting her fair share of attention as Divas Champion. Quite frankly, she's right. Why is she being left off TV while a "hoeski" like Eve is hogging the spotlight?
That's more than enough motivation for her to rip Eve's extensions out of her head and walk out, thus leaving her privy to Kelly Kelly's Roll Up of Doom and embarrassing her on the grandest stage of them all. From there, Beth could continue on her mission to be the lone Diva at the top of the food chain.
At least then it wouldn't be a completely fair win for K2 and Menounos.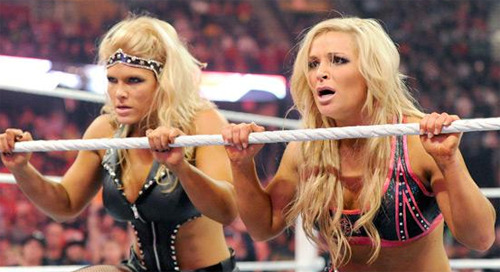 BleacherReport.com
Natalya certainly has reason to stick her nose in this match.
First of all, apparently her unfortunate flatulence gimmick has turned her face.
Second of all, for the longest time the BFF Divas of Doom reigned -- or at least they tried to -- over the Divas division, and now Beth has apparently tossed Natalya out for that hoeski Eve.
Furthermore, Natalya and Beth faced each other in a tag match on the most recent episode of Superstars.
If trashy reality TV has taught us anything, it's that there's little more volatile than a fight between ex-BFFs. Besides, Natalya vs. Beth is something the WWE Universe has been waiting on for a while now.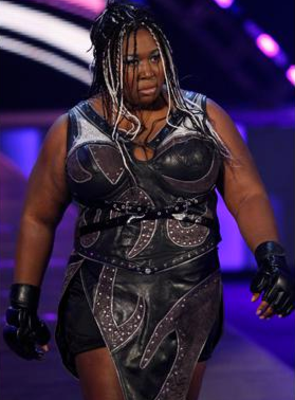 WWE.com
As I mentioned in the opening slide, Kharma's status with the WWE is kind of up in the air right now.
However, that being said, this is WrestleMania we're talking about. If execs called on her to make an appearance I doubt she would turn it down; and considering Menounos's condition, I would think the Creative Team would want someone like Kharma to interfere.
Unfortunately, I do have a feeling that Menounos and Kelly Kelly are going over on Sunday, broken ribs and all. If the WWE doesn't want their win to look absolutely ridiculous, though, they'll have someone like Kharma come in and clean house so that the clearly disadvantaged faces can pick up a believable victory.
That way the celebrity involvement won't go to waste, and we'll be treated to something much more interesting than we expect.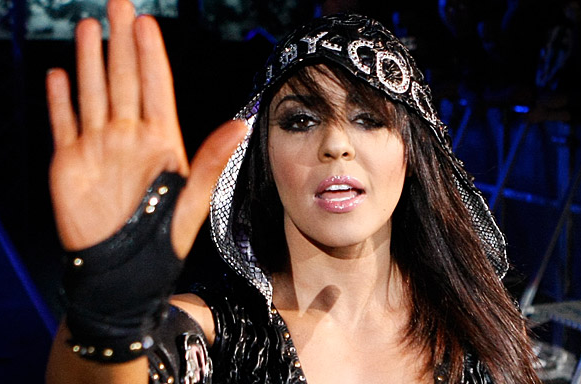 wzronline.com
Isn't it about time Layla returned, already?
She's been absent from WWE television for nearly a year now after requiring surgery on a torn ACL and MCL, however all signs indicate that she's ready to go -- she returned to in-ring action at FCW earlier this month.
Again, she would interfere for the same reasons as Kharma: so that Kelly Kelly and Menounos wouldn't gain such a ridiculous victory over Beth and Eve. She may not be as big a force as Kharma, but she couldn't certainly take out Eve and essentially make it a two-on-one match, even if Menounos is handicapped. She's proven to be one tough cookie.
And once more, it's WrestleMania. I would be surprised if there wasn't a big return from someone, and Layla seems like the perfect candidate.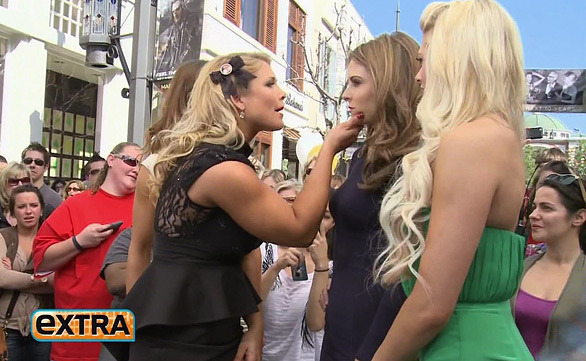 diva-dirt.com
No, this match definitely isn't what the WWE Universe wanted or expected; but it doesn't have to be a total bust.
If the WWE throws one of these wrinkles into the mix, it would certainly make this match much better than what a lot of people are assuming it will be.
Katie Gregerson is a pro wrestling trainee turned pro wrestling journalist and blogger. You can read her posts for theScore's Aftermath blog, subscribe to her blog Ring the Bell!, and follow her on Twitter @katiegregerson