PGA Tour Fantasy Golf: The Shell Houston Open Preview
March 28, 2012

Sam Greenwood/Getty Images
Tiger Woods was back in the winner's circle last week. So much for the world going crazy in 2012, right? A Tiger victory makes it seem like things are just getting back to normal.
For Tiger Woods, he's not in Kansas any more. When he "departed" for a couple of seasons, he left as the undisputed "Best Golfer in the World". Now even as Tiger returns to form, he's going to be neck-and-neck with some fine golfers who thrived in the power vacuum left by Tiger's "departure".
So where does that leave Phil Mickelson? He started out the year terribly, only to rebound with a victory. Then he struggled some more. This week Mickelson is out to defend his title from last year's Shell Houston Open. Watching Tiger hoist a trophy last week can only provide more fuel to Mickelson as he attempts to follow Tiger back to the top of the world golf rankings.
The Shell Houston Open will be played on the Redstone GC Tournament Course in Humble, Texas. As noted, Phil Mickelson is the defending champion and the winner will take home $1,062,000.
At Redstone, the premium will be on putting and the short-game in general. GIR (Greens in Regulation Percentage) will be a nice secondary asset, but work on and around the green will be  most important this weekend. Having experience here will also be a big plus.
Yahoo! Weekly Lineup Game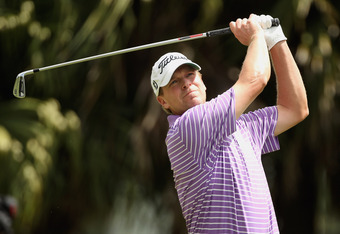 Scott Halleran/Getty Images
Group A
Steve Stricker (Starting)—Stricker only has four starts in 2012, but he's been excellent when he's played. He's a safer or at least more consistent option than Mickelson at the moment here. Stricker finished T4 (tied for fourth) here last season. He also ranks 5th on the PGA Tour in GIR this season.
Keegan Bradley (Bench)—Bradley has been nothing short of phenomenal so far in 2012, as he's finished no worse than T22 over eight events. He has experience here, finishing at two-under par last season. More importantly, Bradley is near the top of the PGA Tour rankings in GIR (20th), Strokes Gained-Putting (22nd) and Scoring Average (7th).
Also worth using: Phil Mickelson and J.B. Holmes

Group B

Lee Westwood (Starting)—Westwood is technically the favorite to win this event. He plays a limited PGA Tour schedule and he's been impressive in his three appearances so far in 2012. He finished T8 here in 2010 and T11 in 2009.
Bryce Molder (Starting)—In seven PGA Tour starts this season, Molder has finished in the top-20 in five of them. He is an excellent putter, ranking 15th on the PGA Tour in Strokes Gained-Putting. He also ranks 8th in GIR. Molder has also had success here, finishing T8 back in 2010.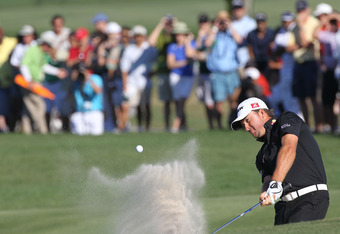 Sam Greenwood/Getty Images
Ernie Els (Bench)—You don't even realize how quietly excellent Ernie Els has been recently, do you? Here are his last five finishes: T17, T21, T5, T4 and T4. Not too shabby, right? Els has had success here, finishing T14 back in 2009.
Hunter Mahan (Bench)—Despite a disappointing finish last week (T42) Hunter Mahan still remains well worth using as a bench player here. He finished T8 here last season and T6 in 2009. His game is built around accuracy which should provide him with ample scoring opportunities.
Also worth using: Chris Stroud and Rickie Fowler 
Group C
Graeme McDowell (Starting)—McDowell has been nothing short of fantastic this season. His last four finishes: T9, T13, T1 and 2nd. He ranks 17th on the PGA Tour in GIR and 30th in Strokes Gained-Putting.
Charl Schwartzel (Bench)—Despite disappointing at the Transitions Championship (+7, MC), Schwartzel has otherwise been phenomenal with a T17, a T5 and a T4 as his other three finishes this season. He finished T30 here last season and T3 back in 2010.
Also worth using: Johnson Wagner, Fred Couples, Henrik Stenson and Padraig Harrington
Who to choose in your Weekly Survivor/Eliminator/Earnings League?
I like almost all of my starting options from the Yahoo! game here. I'm going to avoid Mickelson this week; he's so inconsistent you might as well save him for a large purse.
Steve Stricker, Keegan Bradley, Lee Westwood, Bryce Molder, Chris Stroud, J.B. Holmes, Graeme McDowell, Charl Schwartzel and Johnson Wagner are all worth using. I've already used Molder and Schwartzel, so they're out of consideration for my purposes.
I'm likely to use Stricker or Westwood at an event with a larger purse, so I will pass on using them here.
That leaves Keegan Bradley, Chris Stroud, J.B. Holmes, Graeme McDowell and Johnson Wagner as my remaining options.
I don't know that Holmes can win this event, so I'm throwing him out.
With as well as Keegan Bradley has played this year, I'm going to save him for a larger payday.
Johnson Wagner is tempting, but I don't like him here despite his excellent putting so far this season.
That leaves me with Chris Stroud and Graeme McDowell. Stroud has played well this season in spots, but he's also missed three cuts. For that reason, I'm going to go with Graeme McDowell this week.
For the record, I've already used: Bryce Molder, Steve Marino, Bill Haas, D.A. Points, Martin Laird, Hunter Mahan, K.J. Choi, Rory McIlroy, Jarrod Lyle and Lee Westwood, Henrik Stenson, Charl Schwartzel, John Senden and Bubba Watson.
Picks for The Golf Channel Fantasy Challenge
GROUP 1: Steve Stricker

GROUP 2: Chris Stroud

GROUP 3:  Henrik Stenson
GROUP 4: Fred Couples

For more Fantasy Golf game options check out  Kerplookee and Fantazzle.
Good luck to all this week. If you have any comments or questions,  please use the comments feature or reach out to me on Twitter.
Follow me on Twitter
Check out my other work on Bleacher Report
Just starting fantasy golf? Check out my Season Primer from Week 1