Top 10 Goalkeepers I'd Want on My Side for a Cup Final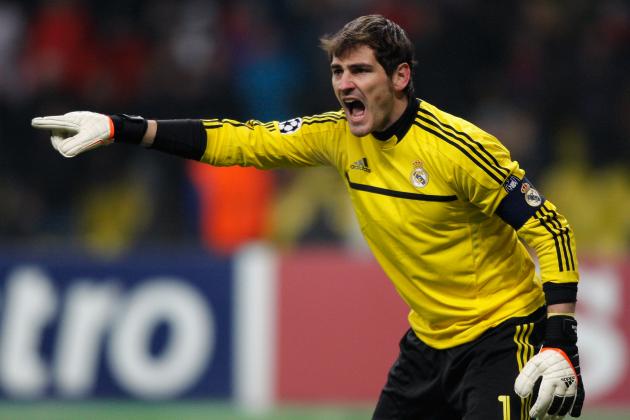 Harry Engels/Getty Images

Numerous factors make up an ideal goalkeeper, so many that it has become debatable that goalkeepers can even be compared with one another.
Sure there's clean sheets, goals against per game, and saves made per game, but all those numbers depend in varying degrees on the quality of defense playing in front of a goalkeeper.
Often we'll quickly call the goalkeepers playing at the top clubs in world "the best," like Iker Casillas, Manuel Neuer and Joe Hart, but are they best because they genuinely are, or because they suit up for the best teams in the world?
One of the ways we can most directly determine the quality of a goalkeeper is by looking at how they perform in the clutch. How successful are they without their defense, when they're forced to try and save a penalty in the game or in a penalty shoot-out?
Less directly, how do these goalkeepers perform at the end of games? Are they prone to conceding sloppy end-of-game goals, or do they rise to the occasion when put under pressure by the opposition?
Here are the 10 goalkeepers who have most proven their reliability in goal when asked to stay strong and protect their goal in the clutch.
Begin Slideshow

»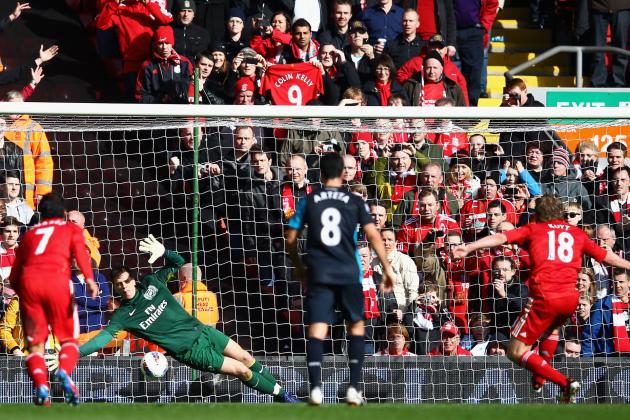 Clive Mason/Getty Images

At only 21 years old, Wojciech Szczesny is by far the youngest goalkeeper on this list.
But in light of his recent heroics against Liverpool, I thought it would be crazy to leave him off this list.
His double save on Dirk Kuyt at Anfield was crucial in helping Arsenal build the momentum that has carried them back into the Champions League spots and all the way up to third place.
In looking for Szczesny's Liverpool penalty save, I came across his penalty save against Udinese, which was arguably his most important save of the season.
Had Udinese scored that penalty, they would've been level on aggregate with Arsenal with the momentum in their favor, and had they scored another goal, Arsenal would've been dumped out of the Champions League prior to the group stages.
That would've meant millions of pounds in lost revenue, which would've made the club's difficult start to the season even tougher for the players and management.
Szczesny has made a couple of mistakes this season, most significant of which was his late dive on Kyle Walker's goal in the first North London derby of the season, but he's looked calm and composed since then, and is developing into one of the world's finest goalkeepers.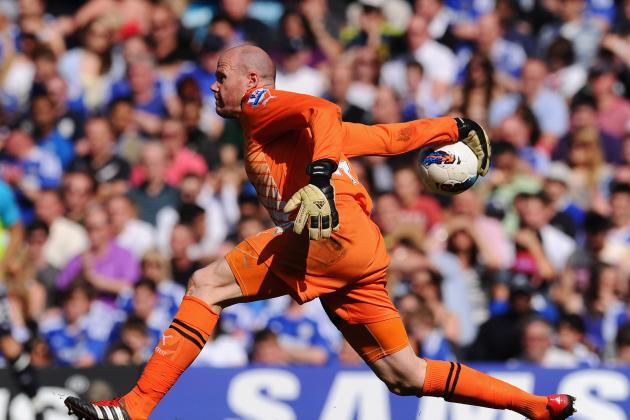 Mike Hewitt/Getty Images

If you're looking for experience in a goalkeeper, it's unlikely you'll find one with more than Brad Friedel.
Brad Friedel has proven to be an excellent penalty-stopper throughout his career. Against Sheffield United in 2006, he saved two penalties for Blackburn in an EPL match, and when he left Blackburn for Aston Villa, he saved a penalty just 10 minutes into his debut.
At the 2002 World Cup, Friedel earned the nickname of "the human wall" when he became the first goalkeeper to stop two penalties in the group stage of the World Cup since 1974.
Beyond his penalty-saving ability, Friedel's consistency is exactly what I'd want from my keeper in a cup final.
When you've played over 700 games in your career as a keeper, and are still starting for one of the best teams in the English Premier League, you know you've done something right.
Friedel continues to produce top-quality performances for Tottenham despite his advanced age, and at this rate, he might be able to extend his playing career by another two years or even more if he stays hungry and fit.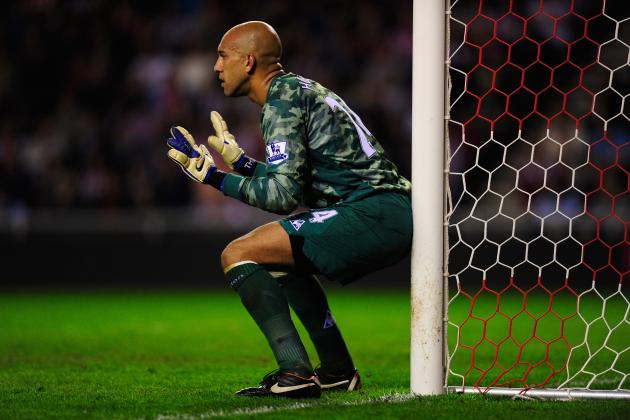 Stu Forster/Getty Images

Everton are in the midst of a deep run in the FA Cup, and should they make it the final, they'll be thankful to have one of the best "clutch" goalkeepers in world football, Tim Howard.
In 2011, it was Howard's clutch performance in the FA Cup fourth round which allowed Everton to triumph over Chelsea in the penalty shootout of their match replay at Stamford Bridge.
In 2010, Howard was even more impressive, as his two saves against former club Manchester United in the FA Cup semi-finals allowed Everton to progress all the way to the final.
Outside of penalties, Tim Howard has put in some remarkable performances in some of his biggest games.
His performance against Spain stands out the most, when his eight saves against the Spanish helped the United States progress to the final of the 2009 Confederations Cup and end Spain's two-year unbeaten run.
Tim Howard recently re-signed with Everton until 2016, and Everton will be delighted to have secured the services of one of the world's most reliable goalkeepers for the foreseeable future.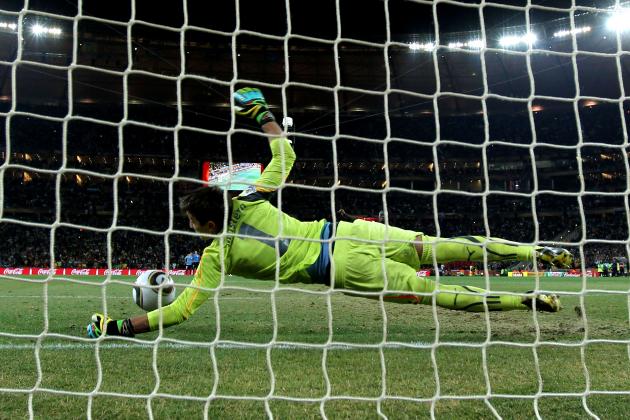 Clive Rose/Getty Images

Fernando Muslera was well on-track to becoming one of the world's top-five goalkeepers while at Lazio, before his move to Galatasaray knocked him off the radar of most football observers.
Still, his reputation and international performances are enough to earn him a spot on this list.
Muslera has been a penalty-saver throughout his career. On his first start for Lazio, Muslera saved a penalty from Antonio Cassano, which helped him earn more playing time for Lazio.
Muslera's prominence as goalkeeper really comes from his international performances however.
At the 2010 World Cup, Muslera's first international competition, he kept a clean sheet in all three of Uruguay's group games, before saving two penalties in the shootout with Ghana to qualify Uruguay for the semi-finals of the tournament.
In his next tournament, Copa America 2011, Muslera once again demonstrated his prowess as a goalkeeper with a master class against Argentina, topped off with a save against Carlos Tevez in the penalty shootout to win the game for Uruguay.
He would keep a clean sheet in his next two games, including the final against Paraguay.
If Muslera ever does decide to return to mainstream European football from Turkey, I expect many of Europe's top clubs to battle it out for his signature, as he has the pedigree and experience to be one of the best goalkeepers in world football.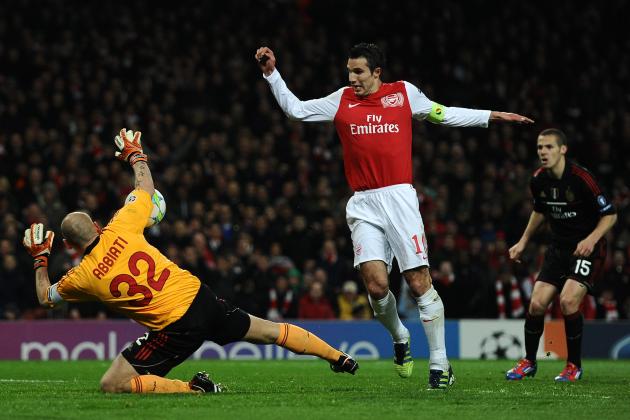 Laurence Griffiths/Getty Images

Christian Abbiati has been in the form of his life over the last two years. And recently, his excellent save on Robin van Persie's chip in the Round of 16 vs Arsenal, which saved AC Milan from going down 4-0 against Arsenal and facing extra time away from home, has only added to his reputation.
Add into that his close-range save against Xavi today, and Abbiati's resume as a goalkeeper only keeps looking better and better.
But did you know that, in addition to his clutch goalkeeping and knack for saving Milan in their biggest games, Abbiati is also one of the best penalty-savers in the world?
It's true; Abbiati has managed to save six of the last 14 penalties he's faced, and two of the last three. Playing for a team like Milan, he's not asked to save too many penalties per season, but clearly, it's one of his strengths.
AC Milan will need to be on top of their game to qualify for the next round of the Champions League at Barcelona's expense, but AC Milan be relieved in the knowledge that Abbiati will be pulling off world-class saves to keep them in the game at Camp Nou.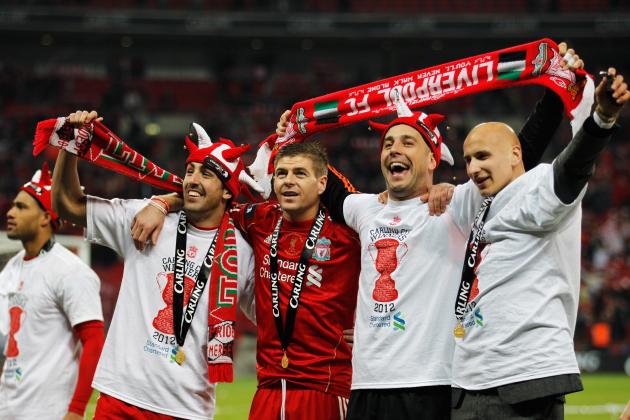 Paul Gilham/Getty Images

Although modern-day Liverpool fans may not remember this, Pepe Reina actually came to Liverpool with the reputation of being a top-class goalkeeper. He'd saved seven of nine penalties in his last season at Villarreal before making the switch to Merseyside.
Though he's never been that good of a penalty saver for Liverpool, he quickly proved his clutch ability as goalkeeper by saving three of West Ham's four penalties in his first FA cup final with Liverpool.
He followed up that penalty shootout performance with another positive one against Chelsea the following season, stopping two Chelsea penalties in the Champions League semi-finals to carry Liverpool to the final.
Most recently, Pepe Reina completed a hat-trick of successful penalty shootouts with his Carling Cup penalty shootout victory over Cardiff City, although to be fair, Cardiff City did his job for him with three misses in the shootout.
Pepe Reina's three-peat as EPL Golden Glove winner from 2006 to 2008 is a testament to his quality as keeper.
He's not as good now as he used to be just a few years earlier, but he still retains the ability to keep up with the league leaders in clean sheets despite Liverpool's poor league performances this season.
If there's one guy you didn't foresee being on this list, it's probably Diego Alves of Valencia.
But there's really a simple explanation for his inclusion: he's the best penalty kick-saver in the world.
That's right, he's better than Reina, Abbiati and Muslera. Heck, he's better than the next three goalkeepers on this list.
The exact numbers may differ from source to source, since there's no leading authority on penalty kick saves recorded by goalkeepers, but the consensus is that Alves has saved almost 70 percent of the penalties he's faced in the last five seasons (roughly 11-of-16).
70-percent. That's absolutely mind-boggling, and only one other keeper in the world really comes close to that number.
Unfortunately for Alves, his lack of experience works against him here. He's in his first year at a major club, and only recently did the club decide to make him their starting goalkeeper. For Brazil, the same applies—only recently did his Valencia performances convince Mano Menezes to call-up Alves.
Alves is one of the top four goalkeepers I'd want in my team for a cup final, but as Julio Cesar gets phased out of the national team and Alves accumulates more experience with Valencia, he could easily move into my top three, or even higher.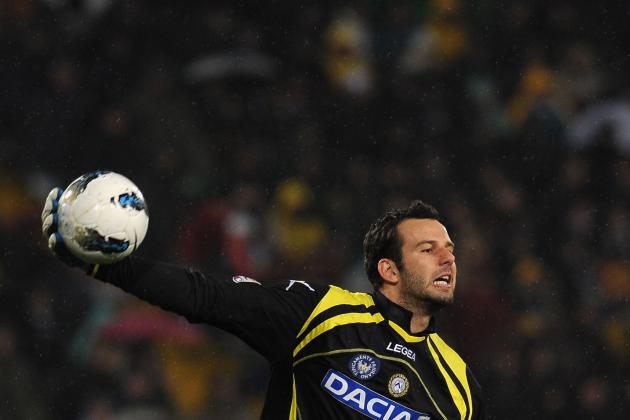 Valerio Pennicino/Getty Images

It is often claimed that Samir Handanovic is the best penalty kick-saver in the world.
The truth is that, while Handanovic did in fact save six of eight penalties last season, and has saved at least one penalty this season (against Napoli), it's really impossible to know whether he's actually statistically better than Alves without going through all his games this season and in 2009-10.
Nevertheless, Handanovic's experience and overall excellence is what places him above Alves here.
Handanovic has been with Udinese since 2007, and has helped the club consistently finish in the upper reaches of the table in his time at the club.
This year, he helped the club make a deep run in the Europa League, before getting knocked out by AZ Alkmaar.
In addition, Handanovic has experience as Slovenia's national team keeper, and ironically became a hero in Estonia when he saved Nemanja Vidic's penalty against Slovenia to help Estonia make it to the UEFA Euro 2012 qualification playoffs (where they ultimately lost to Ireland).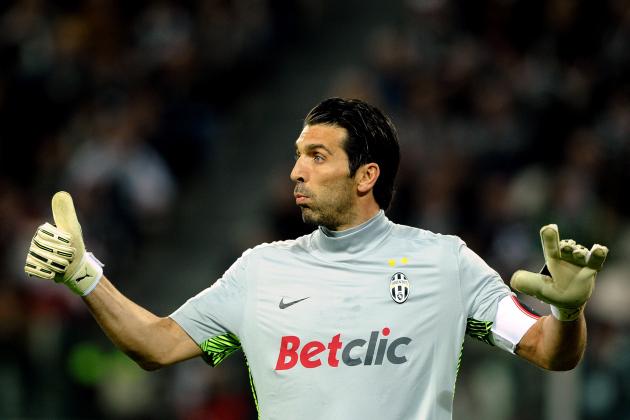 Claudio Villa/Getty Images

At the start of this season, I predicted that Buffon would see a rebirth in form this season. I was right.
As Allan Jiang has pointed out, Buffon's stats have been incredible this season, and as a result, so have Juventus' results.
Buffon's history of winning in international tournaments is why he'd be my second-choice goalkeeper in the world for a cup final.
Buffon of course is is best remembered for his amazing 2006 World Cup performance, in which he conceded only twice and kept five clean sheets, but his save against Romania saved Italy from an ignominiously early exit from Euro 2008 as well.
Buffon's top-class performance against Inter Milan in the Derby d'Italia recently earned him praise from Claudio Ranieri, who singled him out as the difference maker between Juve and Inter.
Denis Doyle/Getty Images

We finish with the king of clutch, Iker Casillas.
Whenever I need to pick between Buffon and Casillas, I'm always reminded of the penalty shootout between Spain and Italy in Euro 2008, when Casillas confirmed his status as the undisputed best keeper in the world.
On that day, Casillas was able to save two penalties to Buffon's one, winning Spain the game just as it seemed that Buffon had given his team a lifeline.
But there are so many more incidents that remind us of how clutch Iker Casillas truly is. Who can forget his two glorious one-on-one saves on Arjen Robben in the 2010 World Cup, which ultimately kept Spain in the game?
Who can forget Casillas' top-quality performances throughout the tournament, including his penalty save on Oscar Cardozo when Spain faced off against Paraguay?
Who can forget the 2002 World Cup, when a 21-year-old Casillas shocked the world with his poise against Ireland, saving two penalties in his first ever international shoot-out?
And that's all in his international career; We haven't even touched on all the heroics and impossible saves Casillas has pulled off on the road to his four La Liga titles and two Champions League trophies.
For as long as he plays, Casillas will always be my No. 1 pick for a cup final. No other goalkeeper in the world has been more consistently successful in penalty shootouts than Casillas.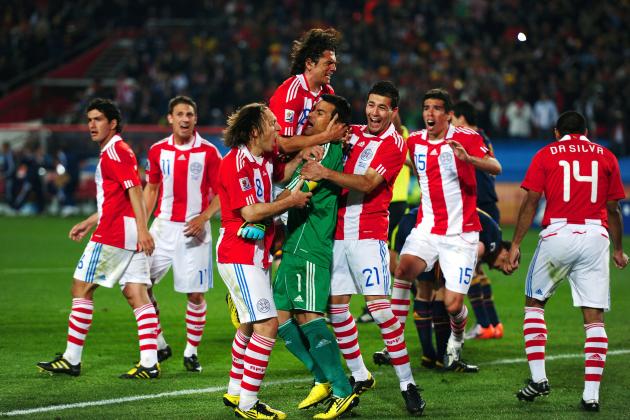 Laurence Griffiths/Getty Images

Justo Villar
Villar guided Paraguay to two penalty shootout victories and kept three clean sheets on his way to picking up the Best Goalkeeper award at Copa America 2011.
However, his lack of European club career, or even top-level South American club career prevents me from including him in the top 10.
Oleksandr Shovkovskiy
In the 2006 World Cup, Ukrainian goalkeeper Oleksandr Shovkovskiy became the first goalkeeper in World Cup history to not allow a goal in a penalty shootout in a round of 16 matchup against Switzerland.
He's still active with Dynamo Kiev, but at 37, is nearing the end of his career and is expected to be replaced soon by Maksym Koval.
Marc-André Ter Stegen (and Germany's numerous wunderkind goalkeepers)
They're all too young. Ter Stegen, Leno, Ulreich and others are all having fantastic seasons, but none of them have shown the consistency and big-game attitude that the ten goalkeepers on this list have.
Who else do you believe should've been included on this but wasn't? Is there someone not on this list you would want in your team for a cup final? Share your opinions and thoughts in the comments section below.