5 Reasons Why the Green Bay Packers Will Be Even Better in 2012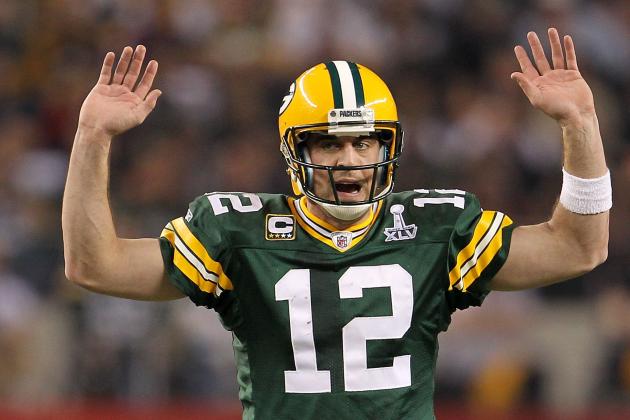 Jamie Squire/Getty Images

The 2010 Green Bay Packers were 10-6 in the regular season and made it to the postseason as the sixth seed in NFC playoffs. The Packers went on to win three games on the road in very hostile environments to advance to Super Bowl XLV. There the Packers beat the Pittsburgh Steelers 31-25 to win their fourth Super Bowl and their 13th NFL championship.
In 2011, the Packers had the best regular season record (15-1) in the storied history of the franchise, a period that goes back to 1921. However, the Packers lost their first playoff game to the eventual Super Bowl XLVI champions...the New York Giants.
So, how can the Packers be even better in 2012? The only way the Packers can truly be better is if they can win their fifth Super Bowl trophy and their 14th NFL title.
I can see the Packers doing that as they have the players, the coaching and the front office to achieve that goal.
I'm listing five reasons why the team WILL be better in 2012.
Begin Slideshow

»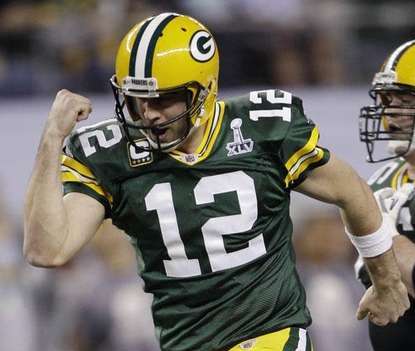 The Packers are led by the 2011 NFL MVP Aaron Rodgers. The season Rodgers put together in 2011 was one of the best seasons ever by a NFL quarterback.
During the 2011 NFL season, Aaron Rodgers threw 45 TD passes to just six interceptions for 4,643 yards and also had a QB rating of 122.5. Rodgers also had a completion percentage of 68.3. The 122.5 QB rating was the best in the NFL and also broke the all-time record set by Peyton Manning in 2004, when Manning had a 121.1 QB rating.
The QB rating system also determines which QB wins the passing title in any given year. Therefore, Rodgers won the overall passing title in the NFL in 2011.
Rodgers was also named first team All-Pro and was named the starting QB for the NFC in the Pro Bowl. It all led to Rodgers being named MVP.
It was a well-deserved honor. But there is much more.
Rodgers not only had the best-ever QB rating in a single season in 2011, but Rodgers is the all-time leader in QB rating in both the regular season and the postseason.
Rodgers has thrown 132 TD passes vs. just 38 interceptions for 17,366 yards and has a 104.1 QB rating in his career during the regular season. Rodgers is the only QB in NFL history to have a QB rating of over 100 based on 1,500 passing attempts.
Add to that: Rodgers has thrown 15 TD passes vs. only four picks for 1,781 yards and has a QB rating of 105.5 in his career during the postseason. Again, that is the best-ever in NFL history.
Rodgers just turned 28 years old in December. Rodgers has now won an NFL MVP and a Super Bowl MVP award.
I believe there will be more to come...in both cases.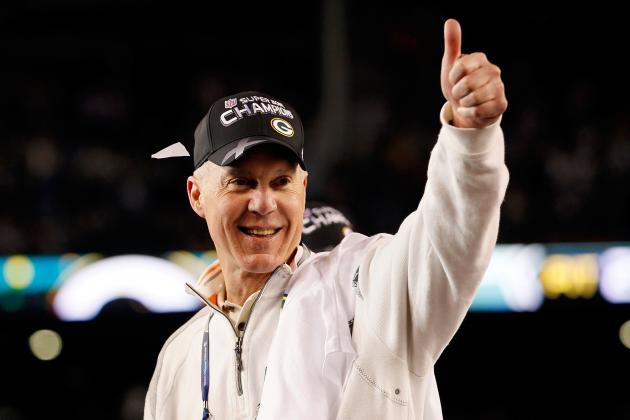 Kevin C. Cox/Getty Images

Ted Thompson has shocked some in Packer nation by actually signing a few free agents in 2012. Thompson and the Packers have already signed C Jeff Saturday, DE Daniel Muir and DE Anthony Hargrove in free agency.
Thompson is not done, either.
The Packers are currently hosting DE/OLB Dave Tollefson during a free-agent visit. If the Packers sign Tollefson, there would be a very obvious theme. Besides being very capable NFL players, all of the new additions have something that everyone in the Green Bay organization strives for. That would be a Super Bowl ring. Tollefson already has two, just by himself.
Thompson has an excellent track record in Green Bay since he took over the front office in 2005. The reason?
Thompson has stayed true to his formula. Thompson has built the roster of the Packers primarily through the use of the draft. Thompson has also re-signed free agents on his own team, as opposed to signing players from other teams, although he will at rare times—like this year.
Thompson is better known for signing "street" or rookie free agents. Players like CB Tramon Williams, CB Sam Shields, QB Graham Harrell, TE Tom Crabtree, DL Howard Green, LB Robert Francois and S Charlie Peprah fall into this category.
Whatever Thompson does usually works. The proof is in the pudding. Thompson must stay true to his philosophy in 2012 as well. He also must stay true to his past experiences—especially the ones that have led to success.
Sometimes, Thompson will take risks. It was somewhat risky when he signed Charles Woodson as a free agent in 2006. It was definitely risky when he traded Brett Favre in 2008. It was also risky when he traded three draft picks to move up to select Clay Matthews in the the first round of the 2009 NFL draft.
As you can see, Thompson can be aggressive in his goal to bring another Vince Lombardi Trophy back to Titletown. The Packers have 12 picks in the 2012 NFL draft. Four of those 12 picks came via the compensatory route (two fourth-round picks and two seventh-round picks), as the NFL announced last week.
Teams cannot trade compensatory picks, but all the other picks can be utilized to move up and select a player a team may find as an ideal fit on their respective team. That is what happened in 2009, when Thompson traded three picks to move up and select Matthews.
As a matter of fact, Thompson traded up in three straight drafts—2008, 2009 and 2010.
That all led to the Packers winning Super Bowl XLV after the 2010 season. Then the Packers went 15-1 in 2011, only to lose in the postseason to the eventual Super Bowl champions...the New York Giants.
Thompson knows the Packers are a championship-caliber team, a team he himself has developed. That is why he will do what it takes (within reason) to bring another championship to Green Bay.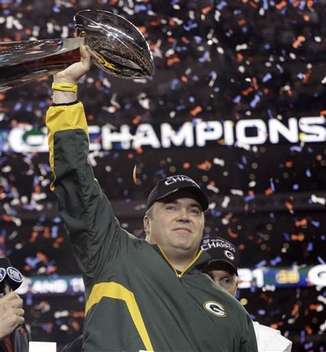 Since the Mike McCarthy era started in 2006, the Packers have been 63-33 in the regular season, 5-3 in the postseason, have appeared in two NFC Championship games, winning one and have also won Super Bowl XLV.
McCarthy has been able to do this because of all the talent Ted Thompson has assembled. That, and because of the great coaching staff McCarthy has put together.
The Packers have been an outstanding offensive club in the McCarthy era. That is due to the great QB play the Packers have had since 2006. McCarthy and new offensive coordinator Tom Clements (formerly the QB coach) have put together a quarterback school which really helps the understanding of the QBs in terms of knowing the offense of the Packers.
The Packers have consistently been a top 10 offense in the NFL since McCarthy arrived in 2006. The team was led by Brett Favre the first two years of the McCarthy regime and Aaron Rodgers the last four seasons.
The offensive staff under McCarthy has also stayed consistent. Clements, WR coach Edgar Bennett, OL coach James Campen, RB coach Jerry Fontenot and new QB coach Ben McAdoo have all been with McCarthy since the beginning.
The offensive coaching staff has seen a couple of coaches leave. Most recently, former offensive coordinator Joe Philbin left to become head coach of the Miami Dolphins, and in 2011 former WR coach Jimmy Robinson left for a similar position with the Dallas Cowboys.
The defensive staff is led by Dom Capers, who McCarthy hired in 2009. The defense had a rough year in 2011 for a number of reasons. The biggest being a season-ending neck injury to S Nick Collins in the second week of the season. Also, the loss of DE Cullen Jenkins to free agency was also key.
There were also injury issues.
But the bottom line is the 32nd ranked defense of the Packers in 2011 was an anomaly. In 2010, the Packers were ranked fifth in total defense. In 2009, the Packers were ranked second. Capers will be getting some help from Thompson to get the defense back to being a top 10 defense again.
Capers has also surrounded himself with very capable assistants. This group includes assistant head coach/ILB coach Winston Moss, OLB coach Kevin Green, safeties coach Darren Perry, CB coach Joe Whitt Jr. and DL coach Mike Trgovac.
The special teams is led by coach Shawn Slocum, who has also been with McCarthy since 2006. There have been a few bumps in the road on special teams with the Packers under Slocum, but the units were definitely better in 2011 (especially in the return game and the lack of penalties).
McCarthy also seems a lot more comfortable with the media the past couple of seasons and is more open with his responses to questions. That tends to happen once a team wins a championship and becomes a perennial championship contender.
That has happened under McCarthy.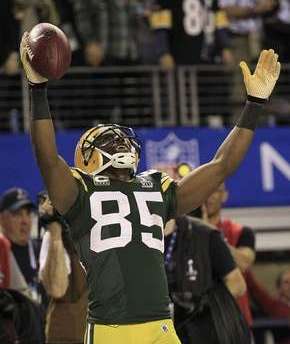 When the Packers opened the 2011 NFL season, the team had 32 out of 53 players on their roster who were drafted. The others were acquired by free agency, trade or waivers.
That means almost 60 percent of the Green Bay roster beginning the year in 2011 were players who were drafted by the organization.
That is an outstanding figure in today's NFL. The key player being QB Aaron Rodgers—the first draft pick Ted Thompson ever made in 2005.
Rodgers was the NFL MVP in 2011. Rodgers was also All-Pro and a starting QB in the Pro Bowl. Thompson has also drafted a number of other players who have also been either All-Pro or been selected to a Pro Bowl team.
This list would include S Nick Collins, OLB Clay Matthews, WR Greg Jennings DL B.J. Raji and LB A.J. Hawk. There are also some free agents who have received similar honors. This would include Tramon Williams and Charles Woodson.
What can you say about Woodson?
Since his arrival in Green Bay, Woodson has 37 interceptions, nine of which were returned for TDs. Woodson also has averaged almost 85 tackles per season, plus 10 sacks, 14 fumbles and recovered one that he returned for an additional TD.
Woodson was also the 2009 NFL Defensive Player of the Year.
Another player Thompson picked up through waivers was FB John Kuhn. Kuhn was named to the NFC Pro Bowl team in 2011 and was second team All-Pro.
The roster is also sprinkled with a couple of veterans who have been in Green Bay for over a decade, and it looks as though they will be back in 2012 as well. I'm talking about WR Donald Driver and LT Chad Clifton.
Both Driver (four times) and Clifton (two times) have been Pro Bowl-type quality players.
There are also a number of other players that certainly have Pro Bowl talent, like TE Jermichael Finley, WR Jordy Nelson, RG Josh Sitton and RT Bryan Bulaga.
Thompson also drafted one of the best placekickers in the NFL in Mason Crosby (2007) and signed P Tim Masthay as a free agent. Both have made the Packers' kicking game a key part of the team's success the past couple of years.
There are a number of other players who Thompson has acquired who have shown big play ability too: WR James Jones, KR/WR Randall Cobb, RB Ryan Grant, RB James Starks, LB Desmond Bishop and S Morgan Burnett.
Bottom line, the team has a very talented supporting cast that will be back in 2012.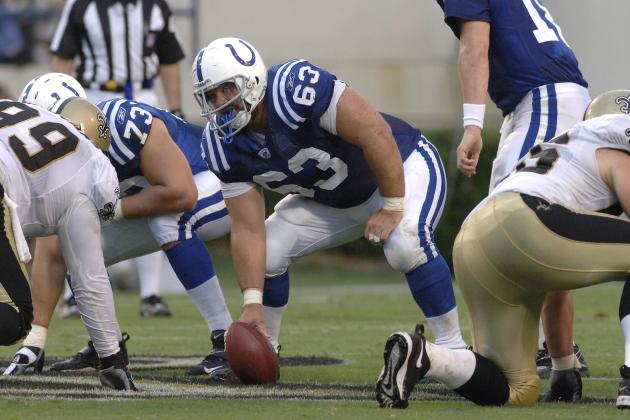 A. Messerschmidt/Getty Images

As I mentioned earlier, Ted Thompson has already signed three free agents in 2012—C Jeff Saturday, DE Daniel Muir and DE Anthony Hargrove. The Packers are hosting DE/OLB Dave Tollefson as I write this and will be having OT Demetrius Bell in for a visit, according to Joe Buscaglia of WGR-550 in Buffalo.
There could be a couple more free agent possibilities as well, depending on what happens with the neck injury situation with S Nick Collins. One name to keep in mind is former Wisconsin Badger Jim Leonhard.
The Packers also have 12 selections in the 2012 NFL draft.
The team already had the seven of their own, plus an additional seventh-round selection from the New York Jets in the Caleb Schlauderaff trade. The compensatory picks give Thompson plenty of ammunition if he wants to trade up and select a given player. Compensatory picks cannot be traded, but the other picks can.
Based on the excellent drafting track record which Thompson has put together in Green Bay, expect the Packers to add some more key pieces to the championship puzzle.