NFL Free Agency: San Francisco 49ers Reportedly Sign Brandon Jacobs
March 28, 2012

Thearon W. Henderson/Getty Images
The San Francisco 49ers have reportedly signed former New York Giants running back Brandon Jacobs, according to ESPN's Adam Schefter.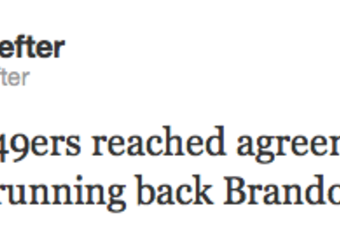 Jacobs, who was owed $4.4 million for the 2012-13 season and a $500,000 roster bonus on March 17, was let go by the Super Bowl champs on March 9.
The 29-year-old back had already taken a reported $1.75 million pay cut in August 2011 to remain with the G-Men and was unwilling to further reduce his salary to stay with the franchise.
It's currently unknown how much the 49ers have signed Jacobs for, but Schefter reported it is a one-year deal.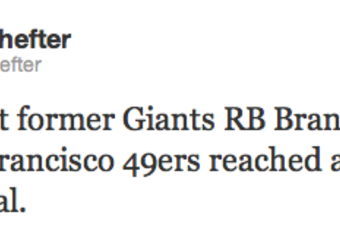 The 6'4", 265-pound truck of a RB won two Super Bowls in New York and had career stats of 1,078 carries for 4,849 yards and 56 touchdowns. He also hauled in 80 receptions for 730 yards and four TDs in his seven seasons with the club.
Injuries and competition from Ahmad Bradshaw eventually saw him lose his job as a starter, and 2011-12 was one of the worst years of Jacobs' career.
San Francisco is clearly hoping he will turn it around and become a contributor again now that he has been given a fresh start.
Expect Jacobs to be a backup to starter Frank Gore and a goal-line option, since he is a player capable of punching in touchdowns with the best of them.
Jacobs is the second member of Big Blue to defect to the 49ers, joining former teammate Mario Manningham, who signed a two-year, $7.375 million deal with the franchise less than a week ago.
These two teams met in the NFC championship game this previous season, and the 49ers have to be hoping they will square off once again in 2013 now that they have reloaded with talent.