2012 NFL Schedule: Predicting Top Performers for Cowboys vs. Giants Opener
March 28, 2012

Jeff Zelevansky/Getty Images
Just as the 2011 regular season closed for the Dallas Cowboys and New York Giants, each franchise opens up with one another in Week 1 of the 2012 season.
Their second meeting during Week 17 in New York determined the NFC East champion. And as we all know, the Giants bested Dallas and went on to win another Super Bowl over the New England Patriots.
The difference resided in the Big Blue Wrecking Crew's pass rush, whereas the Doomsday Defense failed to get consistent pressure. In both meetings, Cowboys quarterback Tony Romo was sacked nine times and Eli Manning was sacked just twice.
As for the 2012 opener, here are the best performers we can expect when September 5 rolls around.
Eli Manning
Eli does well with or without a running game backing him, as the Giants ranked dead last in rushing offense last season.
Still, in both games against Dallas, Manning hit over a combined 700 yards and had five touchdowns to just one pick.
The Cowboys do have an improved pass defense and can still enhance the pass rush via the draft. Manning, however, still has great pass protection, reliable receivers and a dynamic back in Ahmad Bradshaw.
21-of-31, 315 passing yards, two touchdowns, one interception, sacked one time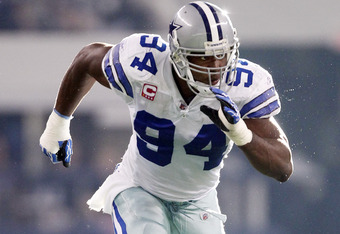 Layne Murdoch/Getty Images
Tony Romo
Last season Romo had the best season of his career with a 66.3 completion percentage and 31 touchdowns to just 10 picks. He also diced up the Giants pretty well, with over 600 yards and six touchdowns, to only one interception.
He was, though, pressured quite often and we can expect Big Blue to bring the pain once again.
Expect the Cowboys to bring a more balanced approach to keep the Giants front-seven off balance, but Romo will remain efficient.
20-of-29, 280 passing yards, one touchdown, no interceptions, sacked three times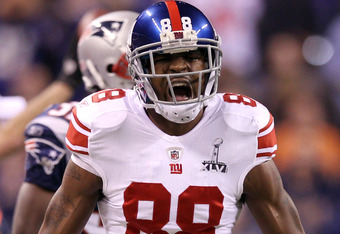 Elsa/Getty Images
DeMarcus Ware
The NFL's best sack-master, DeMarcus Ware has recorded 99.5 sacks in just seven pro seasons. Now that Big D has an improved pass defense and if Ware gets front-seven help this April, he'll only become that much more dangerous.
Ware is also a complete defender who can set the edge to stop the run and can be reliable on occasion in coverage.
Against the Giants, though, Ware's services at getting pressure on Manning is key, otherwise Dallas will get diced up once again.
One sack, seven tackles, one defended pass, one forced fumble
Hakeem Nicks
Despite catching over 75 passes and gaining over 1,000 yards for a second straight season, Hakeem Nicks is going overlooked as Victor Cruz earned a lot of exposure in 2011.
Therefore, expect Nicks to be put in more single coverage situations beginning in 2012, as Cruz will see more double-teams and zones geared toward isolating him.
Nicks still has the size, speed and route-running skills-set to be a true No. 1 receiver, and Manning will target him even more this year since Big Blue's offense has seen some changes.
Eight receptions for 120 yards, two touchdowns
DeMarco Murray
One of the more underrated running backs heading into the 2011 NFL draft, DeMarco Murray put on a show for Dallas where he gained 761 of his 897 rushing yards in six games during the middle of the season.
A back with a lot of potential, Murray has dual-threat skills and can really open up the Cowboys offense against a Giants defense that is susceptible to the run (allowed 121.3 rush yards per game, ranked No. 19 and an average of 4.5 yards per carry).
23 carries for 115 yards, four receptions for 30 yards, two touchdowns
Terrell Thomas
Here's a guy who we all need to watch as he missed the entire 2011 season.
Terrell Thomas in 2010, had recorded 101 tackles, forced four fumbles, made five interceptions and defended a total of 21 passes.
He's easily one of the most complete corners in the game and his return to Big Blue's defense will surely benefit in man and/or zone coverage and the perimeter rush defense.
Expect Thomas to play a lot of physical press-coverage, because he'll be anxious to crack some skulls in 2012.
Eight tackles, two defended passes, one forced fumble
Prediction
It's a close game that involves two improved defenses and some changes to the offense. Each have the pass-first philosophy and a potentially devastating pass rush.
Dallas comes with a more balanced attack and the Giants remain elite in the front four.
The difference lies in which team is more effective on the ground, because negating a pass rush while manipulating the pass defense in the key.
Cowboys 20, Giants 17
John Rozum on Twitter.