MLB Predictions 2012: Predicting the Top 10 Home Run Totals of 2012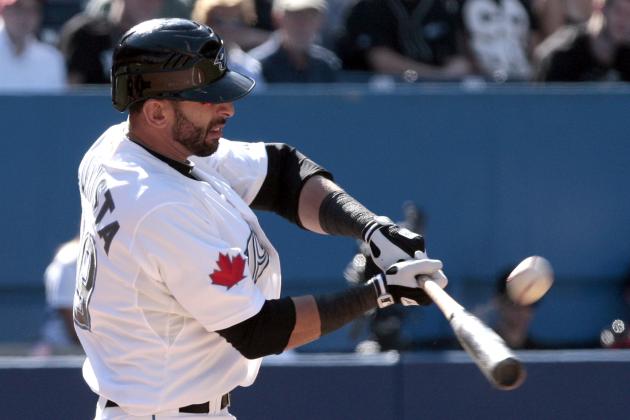 Abelimages/Getty Images

The Major League Baseball season got underway on Wednesday in Japan, with the Mariners beating the Athletics by a score of 3-1.
Mariners' second baseman Dustin Ackley hit the first home run of the 2012 season, launching a ball over the center field fence during the fourth inning.
Home run totals were relatively low in 2011, as teams averaged just .94 home runs per game. This portrays a significant drop from the 1.17 home runs per game hit in 2000.
Last season's top 10 home run hitters looked like this:
1. Jose Bautista, 43
2. Curtis Granderson, 41
3. Mark Teixeira, 39
Matt Kemp, 39
5. Prince Fielder, 38
6. Albert Pujols, 37
Mark Reynolds, 37
8. Dan Uggla, 36
9. Giancarlo Stanton, 34
10. Ryan Howard, 33
This season, many of the same names figure to appear on this list. There will also be a few new names cracking the top 10.
Begin Slideshow

»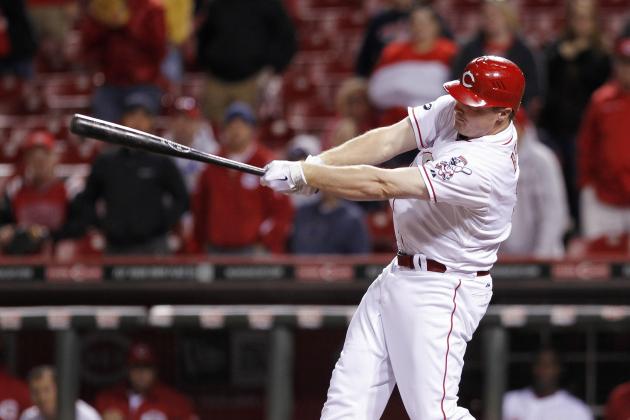 Joe Robbins/Getty Images

Jay Bruce has increased his home run totals each season since his rookie campaign in 2008. He has hit 21, 22, 25 and 32 home runs, respectively, in each of his first four seasons.
He is your prototypical power hitter—low batting average, high strikeouts, high on-base percentage and high slugging percentage.
In his fifth season in the league, there's no reason to believe that he won't keep improving.
In the long run, he profiles as more of a poor man's Adam Dunn than a Joey Votto, the other powerful star on the Reds.
This season will be the first time that Bruce cracks the top 10 home runs list for the entire MLB. It also won't be the last.
Bruce has tremendous amounts of power, and the Reds will reap the benefits have having him hit behind Votto.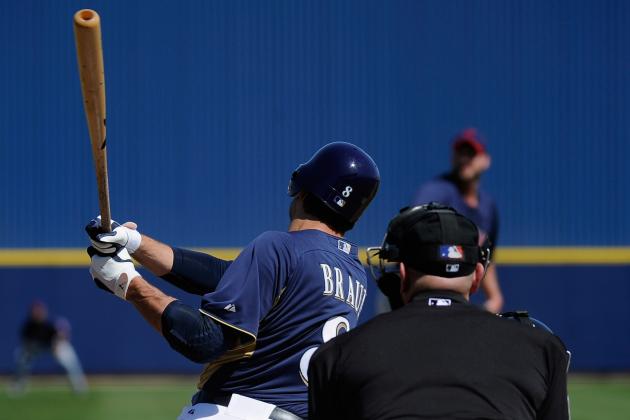 Kevork Djansezian/Getty Images

On the heels of his 33 home run, NL MVP season, Braun was the product of a positive drug test this offseason. The accusation that he used performance-enhancing drugs was appealed and MLB officials ultimately ruled in Braun's favor.
Phew.
Good thing for Braun, as he is one of the most popular young players in the game today.
He is also one of the most powerful.
There are many people rooting against Braun this season, as there are many who believe that he is still guilty of cheating.
I, on the other hand, believe in Braun and hope that he produces at a similar level to how he produced in 2011.
With Prince Fielder gone, Braun will be asked to shoulder more of the load in Milwaukee. The team did sign Aramis Ramirez to hit behind him, but it's clear that Ramirez's best days are behind him.
Expect Braun to respond to the increased responsibility by upping his 2011 home run total by three.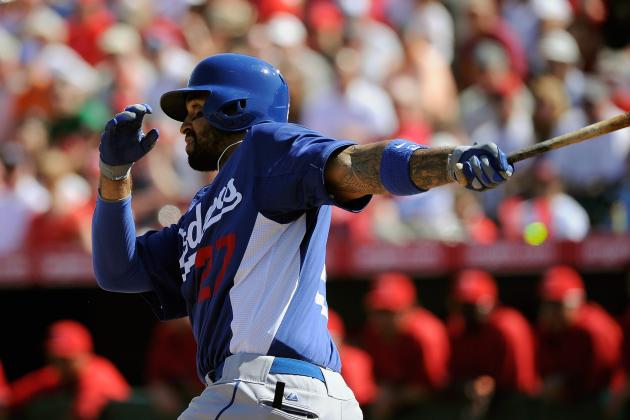 Kevork Djansezian/Getty Images

Matt Kemp, the runner-up to Braun in last season's NL MVP race, will match the home run total of the reigning champion in 2012.
After an all-around outstanding 2011 campaign, Kemp will be expected to recreate that season again in 2012. That will be extremely difficult, though, and I see him experiencing a small drop-off.
Going from 39 to 36 home runs isn't a terrible drop-off, but I expect a decline in his batting average, on-base percentage and RBI totals as well.
Now that Albert Pujols and Prince Fielder are out of the National League, it appears as if Braun and Kemp will be battling for the NL MVP for the next several seasons.
I see Braun getting the slight edge again this season, assuming he is able to come back strong from all the adversity.
Kemp will still produce at a superstar level, but not one strong enough to dethrone Braun as MVP.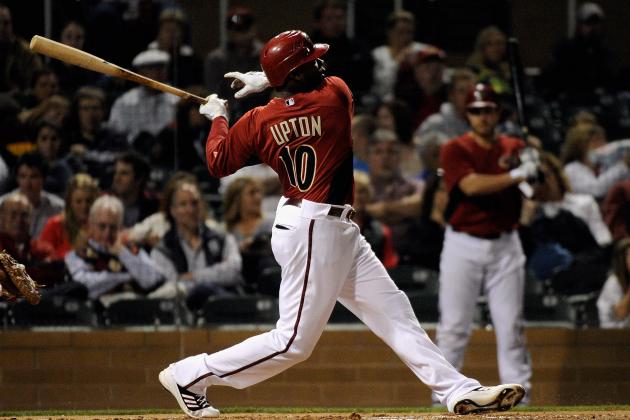 Kevork Djansezian/Getty Images

Justin Upton finished fourth in the NL MVP voting in 2011 after having the best season of his five-year career.
Following a down season in 2010, Upton exploded for 31 home runs, 88 RBI, 39 doubles, 21 steals and a .289/.369/.529 line.
At 24 years old, Upton still has room for improvement.
One downfall of his game is that he strikes out quite a lot (573 times in a little over four seasons). If he learns the strike zone a little better this season, we could see an increase in most of the major offensive categories.
The Diamondbacks have a pretty deep lineup, so Upton has plenty of protection.
He should see his fair share of pitches to hit in 2012, making him a legit threat for 38 home runs.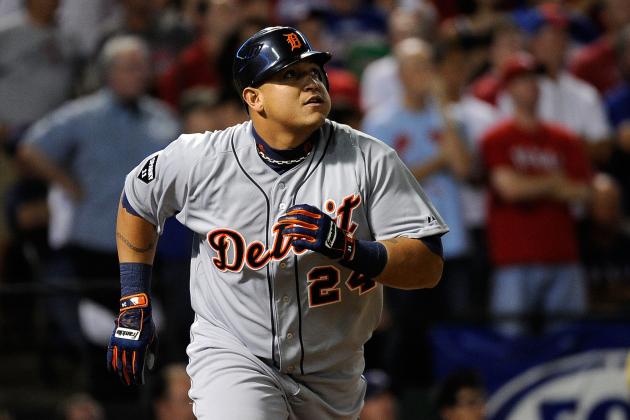 Kevork Djansezian/Getty Images

Miguel Cabrera may have had a "down" season from a run-producing standpoint (30 home runs and 105 RBI) in 2011, but that didn't stop him from having arguably his best all-around season of his nine-year career.
He led the American League in games played (161), doubles (48), batting average (.344) and on-base percentage (.448). He was also an All-Star and finished fifth in the AL MVP voting.
To put it simply: Cabrera's 2011 season was absolutely ridiculous.
I predict 2012 will be much more similar to his 2010 season when he hit .328/.420/.622 with 38 home runs and 126 RBI.
With Prince Fielder as added protection, Cabrera should have another great season in 2012.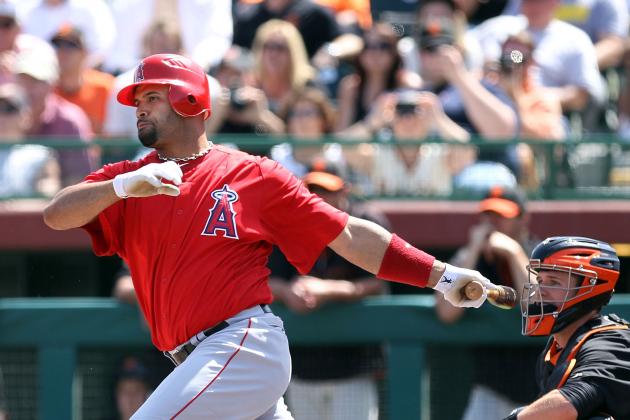 Christian Petersen/Getty Images

The Angels are excited for the 2012 season to get under way, as they are anxious to unveil their new superstar to their home fans.
Albert Pujols has been nothing but consistent in his 11-year career.
During that time, he has accumulated 445 home runs, 1,329 RBI and a line of .328/.420/.617.
Pujols will probably go down in history as one of the best hitters of all-time, as he has a legitimate shot at cracking the 700-home run plateau while posting a career batting average of better than .300.
In 147 games last season, Pujols hit 37 home runs. It's safe to assume that he would have come much closer to 40 if he had played in 10 more games.
He will look to impress his new fans in 2012, so expect Pujols to work hard at putting together another solid season. Be on the lookout for close to 40 home runs from him.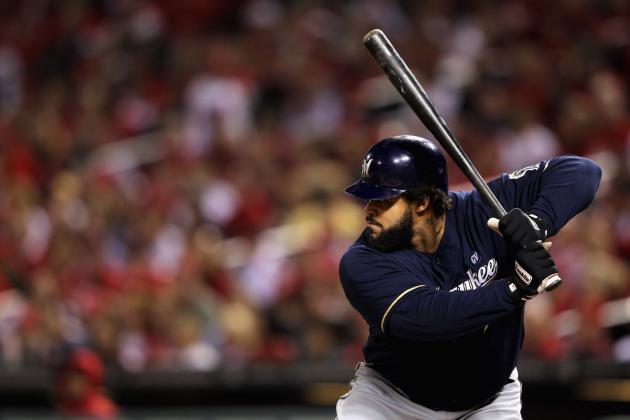 Jamie Squire/Getty Images

Prince Fielder recorded another solid season in 2011, hitting 38 home runs, driving in 120 runs and posting a line of .299/.415/.566.
With Braun in front of him, Fielder got plenty of pitches to hit a long way. Many of the Tigers' spring training lineups have had Cabrera hitting ahead of Fielder, but that's a duo that can be considered interchangeable.
If it stays as is, there's no reason to believe that Fielder won't experience the same success he did in 2011.
Cabrera may be the better all-around hitter, though, so expect pitchers to pitch around Cabrera on occasion so they can pitch to Fielder.
Comerica Park may be a much bigger ballpark than Miller Park, but Fielder's power can translate to any stadium in the majors. He hits moonshots, and the deeper fences of Comerica shouldn't cause him to suffer.
Also, the pitching of the AL Central is not nearly as good as the pitching of the NL Central. On that alone, I predict that Fielder will increase his home run total in 2012.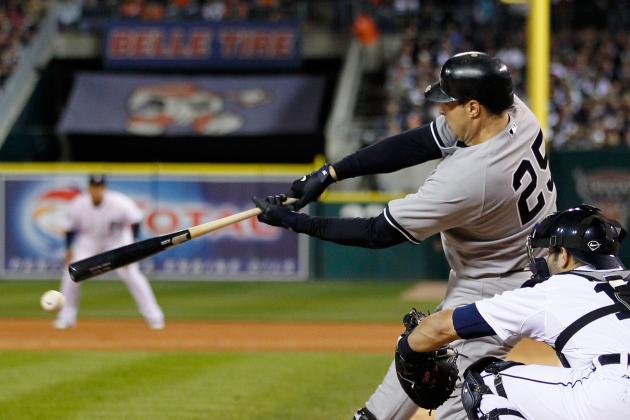 Gregory Shamus/Getty Images

Despite hitting over 40 home runs just once in his nine-year career (2005, 43 HR), I predict that Mark Teixeira will hit 41 home runs this season.
In his three seasons in New York, Teixeira has posted home run totals of 39, 33 and 39, respectively. These numbers are right on par with the other seasons of his career.
He is one of the best switch-hitters in the league, but the disparities in his statistics from either side of the plate are alarming.
As a left handed batter in 2011, Teixeira recorded 397 at-bats. He hit 24 home runs hitting left handed. As a right handed batter, he recorded 192 at-bats. He hit 15 home runs right handed.
So, Teixeira had 200 more at-bats lefty than he did righty, but he only hit nine more home runs from the left side of the plate?
He is clearly a better overall hitter right handed, and he'll need to fix his woes from the left side of the plate.
I believe he will in 2012, especially after his struggles in 2011, so look out for a 41 home run season from Teixeira.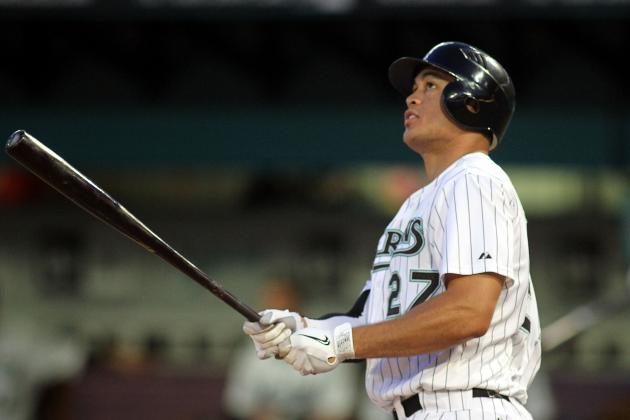 Marc Serota/Getty Images

Mike Stanton is one of the best young sluggers in the game today. He has tremendous amounts of power and it seems as if all of his home runs are moonshots.
He already has 56 home runs in 875 career at-bats, so it's clear that he's capable of hitting the long ball.
The only problem with Stanton is his low batting average, which is pretty much a direct result of his tendency to strikeout. In 2011, he hit .262 with 166 strikeouts.
The new Marlins Park could propose a bit of a problem for home run hitters around the league, as the field dimensions are significantly larger than those of Sun Life Stadium.
Stanton should be unaffected, however, as his power is similar to Fielder's; it can translate into any ballpark.
After hitting 34 home runs in his sophomore season, look for Stanton to have an even better season in 2012. With Jose Reyes, Emilio Bonifacio and Hanley Ramirez hitting in front of him, he will see plenty of pitches to hit.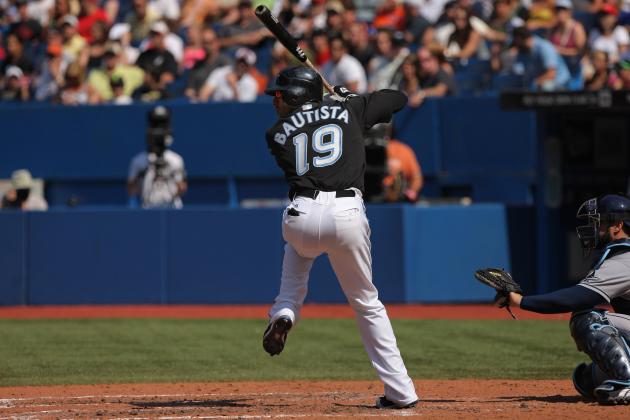 Tom Szczerbowski/Getty Images

Imagine if Jose Bautista hit like he is now at the beginning of his eight-year career. We could talking about him as the next man with a legitimate shot at finishing first on the all-time home runs list.
In the six years prior to his outburst in 2010, Bautista hit a combined 59 home runs. Over the last two seasons, he's cranked out 97.
Bautista's vicious swing doesn't just produce home runs, though, as he posted a line of .302/.447/.608 last season. This makes him one of the most complete hitters in the game today.
He "slumped" down to 43 home runs last season after he hit 54 in 2010, so I predict that he'll finish right in the middle of those two totals.
He's been the best home run hitter in baseball over the past two seasons, and there's no reason to believe that that will change in 2012.