2012 NBA Mock Draft: Definitive Pre-Final Four Edition
March 28, 2012

Streeter Lecka/Getty Images
1. Charlotte Bobcats: Anthony Davis, PF, Kentucky
There shouldn't be any debate about Davis in the top because he's simply on a different level than the rest of the prospects expected to go in Round 1.
Whatever lottery team has the ping pong balls favorably and lands the top spot will make Davis a fixture of the franchise for the foreseeable future.
2. Washington Wizards: Michael Kidd-Gilchrist, SF, Kentucky
Kidd-Gilchrist has really cemented his draft stock with a solid performance in the tournament recently, and it would be a shock if he chose to stay in school.
The product Kentucky is putting on the floor is incredible, and it wouldn't be surprising whatsoever to see the first two draft selections both come from the same school.
3. New Orleans Hornets: Thomas Robinson, PF, Kansas
Robinson doesn't get a ton of love in the public sphere, and it's becoming laughable that some people don't see the potential here.
Robinson has the size and skill to contribute right off the bat, and there are a lot of things to like about his upside.
4. Portland Trail Blazers: Andre Drummond, PF/C, UConn
The thought of having Drummond outside the top three picks was unthinkable at one point, but he just misses the cut here.
He's got tremendous potential and is extraordinarily young, and Drummond's future in the league should be awfully bright as long as he lands in the right situation.
5. Toronto Raptors: Harrison Barnes, SF, UNC
Barnes' decision to return to school didn't sit well with a lot of people, but he should still be a top five pick in the 2012 class.
There has been a wide-ranging list of player comparisons for Barnes, but he's got the chance to outshine all of the names that have been associated with him to date.
6. Sacramento Kings: Arnett Moultrie, PF, Mississippi State
Moultrie doesn't come from a traditional powerhouse nor does he draw the most attention, but he's a legitimate NBA talent who should be in the league for a long time.
With impressive size and skill, Moultrie could step onto the right team and really make his presence felt a lot sooner than some would expect.
7. Detroit Pistons: Jared Sullinger, PF, Ohio State
Sullinger's chances of having success in the NBA depend on what team he lands with, but he shouldn't fall outside the top 10 selections.
He's going to need a more consistent effort on the glass at the next level, but he's going to be a big body down low with real offensive skills.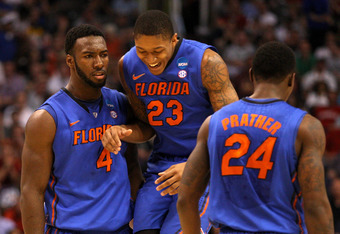 Christian Petersen/Getty Images
8. Cleveland Cavaliers: Bradley Beal, SG, Florida
Beal doesn't get mentioned as much as fellow prospect Austin rivers, but the Florida product should certainly get drafted ahead of him.
He brings a versatile effort every time he's on the floor and there is a lot of room for him to grow into a special player.
9. Utah Jazz: Jeremy Lamb, SG, UConn
Admittedly, Lamb might not go quite this high, but if there is a team with a need for a shooting guard inside the top 10 with him still available, Lamb should be the pick.
He would come in and help a struggling backcourt instantly, and Lamb should eventually become a big-time contributor for any team he lands with on draft night.
10. Milwaukee Bucks: Perry Jones, F, Baylor
There are a lot of questions about Jones' desire, but the talent is simply undeniable, and some team is going to have to gamble.
There have been a lot of players with less talent than Jones who have worked out as a lottery selection, and Jones could really prove to be a steal with some good coaching behind him.
11. Portland Trail Blazers: Kendall Marshall, PG, UNC
Marshall didn't get a chance to play for his team during the tournament, but that shouldn't have much impact on his stock.
He's got nice size for a point guard and has a chance to really become something special if everything aligns in proper fashion.
12. New Orleans Hornets: Damian Lillard, PG, Weber State
It's going to take a courageous decision-maker who isn't afraid of criticism to draft a kid out of Weber State in the lottery, but that's where Lillard belongs.
The kid is a special point guard who absolutely has a future in the NBA.
13. Utah Jazz: Moe Harkless, SF, St. Johns
Harkless is a really intriguing prospect who has a rather volatile draft stock, but there is no doubt some team will pull the trigger based on his potential.
He's a young kid with good size for his position, and there is a ton of room for his game to grow.
14. Phoenix Suns: Austin Rivers, SG, Duke
Some believe that Rivers' game is better suited for the NBA, and that could definitely be the case.
For Doc's son to be successful, he'll need to land with a team that will allow him to operate with the ball in his hands on a frequent basis.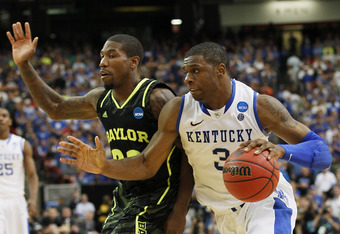 Kevin C. Cox/Getty Images
15. Houston Rockets: Terrence Jones, SF, Kentucky
Jones is showing his versatile game off in the tournament and is doing it well, and there is no doubt that he can help any team on the wing.
He's going to need to be coached up a bit in order to reach his potential, but that can be said about the majority of the first-round prospects.
16. New Jersey Nets: Meyers Leonard, C, Illinois
Leonard has legitimate size at seven feet tall, and it will be interesting to see how his height impacts just how high he's selected.
Despite the fact that there are likely to be better talents available, Leonard's height makes him attractive in a league without many skilled seven-footers.
17. Boston Celtics: Tyler Zeller, PF/C, UNC
Zeller would be a solid fit on any roster that needs size beneath the basket, but he's not going to have the same success in the NBA that he did in college.
He needs to work on his offensive game, and it would be foolish to assume that he'll come in and make an impact right off the bat.
18. Denver Nuggets: John Henson, PF, UNC
Henson doesn't get the hype he deserves with Harrison Barnes dominating headlines, but he's an incredibly talented player with a lot of interesting elements to his game.
He can certainly help a team that needs size, and Henson is someone capable of contributing on both ends of the floor.
19. Atlanta Hawks: Royce White, F, Iowa State
Like Lillard, it's going to take a general manager with nerve to pull the trigger on White when their team is on the clock.
He's got a real size advantage over many he'll be matched up against, and he may not be done filling out quite yet.
20. Memphis Grizzlies: Tony Wroten, G, Washington
Wroten is unlikely to be drafted in the lottery, but he could prove to be a valuable pickup for teams that need help outside the top 14.
He can come into the game and serve as a spark plug in his rookie season, and Wroten has the chance to turn into something much more than just that.
21. Houston Rockets: Terrence Ross, SG, Washington
Ross is someone who flies under the radar, but if he develops like he should, there will be many more talking about him going forward.
He's an excellent shooter and does a good job remaining active on the floor, but he might take some time to reach his potential.
22. Indiana Pacers: Marquis Teague, PG, Kentucky
Teague could very well take some time to progress, but whatever team invests in his future is going to be happy with the return.
The main issue with Teague is playing up to his level of talent with consistency, and that should certainly come as he continues to mature.
23. Memphis Grizzlies: Dion Waiters, G, Syracuse
Waiters made a name for himself this season, and he's going to be an incredible pick for whatever lucky team lands him.
He's got a strong game and isn't afraid to play to his strengths, which really helps him find success on the floor.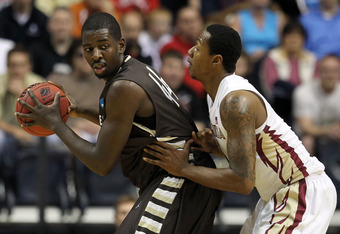 Jamie Squire/Getty Images
24. Boston Celtics: Andrew Nicholson, PF, St. Bonaventure
Nicholson would be going a lot higher if he wasn't coming out of St. Bonaventure, but that's part of the process when it comes to dissecting the level of competition a player has faced.
Regardless, the kid is downright dynamite on the floor, and he has the chance to make a lot of talent evaluators look absolutely ridiculous.
25. Orlando Magic: Tony Mitchell, F, North Texas
An extremely young player with athleticism pouring out of his ears, Mitchell's best quality could be his ability to move without the ball in his hands.
He's a bit of a tweener right now, which will hinder his draft stock, but his work ethic should benefit him as he transitions to the NBA.
26. Cleveland Cavaliers: Doron Lamb, SG, Kentucky
Lamb gets a little lost in the Kentucky shuffle with all the talent that team has, but he certainly shouldn't be forgotten.
He's another guy who can come in and help a struggling backcourt instantly, and he's got a real chance to be more than just a supporting factor down the line.
27. Golden State Warriors: Mason Plumlee, PF, Duke
Plumlee is athletic, but that's about all he's got to bank on at this time.
Regardless, some team will roll the dice with him due to his size, and that club is going to have its hands full in teaching Plumlee what he needs to do in order to sustain success.
28. Miami Heat: Jeffery Taylor, SF, Vanderbilt
The rare senior in the 2012 class, Taylor could jump out of the building, as he often looks like he's got springs on the bottom of his shoes.
A plus-defender who won't back down from a challenge, Taylor needs to do a better job of remaining consistent between games.
29. Oklahoma City Thunder: Draymond Green, F, Michigan State
Green isn't likely to find success at power forward because of his size, so he's going to have to really hone his skills as a true "3" in the NBA.
He'll need to add some weight and improve his approach on the wing, but those are both correctable issues.
30. Chicago Bulls: Fab Melo, C, Syracuse
We all know the book on Melo and the struggles he's had in school, but he's a beast on the basketball court.
He's incredibly raw offensively and will need to work on his shooting touch around the rim, but he's got a nice wingspan and the ability to be a shot-changer as soon as he steps onto the floor.