Dallas Cowboys: 8 Players That Underperformed in 2011 and Need to Step Up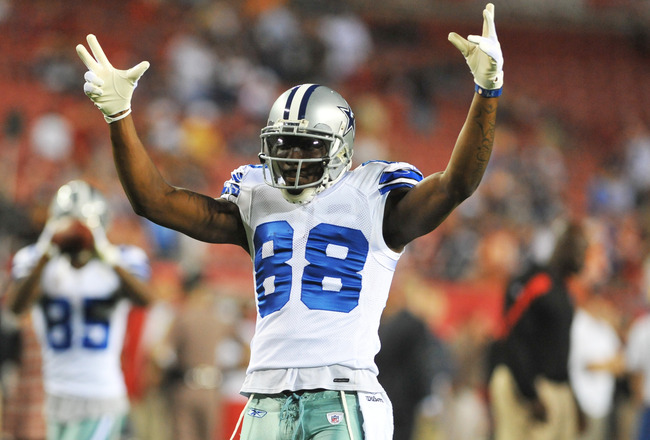 Al Messerschmidt/Getty Images
For all that is said about coaching, players have to perform on the field.
At the NFL level, whether a team has the best coaches or the worst coaches, it's not going to win games without the players performing well on the field.
After an 8-8 season in which they missed the playoffs, the Dallas Cowboys clearly had many players who did not live up to expectations. The Cowboys went through many changes last year that contributed to the .500 record, but they also had underperforming players.
Here are eight players who need to elevate their game in 2012 to lead the Cowboys back to the postseason.
8. Anthony Spencer OLB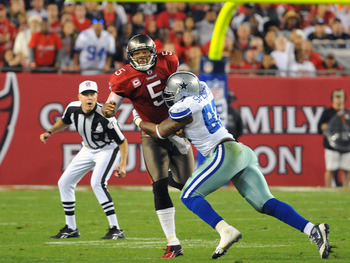 Al Messerschmidt/Getty Images
2011 Stats: 66 tackles, 6.0 sacks, 4 fumbles
Anthony Spencer had a decent season in 2011. He was strong against the run and made some plays in the backfield, resulting in a career high in sacks.
Even though Spencer had his best season of his career, more will be expected in 2012.
Since the Cowboys placed their franchise tag on Spencer, he will need to perform up to those standards. Six sacks will not be enough in 2012. One memorable play chasing down Rex Grossman will not be enough in 2012.
The Cowboys need Spencer to play like a franchise-type player opposite of DeMarcus Ware. Rob Ryan needs to create havoc in the backfield for his defense to be effective.
Spencer will be a big part of that plan, and he needs to capitalize on those opportunities. He needs to become one of the top outside linebackers in the NFL.
7. Mike Jenkins CB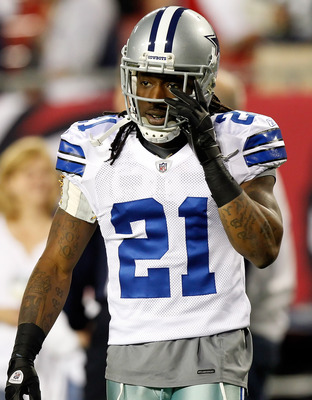 J. Meric/Getty Images
2011 Stats: 24 tackles, 1 interception
Mike Jenkins rebounded from his abysmal 2010 season with a decent season.
Jenkins showed more effort and discipline in coverage and better support in the running game. However, Jenkins only showed flashes of the player he was in 2009.
Jenkins needs to become that corner again.
There is no reason the Cowboys should not have two shutdown corners next season—at least "shutdown" in today's NFL.
Jenkins has the talent to be a shutdown corner and showed it in 2009. He is still a young player, and Rob Ryan needs him to play well. Ryan relies on leaving his corners on islands, and Jenkins is a big part of that plan.
6. Felix Jones RB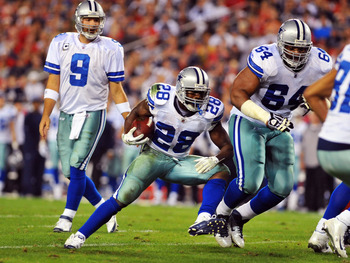 Al Messerschmidt/Getty Images
2011 Stats: 127 attempts, 575 yards, 1 touchdown, 33 receptions, 221 yards
Felix Jones started the 2011 season so slow that he will not be the Cowboys' primary ball-carrier in 2012.
Jones showed flashes of talent after DeMarco Murry's injury, but the Cowboys know Jones' talent is better in small doses.
In 2012, Jones needs to embrace his role as a change-of-pace running back, and he needs to excel in that role. Jones will also likely be involved in the return game.
Jones has the talent to be a playmaker returning kicks, as the Cowboys need a returner who can change field position for them. Jones is their best chance in 2012.
5. Kevin Ogletree WR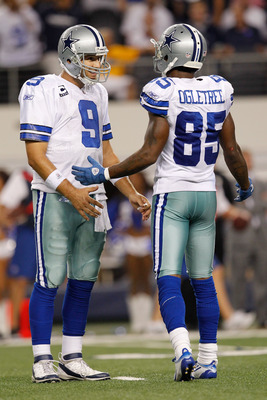 Tom Pennington/Getty Images
2011 Stats: 15 receptions, 164 yards
Kevin Ogletree was surprisingly re-signed by the Cowboys.
After the Cowboys lost Laurent Robinson in free agency, they needed to find Tony Romo a third receiver. Ogletree has never showed that he can fill that role.
The Cowboys have given Ogletree this chance a couple of times and have decided to give him another.
Ogletree needs to step up and play the role Robinson did in 2011. If the Cowboys do not sign another receiver, Ogletree is going to be very involved in the offense.
In 2012, the Cowboys need to see more of Ogletree in the end zone and less of Romo yelling at him about his routes.
4. Jay Ratliff NT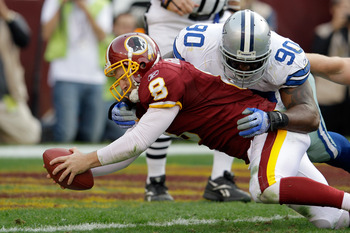 Rob Carr/Getty Images
2011 Stats: 38 tackles, 2.0 sacks
Jay Ratliff was a Pro Bowler in 2011 and played well in some games, but injuries limited him throughout the season.
The Cowboys need more than two sacks from Ratliff in 2012. He needs to be the dominant force up the middle, creating chaos in the backfield.
Right now, it looks like a move to defensive end is not likely. The Cowboys would need to draft a replacement early in the draft.
Ratliff can still dominate the line of scrimmage from the nose tackle position. He has become one of the best players on the Cowboys defense, but the Cowboys need more than two sacks in 2012.
Double-teams and injuries cannot stop Ratliff like they did 2011.
3. Phil Costa C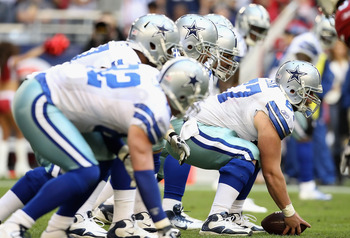 Christian Petersen/Getty Images
2011 Stats: 16 games started
Phil Costa looks to have the inside track to being the Cowboys starting center again this season.
Jason Garrett must see something he likes in Costa, or he is amused by Tony Romo running after snaps.
Hopefully for Cowboys fans, an entire offseason will cure Costa's snap problems.
Costa does have some ability on the line. He is fairly athletic for a big lineman and could develop into an adequate center quickly.
In 2012, the Cowboys need Costa to make that change. They need every snap to be directly to Romo's hands, and they need Costa to improve blocking as well.
2. Doug Free RT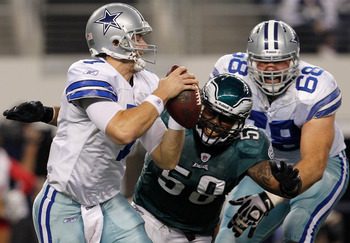 Tom Pennington/Getty Images
2011 Stats: 16 games started
After 2010, Doug Free looked to be one of the cornerstones of the Cowboys offensive line for the next five to seven years.
After 2011, Free is being replaced at left tackle and moved to right tackle. Free is better suited for this position, as he lacks the elite strength that some of the premier defensive ends in the NFL have, and he should benefit from moving away from Romo's blind side.
Now at right tackle, Free needs to prove that his big contract was not a mistake.
There is no reason Free cannot be an elite right tackle. He played that way at right tackle in 2009 while Marc Colombo was injured.
With a full offseason in Dallas, Free cannot allow another campaign like 2011.
1. Dez Bryant WR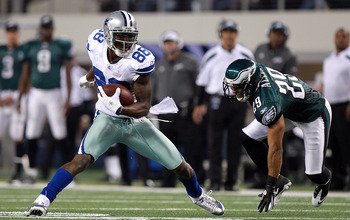 Ronald Martinez/Getty Images
2011 Stats: 63 receptions, 928 yards, 9 touchdowns
For most second-year receivers, just less than 1,000 yards and 10 touchdowns would be looked at as a huge success. And in some ways, Bryant's 2011 season was a success.
Bryant only missed one game after missing the end of last season with a broken ankle. Bryant also made some spectacular catches and some very important ones during the season.
The only problem is that 19 receivers finished with 1,000 yards. When the Cowboys moved up to select Bryant, they were expecting a top-10 receiver in the NFL in return, not a receiver outside the top 20.
Bryant is still very young, but he needs to start showing more improvements. There were too many times in 2011 when Bryant disappeared for entire halves.
This cannot happen in 2012.
The Cowboys need the elite receiver they pictured when they selected Bryant and gave him No. 88. Bryant's time to become that receiver is in 2012.
Keep Reading

Dallas Cowboys: Like this team?