MLB Rumors: What Will the 2012 Boston Red Sox Rotation Look Like?
March 28, 2012

Ed Zurga/Getty Images
With spring training winding down, it's time to start thinking about what the 2012 Red Sox will look like.
For most of you that follow the team on a regular basis, you shouldn't be surprised when you see Bobby Valentine's final 25-man roster.
There will be a few new faces, but for the most part the 2012 team will look horrifyingly similar to the team that collapsed down the stretch in 2011.
With the exception of the corner outfield spots and the questions surrounding who will man the shortstop position, five of last year's starting position players along with the opening day starter, Jon Lester, will take the field on opening day.
Is that enough for you to be confident in this team?
It's not enough for me.
Quite possibly the biggest question mark coming into the year is the health and resurgence of Carl Crawford. After a disappointing first year in Boston, Crawford looks to bounce back and return to the player he was in Tampa Bay where he hit .296 over nine seasons and was a menace on the base paths.
As important as Crawford could be to this team, he isn't the problem.
The 2011 Red Sox led the American League in runs scored and were second to the Texas Rangers in batting average.
This team can hit, and did so with Kevin Youkilis hurt for the majority of the season, Adrian Gonzalez recovering from offseason shoulder surgery that limited his power and a down year by the aforementioned Crawford.
Generating offense isn't a problem. Stopping the other teams is.
Three of the five spots in the rotation are set. There may be questions regarding Jon Lester, Josh Beckett, and Clay Buchholz, but when healthy and that is a big if, they can be the best top three of a starting rotation in the American League.
So what did new GM Ben Cherington do to fix the rest of the pitching staff?
He moved his most talented bullpen arm in Daniel Bard into the starting rotation and signed injury prone veterans with diminished skills in hopes that he could get lucky and find someone to fill the No. 5 spot in the rotation.
I may be selling Cherington a little short, because he did make what looks like smart moves in acquiring Andrew Bailey and Mark Melancon to bolster the bullpen, replacing last year's closer, Jonathan Papelbon who signed with the Phillies, and moving Bard into the rotation.
But, what are the options for the Red Sox?
Bard has the arm to be a starter. He can touch 100mph with his fastball, and has a devastating slider, but lacks a crucial third pitch—something that he must develop in order to be successful in the rotation.
Bard has been developing a changeup, but hasn't reached the point where he can throw it for strikes on a regular basis.
This move may seem like déjà vu for Red Sox fans—because it is.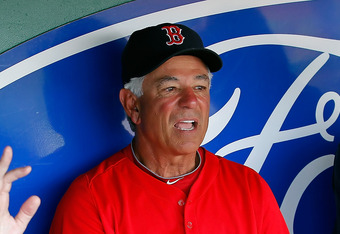 J. Meric/Getty Images
In 2006, Jonathan Papelbon came into spring training with ambitions of being in the rotation, but within the first week of the season became the full-time closer after Keith Foulke struggled in his return from surgery.
Papelbon, who was a great closer for the Red Sox, is a one-trick pony with his fastball.
Bard, on the other hand, comes into 2012 with an equally devastating fastball and a slider that was better than any secondary Papelbon has thrown in his entire career.
As nice as this move looks, there are some concerns besides developing a third and hopefully fourth pitch.
Bard has yet to throw more than 75 innings since being called up in 2009, leaving many fans concerned about whether he will be able to last an entire season.
I have faith that Bard will be enough, and one of those injury prone veterans, or a post Tommy John surgery Daisuke Matsuzaka can fill in for Bard when he inevitably hits the wall sometime in late July or early August.
After Bard, the biggest question mark is who steps up and fills the last spot in the rotation.
This is a great opportunity for Venezuelan southpaw Felix Doubront to take the leap that the Red Sox hoped for after he won the Red Sox Minor League Pitcher of the Year award in 2010.
Doubront has shown he has the stuff to be a starter, but has lacked the consistency needed to be more than a spot starter or extra bullpen arm. If all goes well, Doubront slides in and becomes a cost-effective starter and the second lefty that the Red Sox could use in the rotation.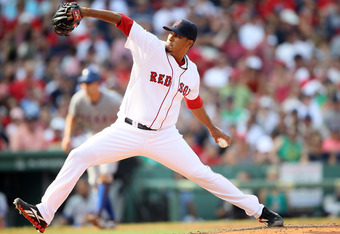 Elsa/Getty Images
Other Possible Starters:
Andrew Miller has shown he has the stuff, however he can't control it on a regular basis, and has had the wheels completely fall off multiple times.
Alfredo Aceves would be an effective starter, but he is better suited for, and a greater asset to the team, staying in the bullpen.
Aaron Cook, Ross Ohlendorf, and Vicente Padilla can all fill in, though, none are reliable at this point in their careers. Don't forget Daisuke may be able to contribute in a couple of months if he continues to progress with his rehab.
One thing's for sure: We don't have to worry about John Lackey pitching every five days this year and no offseason move could beat that.