Why the New York Yankees Should Put Together a Package for Billy Butler by July
March 28, 2012

Ed Zurga/Getty Images
In previous years, many would claim that the last thing the Yankees needed was more offense.
Now, I'm not so sure we can keep saying that.
Obviously, there are plenty of big hitters in the lineup—Robinson Cano, Curtis Granderson, Mark Teixeira and Alex Rodriguez are a few that come to mind—but, aside from Cano, how much longer will we be able to enjoy powerful seasons from the other three?
Rodriguez's health has gotten in his way over the course of the past four seasons, something that he hopes to have solved with orthokine therapy. That being said, he's still a question mark given his age.
Teixeira wants to try out a new philosophy of going the other way this season, which is great, however, the Yankees signed him to be a power bat. If this new strategy inhibits his home run production, the Yankees will have no choice but to tell him to swing for the fences.
Although not an older player, Granderson seemingly came out of nowhere last season to hit 41 home runs and drive in 119 runs. Never before had he eclipsed 30 or 74, respectively. There's no telling what we'll get from him this season.
On top of that, there are doubts that Nick Swisher will not be back next season. The Braves think very highly of him, and the Yankees are working on structuring their payroll to get below $189 million by 2014.
The Yankees really don't have a viable right fielder in the minors who would be ready to step in, but there are plenty available free agents that could come on the cheap—Matt Diaz or Ryan Spilborghs could be great one or two year stop gaps.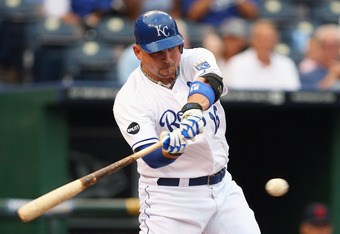 Tim Umphrey/Getty Images
How can the Yankees compensate for Swisher's potential loss? 
Acquire designated hitter Billy Butler from the Royals.
Butler has been one of the most consistent hitters in the majors over the past three seasons, averaging 18 home runs, 89 RBI and a line of .303/.370/.474.
Butler is the anchor of a very young Royals lineup and would definitely not come cheap.
A package for Butler would most likely have to start with Phil Hughes, and the Yankees would likely have to include a mid to high level prospect as well.
Brandon Laird may be of interest to the Royals, as would Slade Heathcott. If the Yankees choose not to move Hughes, the Royals may be interested in Dellin Betances.
Although the Yankees have been reluctant to move Betances in the past, Butler would certainly be worth the price. He is a doubles machine, and his power would translate well into the Yankees lineup.
Many will cite the inability to rotate the designated hitter position if he's a Yankee as a negative, but the depth of the lineup will greatly outweigh that risk.
Prying Butler away from the up-and-coming Royals may prove to be very difficult, but the Yankees definitely have the prospects necessary to make a deal happen.