Magic vs. Knicks: TV Schedule, Live Stream, Spread Info and More
March 28, 2012

Chris Chambers/Getty Images
New York will be without Amar'e Stoudemire (bulging disc) for the foreseeable future, but Walt Frazier is hoping that his Knicks (25-25) come out "dishing and swishing" in an Eastern Conference showdown against the Orlando Magic (32-18) on Wednesday evening.
Despite the Knicks standing at just .500 for the season and Dwight Howard's squad a full 14 games over that mark, it's New York that has received the majority of the attention in the public spotlight.
With Stoudemire on the shelf and both Carmelo Anthony (groin) and Jeremy Lin (knee) banged up, the Knicks have a tough road ahead with the remaining games on the schedule.
Things don't get any easier down the stretch for the playoff-hopeful Knicks, and it's going to be imperative that New York comes away with a victory to stay on the right track.
Where: Madison Square Garden, New York, NY

When: Wednesday, March 28, 7:00 p.m. ET

Watch: ESPN 
Live Stream: NBA League Pass

Listen: 1050 AM (ESPN Radio, New York), 580 AM (WDBO, Orlando)

Betting Line: Not available, as of 7:30 a.m. on Mar. 28, according to Bovada.lv

Key Injuries: Amar'e Stoudemire (back), Jeremy Lin (knee), Carmelo Anthony (groin), Jared Jeffries (knee), Bill Walker (elbow)
What They're Saying
Much of the attention has been on Stoudemire's bad back, as the $100 million power forward was beginning to look a lot better before going down with the injury.
Stoudemire was averaging 18.0 points, 8.2 rebounds and 1.1 blocks on 56.3 percent shooting over 13 games in March, by far his most efficient month of the season.
Now, Carmelo Anthony will have to step up and be the superstar that the Knicks need him to be without Stoudemire in the lineup.
Mitch Lawrence of the New York Daily News touches on that idea:
This is more than just reminding everyone that Carmelo Anthony managed to get the Nuggets out of the first round only once in seven tries, and he needed Chauncey Billups' playoff expertise and leadership to do that. With Stoudemire off getting a second opinion in Florida, this really is Anthony's show, officially.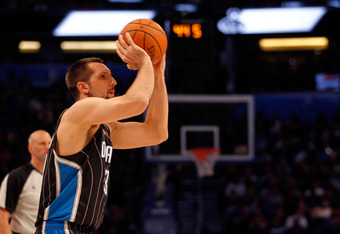 Mike Ehrmann/Getty Images
Most Important Player to Watch: Ryan Anderson
It goes without saying that Dwight Howard and Carmelo Anthony will each have their production closely monitored and scrutinized throughout the evening, but it's Anderson who could emerge as the X-factor.
A strong candidate for Most Improved Player of the Year, Anderson is coming off of a 28-point performance where he drained 8-of-13 from behind the arc (that's right, eight three-pointers). The power forward has sunk 18 deep balls over his last three games.
With Anderson shooting an impressive 41.6 percent from three-point land for the season (143-of-344), the Knicks could have a very tough time defending him with both Stoudemire and Jeffries out of the lineup.
A restricted free agent looking to get paid after the season, Anderson is hoping to prove his point: This breakout season is no fluke.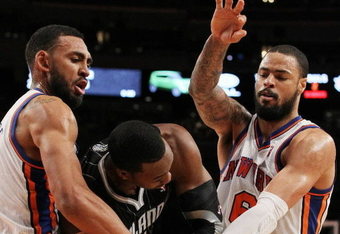 Key Matchup: Dwight Howard vs. Tyson Chandler
Chandler's addition to the Knicks has been one of the least-talked-about stories all season, but that isn't because he hasn't had a strong impact.
The free-agent acquisition is averaging 11.3 points, 9.7 rebounds and 1.5 blocks on an insane 67.4 percent shooting. Chandler has proven to be exactly the type of defensive presence the Knicks needed in the paint.
For the Magic, Howard has strung together five straight double-doubles and is looking for his sixth.
The big man is enjoying a very fruitful March, with averages of 24.1 points, 13.5 rebounds, 1.6 steals and 2.0 blocks on 65.1 percent shooting. He's been on a roll since the trade deadline passed.
Prediction
Knicks 97, Magic 89