WrestleMania 28: Which Wrestler Most Needs an Impressive Performance on April 1?
March 28, 2012

Finally, WrestleMania is upon us. With mere days to go, the 28th edition of the "Showcase of the Immortals" is expected to be among the greatest-ever pay-per-view extravaganzas by the WWE.
With fewer matches than initially expected, it gives fewer opportunities for the roster to showcase their talent in the ring.
Here, I take a brief look at the matches and give my opinion on the one superstar that needs an impressive performance the most.
The Matches
  Dwayne "The Rock" Johnson vs. John Cena
Undertaker vs. Triple H inside Hell in a Cell with special referee Shawn Michaels
Chris Jericho vs. CM Punk (champion) for the WWE Championship
Daniel Bryan (champion) vs. Sheamus for the World Heavyweight Championship
Randy Orton vs. Kane
Cody Rhodes (champion) vs. Big Show for the WWE Intercontinental Championship
Team Teddy vs. Team Johnny for control of both shows
Eve Torres/Beth Phoenix vs. Kelly Kelly/Maria Menounos 
For WrestleMania 28 to be a great event, at least five of these matches have to be impressive. While the headline match (Rock vs. Cena) will be epic on fan reaction alone and the Hell in a Cell match will be historic because it marks the end of an era, the superstars in the other matches have to do it for themselves.
With CM Punk's sudden rise in stock in 2011 and Jericho's much-hyped return on December 21, 2011 and the title of "Best in the World" being up for grabs, the WWE title match is expected to be an excellent technical match.
The fact that it has just been made more personal by Jericho's verbal attacks on Punk's family makes it that much more interesting.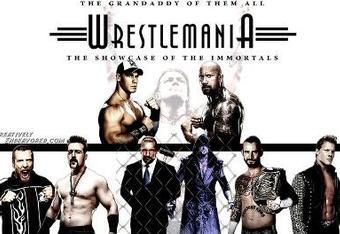 The other major title match is a bit more sedated in its storyline. There is nothing fancy, just the deserving Royal Rumble winner Sheamus getting his shot at a sneaky champion.
Many fans want to see Bryan to get his just dues, and perhaps a Brogue Kick is in his future. That said, it will also be interesting to see how Bryan's girl AJ features in this mix.
The Intercontinental Championship match is as much about Big Show's storyline habit of losing to lesser opponents at WrestleMania as it is about Cody Rhodes bringing prestige to the strap he wears around his waist.
Will the big man power his way into a championship reign, or will he choke again on the grandest stage of them all? It will be a battle of mind against body, as Cody will certainly seek to use any means necessary to compensate for Show's size advantage.
The battle of the general managers has many stars that need a decent performance.
The Miz, Mark Henry, US Champion Santino Marella, David Otunga, R-Truth, Zack Ryder and Kofi Kingston are all superstars that are capable of giving a good show. Some, like Drew McIntyre, desperately need a push.
However, with too much talent forced into a tag-team match and possibly the interference of non-wrestlers—Johnny, Teddy, Aksana, Vickie, Michael Cole and even Hornswoggle—I do not see any single wrestler making a serious impact.
The Divas matchup, like all other Divas matches in recent history, will probably be a silly affair that will involve slapping, running and a roll-up victory. With it being a tag match having a celebrity contestant, I do not expect anyone to show exceptional skill.
That brings me to the one match that remains.
Randy Orton vs. Kane
This match has been hastily put together. It has a storyline based on a single handshake, ages ago, that nobody really remembers.
Still, it features two of the most dominant brawlers in WWE history. Both men have been put into this match because neither of them had a worthy opponent for WrestleMania, or so the story goes.
For both men, this match is an opportunity to get back to the top game and compete at the main event. While it is fairly certain that Randy Orton will get another (and probably a few more after that) title run sooner or later, Kane is inching closer to the sunset of his career.
Kane's return was hyped as a great affair, the re-masking of the monster that had become human. Yet the feud with John Cena that involved Zack Ryder and Eve Torres failed to provide Kane's return with the momentum that the big monster needed.
It hurt more that Cena promptly ran off to face The Rock, leaving the defeated monster with no clear path.
Kane was the demonic monster that broke into the first-ever Hell in a Cell at Badd Blood in 1997 and laid waste to the Undertaker. While his storyline brother is featuring in another edition of the match, Kane is stuck in a match that may end his tale of dominance in the ring.
If Kane gives an impressive show at WrestleMania, he could be in line for another main-event run. The Kane/Orton matchup might be the difference between a very good WrestleMania and an excellent one.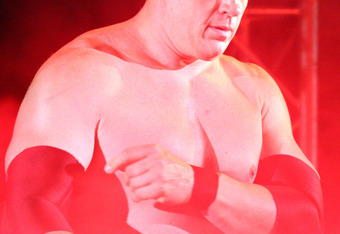 Gallo Images/Getty Images
If he loses another high-profile feud, Kane's re-masking will have served no purpose. The mask and the flames will cease to be impressive if the man who they represent keeps on losing matches at pay-per-views.
So, the Superstar that most needs an impressive performance at WrestleMania, for me, is Kane.
Please leave your thoughts, comments and opinions below.