The 2012 NFL free-agent period has pretty much come to an end for the San Francisco 49ers. Of course they are going to look at a few marginal players from the scrap heap, but their primary signings are pretty much done with.
We are also going to start shifting focus toward the draft next month. While that will take up most of our time, I did think it was important to take a look to the future beyond this offseason.
One drawback from improving so much over such a short period of time is the fact that certain young players are going to be looking at rather large paydays in the not-so-distant future. As their rookie contracts draw to close, San Francisco is going to have to take a long look at giving them extensions sooner rather than later.
This article is going to focus on a few different players that the 49ers should make a priority right now or during the 2012 season.
Justin Smith
This would be all about cap flexibility for the 49ers moving forward. Smith is owed over $18 million over the next two seasons. While he is worth every penny, I am pretty sure San Francisco would like to lesson those cap hits in 2013 and 2014. I am also pretty sure that Smith wouldn't be against a longer-term commitment from the 49ers.
You are looking at a scenario where San Francisco could add a couple more years to the contract, give Smith some money guaranteed and make it cap-friendly contract. Expect this to happen soon.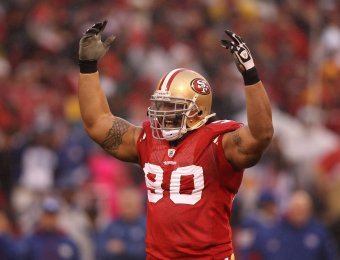 Ezra Shaw/Getty Images
Isaac Sopoaga
The former defensive end quickly became a primary cog in the interior of the 49ers' line last season, his first playing nose tackle on a regular basis. Soap was one of the primary reasons San Francisco finished the regular year with a historically good rush defense.
He is set to become a free agent following the 2012 season, and I am pretty sure that San Francisco doesn't want it to come to that. The issue with letting Soap hit the free-agent market is the fact that the 49ers could be forced to franchise the run-stopping linemen. Considering that the franchise tag cost teams $8 million for defensive tackles in 2012, the 49ers don't want it to get to that.
Andy Lee
Rarely do you see a punter on this list, but Lee has definitely made himself worthy. He is, by far, the best punter in the entire National Football League, and his importance to the 49ers' success in 2012 cannot be stated enough.
Lee is set to become a free agent following the 2012 season. You can expect the two sides to come to an extension within the next few months or at the start of next season.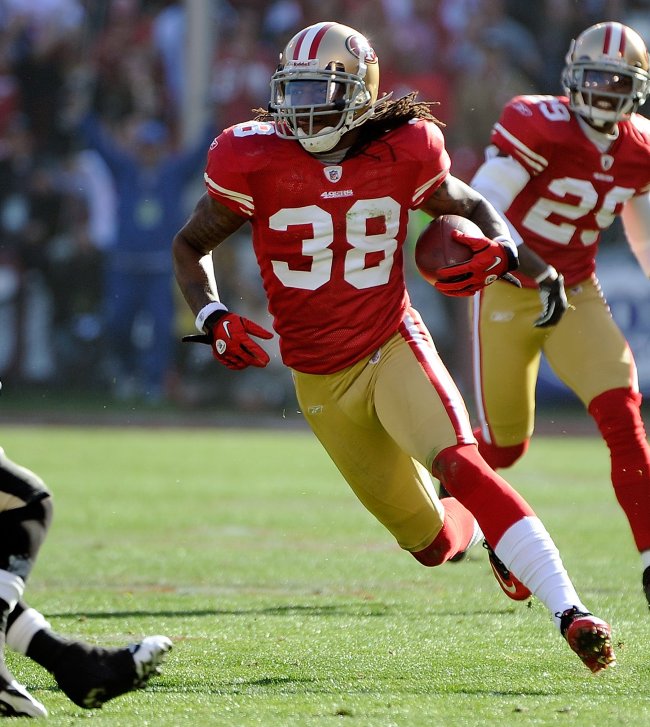 Thearon W. Henderson/Getty Images
Dashon Goldson
Using the franchise tag on Goldson could cost the 49ers $6.2 million against the cap this season. The two sides still have a good amount of time to come to a long-term extension, which would actually give San Francisco some more flexibility when June cuts come around.
The two sides are talking right now, but there haven't been any reports of breakthroughs on contract talks. Considering how volatile the relationship between Goldson and the 49ers front office has been over the course of the last two years, I wouldn't be confident the two come to a resolution soon.
However, Goldson had a great attitude about being given the franchise tag. This could mean that he has taking somewhat of a more liberal stance, which could lead to some sort of long-term agreement. If so, expect it to happen prior to the start of the 2012 season so that the 49ers can use the money elsewhere.
Delanie Walker
It become readily apparent that the 49ers missed Walker when he broke his jaw toward the end of the 2011 regular season. He is a jack of all trades, so to speak. This is a player who can line up as a wide receiver, tight end and fullback.
He is one of the most versatile offensive players in the entire league. With that said, Walker might want to test the free agent market next offseason in order to find a starting job somewhere. I have a hard time believing that he will be willing to sign an extension knowing full well that Vernon Davis is the starting tight end in San Francisco.
Which player should be a priority
Navorro Bowman
This could get pretty tricky. The 49ers already have $43 million invested in Patrick Willis for the next six seasons. It is going to be really hard for them to be able to keep two of the highest paid inside linebackers in the National Football League on the same roster.
The good news is that Bowman still has two more years left on his rookie contract. The two sides could come to a compromise that would pay the up-and-coming linebacker more guaranteed money in 2013, while affording the 49ers the opportunity to retain his services a couple years past his initial contract.
This is something that San Francisco has done in the past with the likes of Joe Staley and Tarell Brown. Either way, it would be somewhat of a stopgap measure until the 49ers find a way to retain Bowman long term.
If 2011 is any indication, the former third-round pick will be demanding Willis money in the not so distant future. I am just not too sure that the 49ers are in a position to pony up that type of money.