AL East Power Rankings: Sabathia and the Best Starting Pitchers in the Division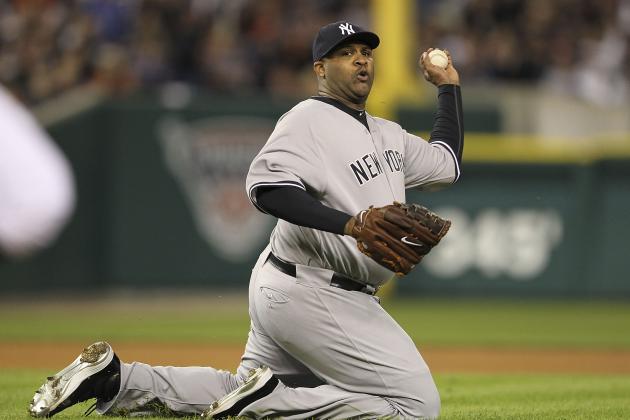 Leon Halip/Getty Images

The American League East division is considered by many to be a juggernaut.
All five teams in the division have plenty of offensive firepower to provide for their respective organizations.
The New York Yankees have Robinson Cano, Mark Teixeira, Curtis Granderson, Alex Rodriguez and Nick Swisher.
The Boston Red Sox have Adrian Gonzalez, David Ortiz, Jacoby Ellsbury and Dustin Pedroia.
The Toronto Blue Jays have Jose Bautista, Brett Lawrie, J.P. Arencibia and Adam Lind.
The Tampa Bay Rays have Evan Longoria, B.J. Upton and Carlos Pena.
The Baltimore Orioles have J.J. Hardy, Mark Reynolds, Adam Jones and Matt Wieters.
So, of course, to combat against these players and offensive lineups, you need a solid pitching rotation.
With spring training coming to an end and the 2012 regular season about to begin, let's take a look at the division's 20 best starting pitchers this year.
Begin Slideshow

»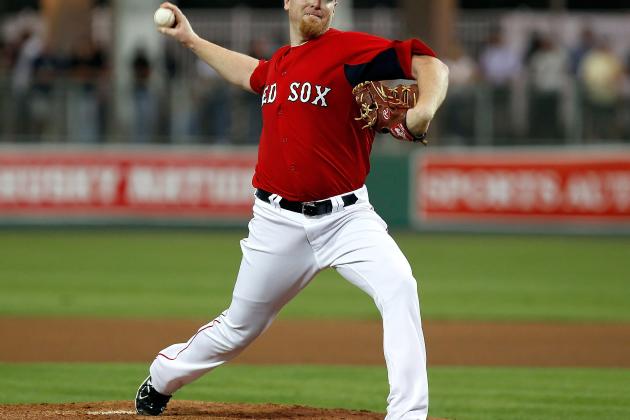 J. Meric/Getty Images

Aaron Cook. Just typing in my name brings me concern as to how he'll do in 2012.
The Aaron Cook of 2008 seems long gone. Last year, he went 3-10 and his ERA was 6.03.
Now he's looking to play for the Boston Red Sox, and one of my roommates who's a Red Sox fan shudders at his name.
Here's the thing, though: Cook is battling against Daniel Bard, Felix Doubront and Alfredo Aceves for the final two spots in the rotation, and he's done better than all of them.
In three spring training games (two starts), he's allowed only two runs and five hits over 9.1 innings.
His showing in spring training, along with Bard possibly returning to the bullpen (which is where I think he belongs) gives me reason to believe that he'll start off the 2012 season at the back end of the rotation.
And that, readers, worries me.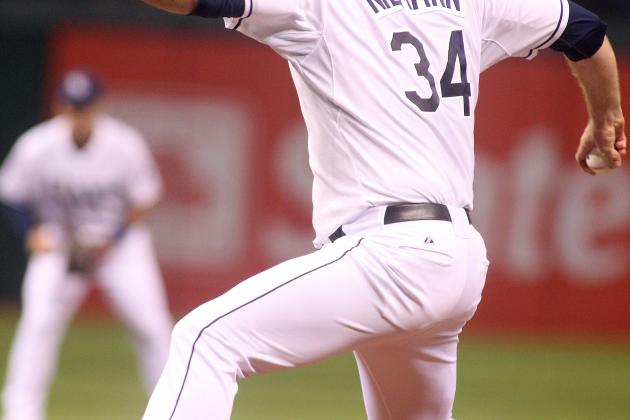 Charles Sonnenblick/Getty Images

Jeff Niemann has been decent, if unspectacular for the Tampa Bay Rays since becoming a full-time starter in 2009.
Last year, he went 11-7, but pitched in just 23 games. His ERA continues to hover around 4.00.
He's been OK in spring training, but again, nothing spectacular. He's recorded 11 strikeouts in four games (13.1 innings), but he's allowed six runs. However, the more pressing concern is the fact that he's given up 16 hits.
He'll fill out the back end of the rotation alongside Matt Moore, but I don't expect anything particularly great from Niemann again in 2012.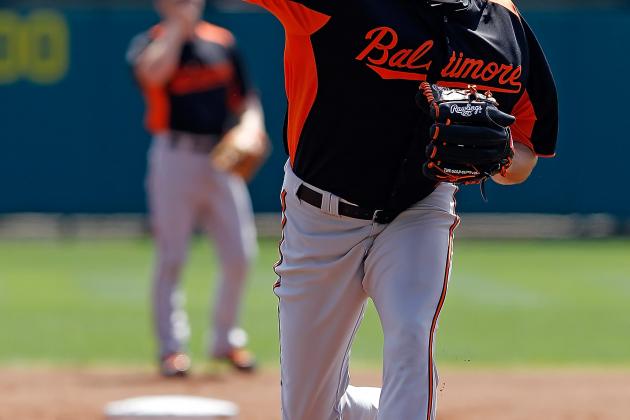 J. Meric/Getty Images

Jason Hammel did not have a good 2011.
After notching 10 wins with the Colorado Rockies in both 2009 and 2010, Hammel was only able to get seven wins last year, and recorded a 4.76 ERA. His strikeouts also went down by nearly 50.
Perhaps a change of scenery will help Hammel in 2012. He was traded to the Orioles in the deal that sent Jeremy Guthrie to Colorado.
Hammel will be the No. 2 starter in the rotation, but with Zach Britton possibly out for the start, he has the chance to be the Opening Day starter.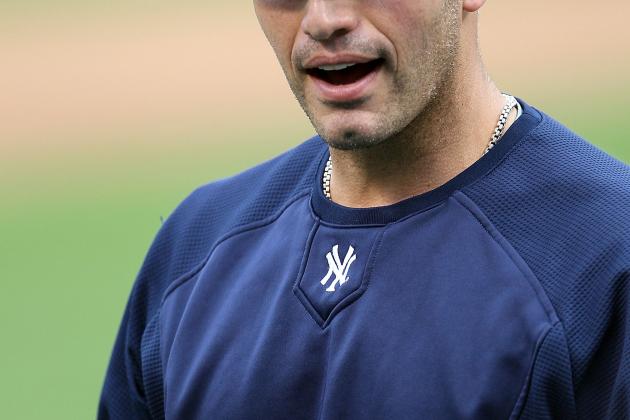 Stephen Dunn/Getty Images

We thought 2010 was the last we would see of Andy Pettitte pitching on the mound.
Not so fast. Pettitte is back to pitch in 2012.
And he hasn't lost much since returning. Though he's allowed 12 hits in 8.1 innings, he's also allowed just two runs.
He's expected to start a few games in the minors and return to pitching in the big leagues soon.
The only question is, after a year gone from the game, can Pettitte start every fifth game throughout the course of the season and be effective?
His track record says that he can. We'll see what happens.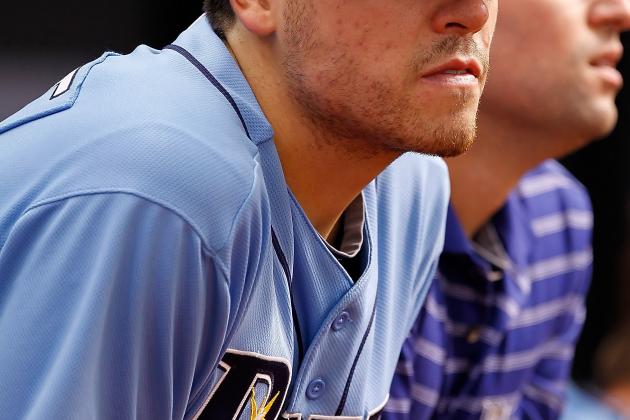 J. Meric/Getty Images

Matt Moore is one of the most highly-touted prospects in MLB.
MLB.com's Prospect Watch has him as the No. 1 prospect overall, so he'll have big expectations for the Tampa Bay Rays in 2012.
Moore blew minor-league batters out of the water in 2011. In 27 combined starts in Double-A Montgomery and Triple-A Durham, he recorded 210 strikeouts and limited opponents to just .184.
His performance in the minors earned him a September call-up. In three games (one start), he allowed three runs over 9.1 innings, and recorded 15 strikeouts.
He followed that up by pitching in the ALDS, allowing just one run in 10 innings, with eight strikeouts.
Now let's see what he can do in 2012.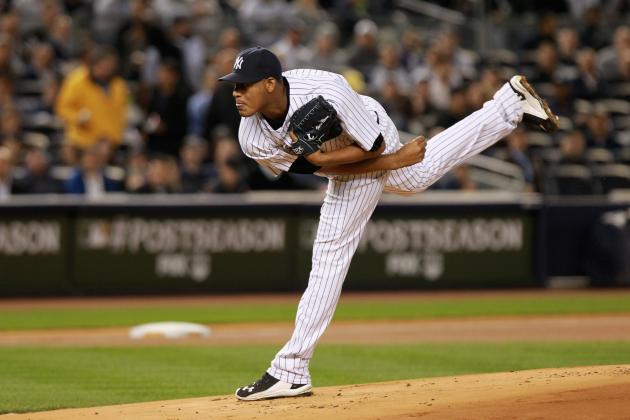 Nick Laham/Getty Images

Ivan Nova did a great job for the Yankees in 2011.
In a year of an uncertain pitching rotation beyond C.C. Sabathia, Ivan Nova came through. He went 16-7, with a 3.70 ERA.
This season, the Yankees rotation is stacked, but Nova will continue to start.
A couple problems set Nova back from being higher on this list.
First, he does not strikeout batters. In 165.1 innings last season, he only had 98 strikeouts. Now entering his second season with the Yankees, he needs to strike out more opposing batters if he want to continue being effective.
Other problem is that he hasn't been very good in spring training. In five games, he's allowed 15 runs, including five home runs.
Hopefully, when the regular season begins, this will not be an issue.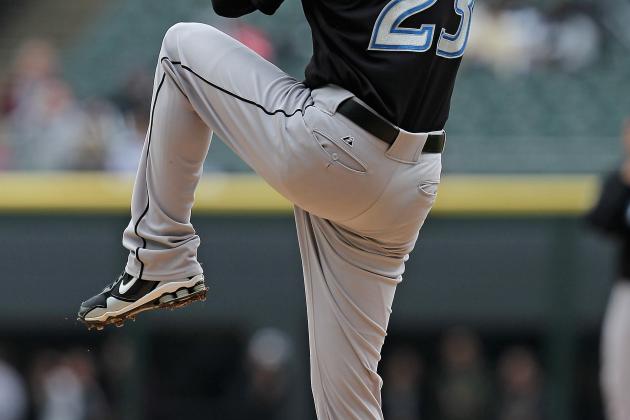 Jonathan Daniel/Getty Images

On one hand, Brandon Morrow has a 0.68 ERA in four spring training games this year. In addition, last season, he also hit the 200-strikeout mark for the first time in his career.
With those in mind, he should be ranked higher, shouldn't he?
Well, normally, yes. The problem for Morrow is that he also had his highest ERA of his career last year, at 4.72.
Ouch.
In addition, he allowed 21 home runs and hit a career-high 12 batters.
Morrow will start 2012 as the No. 2 starter in the rotation for the Toronto Blue Jays, but if he wants to hold onto that spot, he needs to lower his ERA and not hit as many batters.
J. Meric/Getty Images

Clay Buchholz had a solid start to the 2011 season for the Boston Red Sox. He went 6-3 in 14 starts with a 3.48 ERA.
Unfortunately, he ended up on the disabled list in June. Then, in August, it was discovered he was suffering from a stress fracture in his back and he was out for the rest of the season.
Now, he returns to the Red Sox in 2012, hopefully a lot healthier. He's done a great job on the mound since 2009 and will continue to hold the middle of the rotation.
He started off spring training strong, before allowing five runs against Baltimore last Friday.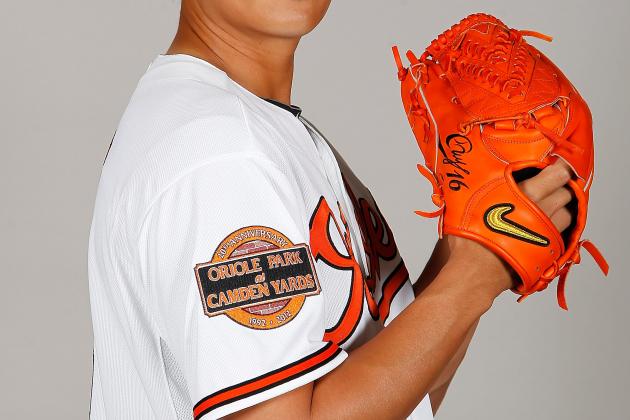 J. Meric/Getty Images

Never heard of Wei-Yin Chen?
I'm not surprised. He's been pitching in Japan for the past six years.
He's pitched for the Chunichi Dragons of the Nippon Professional Baseball's Eastern League and has a 36-30 record in his career. In 2009, he captured the league's ERA title, with a 1.54 ERA, the lowest since 1968.
Now he comes to the United States and will be playing for the Baltimore Orioles in 2012.
So far, he's done a very good job in spring training, allowing just five runs in four games (15 innings).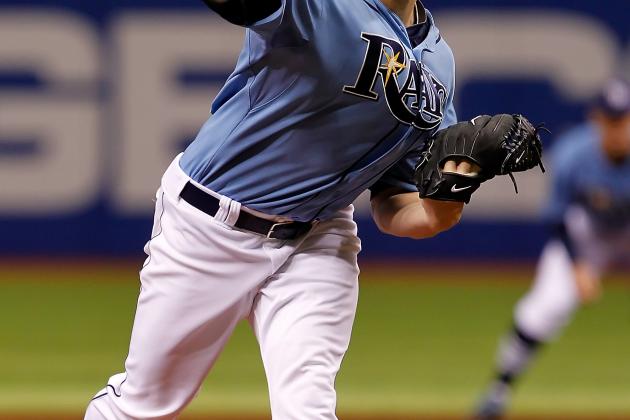 J. Meric/Getty Images

Jeremy Hellickson has had quite a start in his first two years in the majors.
He came up in 2010 for the Tampa Bay Rays, going 4-0 in 10 games (four starts). He followed that up in 2011 with a 13-10 record, recording a 2.95 ERA and two complete games.
Hellickson has had some problems in spring training. His first game against Minnesota was great, but since then, he's been torched, which has hurt him in these rankings.
Hopefully for him and the Rays, the regular season won't begin that way.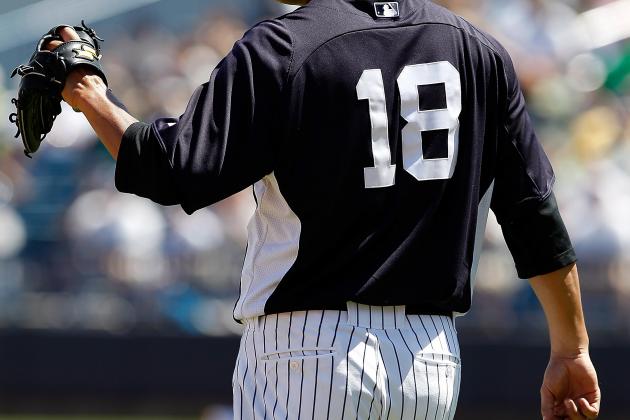 J. Meric/Getty Images

Hiroki Kuroda is no stranger to playing in a huge media market, having played for the Los Angeles Dodgers for the past four seasons.
But now, he moves from the Dodgers and the NL West to the New York Yankees and the AL East.
Kuroda is 37 and has yet to have a winning percentage over .500 here in the States.
Yet, despite that and his age, his numbers keep getting better each year. He went from a 3.76 ERA in 2009 to a 3.39 ERA in 2010 and recorded a 3.07 ERA in 2011. Last season, he pitched 200-plus innings for the first time and recorded a career best in strikeouts.
Kuroda will likely be the No. 2 starter in the rotation, behind only C.C. Sabathia.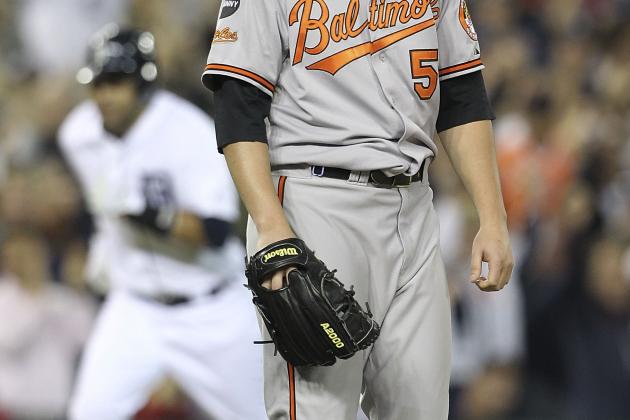 Leon Halip/Getty Images

Zach Britton played his first season in the majors last season, and he did surprisingly well... well, as well as you can while pitching for the Baltimore Orioles.
He went 11-11 in 28 starts, recording a 4.61 ERA over the course of 154.1 innings, but suffered shoulder inflammation in August and ended his season on the disabled list.
He had a strong spring training, allowing just two runs in five games (four starts) and striking out 13.
However, he recently received two rounds of platelet-rich plasma (PRP), which means he'll likely miss the start of the regular season.
Al Messerschmidt/Getty Images

Henderson Alvarez got his first taste of playing in the major leagues last season, when the Toronto Blue Jays called him up in August.
He started 10 games, going 1-3. Though his record isn't great, he did have a 3.53 ERA and struck out 40 batters in 63.2 innings.
In spring training, he's been fantastic, allowing just two runs in four starts (11 innings), with 10 strikeouts.
He'll likely be the third or fourth starter in the rotation. With some experience under his belt and a solid Blue Jays offense, Alvarez's first full season in the majors should be a good one.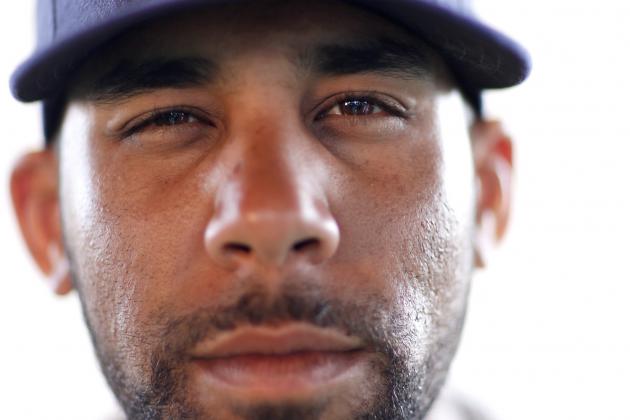 Jonathan Ferrey/Getty Images

After going 19-6 in 2010, David Price hit a bump in the road last year.
His winning percentage was below .500, going 12-13 in 34 starts. However, he set career highs in innings pitched (224.1) and recorded 200-plus strikeouts for the first time in his career.
Price started off spring training strong, not allowing run in his first two games, but had trouble against the Orioles on March 13.
With some more offensive firepower (the addition of Carlos Pena) to support him and a better bullpen, Price should have a much better 2012 season.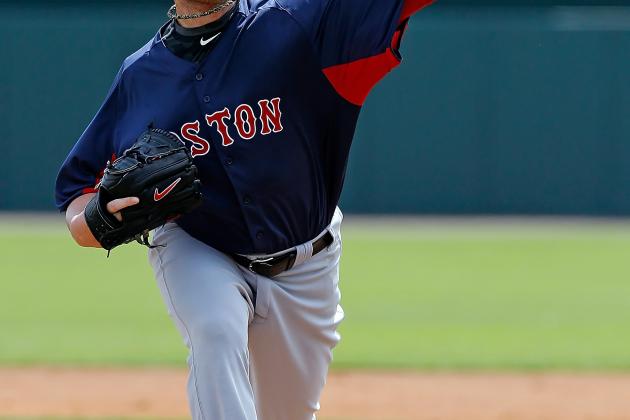 J. Meric/Getty Images

Jon Lester took a bit of a hit statistically in 2011, but he's still one of the better pitchers in the AL East.
His strikeouts dipped and he didn't pitch 200-plus innings, like he did from 2008 to 2010. However, his ERA has continued to stay in the low to mid-threes and he allowed fewer walks than he did in 2010.
In spring training, he didn't start particularly well. However, he made up for it in the end on Monday, striking out 10 Philadelphia Phillies batters over seven innings.
Lester has been a consistent starter for the Red Sox since becoming a full-time starter in 2008. I can't see why he won't do the same in 2012.
Nick Laham/Getty Images

Michael Pineda is ready to begin his first season with the New York Yankees, and fans should expect him to start somewhere within the middle of the rotation.
However, just because he's a No. 3 or 4 starter doesn't mean you should take this guy lightly. He is an absolute beast on the mound.
Last year, he did a great job for Seattle, until the second half of the season (although the Mariners limiting his innings count might not have necessarily helped). He had 178 strikeouts for the season and a 3.74 ERA. If the Mariners offense wasn't terrible, he'd likely have a better record than 9-10.
He's had a solid spring training. He's allowed six runs in five starts, but what's impressed me the most is his 16 strikeouts.
With a year of major league experience under his belt, a developing changeup and solid run support from the Yankees, Pineda should have an excellent 2012.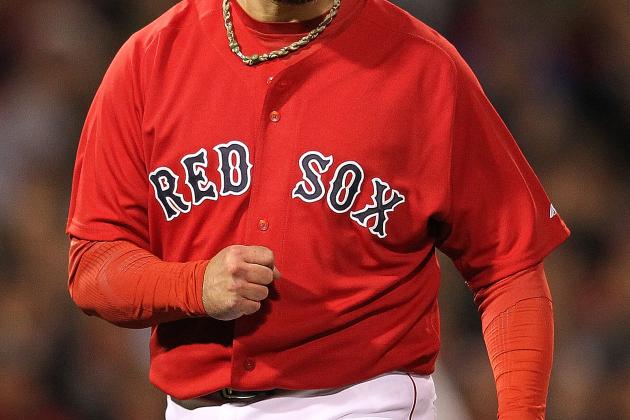 Jim Rogash/Getty Images

Hopefully for Josh Beckett and the Red Sox, those September woes are long gone.
So far, it seems to be the case. He has a 0.95 ERA in five spring training games (17 innings).
His 2011 season was a mixed bag. Besides the disastrous September, Beckett's record wasn't particularly great, going 13-7 in 30 starts. However, if you look beyond that, he set career bests in ERA (2.89) and opponents' batting average (.211).
He's tabbed as the No. 2 starter behind Jon Lester.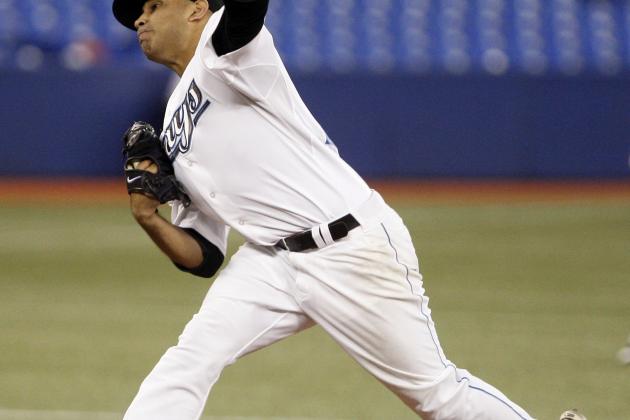 Abelimages/Getty Images

Ricky Romero did a very good job as the ace of the Toronto Blue Jays last year, and he should be the Opening Day starter once again.
Last season, he set personal bests in wins (15), ERA (2.92), innings played (225), strikeouts (178) and opponents' batting average (.215).
While he's not as big on strikeouts as some of the other top pitchers on this list, he more than makes up for it with the fact that he gives up few runs and gets quality outs.
He did a great job in spring training, allowing just two hits and no runs in three games (nine innings).
With even more heavy-handed offensive support from guys such as Jose Bautista and Brett Lawrie and an improved bullpen, look for his overall numbers to be just as good, if not better in 2012.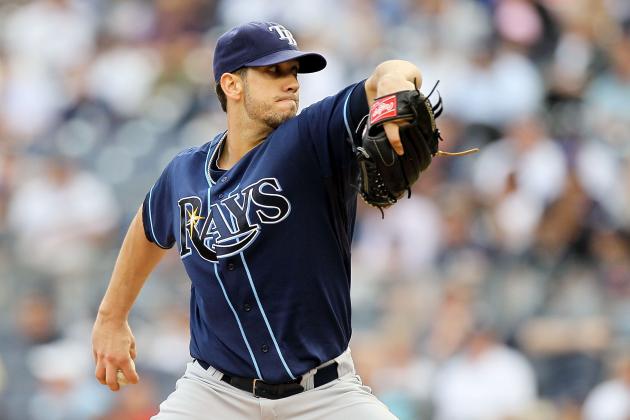 Jim McIsaac/Getty Images

James Shields will be the Opening Day starter for the Rays, but that doesn't come as a surprise.
Last season, he had personal bests in wins (16), ERA (2.82), innings played (249.1 innings) and strikeouts (225).
He also had more complete games (11) and shutouts (four) than any other pitcher in the American League.
He's also had a very solid spring training, recording a 2.04 ERA in four games.
The only thing keeping him back from being number one on this list is whether or not he can duplicate his success. Before his breakout year last season, he was a good, but not fantastic pitcher. He hovered around 11 to 13 wins, but has always been susceptible in allowing a lot of home runs. In addition, in 2009, his ERA was 4.14; in 2010, it was 5.18.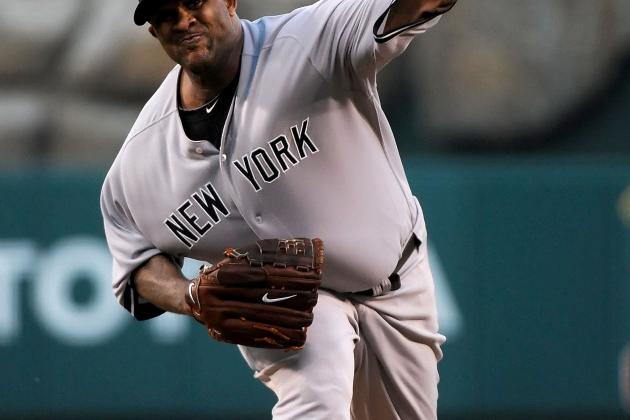 Lisa Blumenfeld/Getty Images

Was there any doubt to who would be number one on this list?
C.C. Sabathia is the ace of the Yankees organization, a true workhorse of the game. He logs in 230-plus innings a year, low-3.00 ERAs and averages around 200 strikeouts each season.
In three seasons with the Yankees, he has a 59-23 record in 101 starts.
As long as Sabathia and the Yankees offense continue to remain consistent, he'll remain the best pitcher in the division.