2012 NFL Draft: Will the Carolina Panthers Find a Backup for Cam Newton?
March 28, 2012

Kevin C. Cox/Getty Images
The entire NFL, let alone Carolina Panthers fans, had never witnessed anything like quarterback Cam Newton prior to the 2011 season. 
After finishing at a league-worst 2-14, Carolina certainly earned themselves the first overall selection in the 2011 NFL Draft. With names such as Nick Fairley, Marcell Dareus and even Da'Quan Bowers were thrown up into consideration, the Panthers' front office made a bold move and went with the National Champion and Heisman winner in Newton.
Weird, right? Calling a national champ and Heisman Award winner a risk is quite odd.
But, with so much doubt surrounding Newton's attitude, ability and maturity, countless draft experts questioned why the team didn't heed their warnings about the quarterback.
Well, we all know what happened.
Thank goodness for the sake of the Carolina Panthers' franchise that they did ignore the so-called experts. After investing a critical draft selection in Newton, the Panthers immediately received some incredible payoff in return.
If you have seen the numbers, haven't seen the numbers or don't care to look up the numbers, I'm going to give them to you anyway.
In his rookie season, again his rookie season, Newton passed for 4,051 yards and 21 touchdowns. His 4,051 passing yards broke the rookie record for the most in a season. The previous holder of that honor was some guy named Peyton Manning.
And that wasn't all.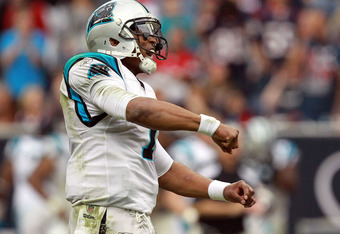 Ronald Martinez/Getty Images
Just as he did threw the air, Newton flat out assaulted teams on the ground. Newton rushed 706 yards and tiptoed into the end zone 14 times, the most ever in a single season by an NFL quarterback, breaking a 35-year record set by Steve Grogan.
En route to tripling his team's win total, Newton was rightfully awarded the Offensive Rookie if the Year honors.
But that's enough praise for Newton although I can probably do this for days.
With the franchise quarterback moving into his sophomore season, it may be time to draft a suitable replacement. That replacement must be a quarterback that plays a similar style to Newton.
So basically, he must be able to throw the deep ball, run the option or take off on his feet.
Sadly, Jimmy Clausen and Derek Anderson are nothing like Newton. The current second and third stringers are decent backups at best and that's just me being generous.
At this year's Senior Bowl practice, head coach Ron Rivera verified the team's possible search for Newton's backup:
 "You have to look at it in those terms and say, 'How much does the offense change if (Newton) is in or if he's not in?' It's one of those things that you're going to discuss and talk about as we go forward."
So with that being said, who should Carolina target in this year's draft? Which quarterback is worthy enough of backing up the No. 1?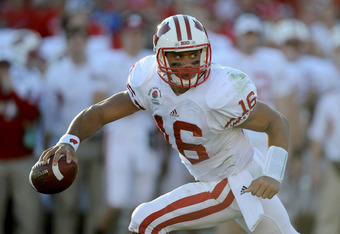 Harry How/Getty Images
Here are a handful of possibilities:
Russell Wilson, Wisconsin
If the Panthers are indeed aiming to pick up a potential backup to Newton in this year's draft, Wisconsin's Russell Wilson is undoubtedly the best option for Carolina here for a number of reasons.
Let's start out with Wilson's arm.
Wilson has consistently shown his good arm through both NCAA games and, more recently, at the NFL Combine. He doesn't have the greatest of strength, but is capable of making just about every throw.
In his 2011 season at Madison, Wilson threw for 3,175 yards along with 33 touchdowns and just four picks. He also tossed the ball at a very efficient rate, completing 72.8 percent of his passes.
Now, Wilson's ground attack isn't nearly as dangerous as Newton's, but quite frankly, it isn't supposed to be. Wilson would be a backup. All he would be asked to do is play the same game as Newton if needed.
Wilson's rushing numbers aren't flashy by any means. However, he's a quarterback that can sniff out quite a few ways to score. That's something Newton often proved in his rookie season.
Wilson also draws some similarities to Newton in both the athletic and competitive departments. He's a guy that's smooth in the pocket and also wouldn't be afraid to break off a run.
The biggest knock on Wilson is his height.
At just 5'11," Wilson doesn't possess the prototypical size for an NFL quarterback. That will often force him to look for multiple passing lanes which may not translate well at the next level.
But again, he would be a backup. The front office isn't looking for a carbon-copy of Cam. They're looking for a capable prospect at a reasonable price. Being that Wilson should drop to the fourth or fifth round, he could be exactly that.
Joseph Person of the Charlotte Observer has mentioned the team's interest in possibly taking Wilson.
Case Keenum, Houston
Here's another name you might be familiar with. Case Keenum of Houston is another late-round possibility for Carolina.
The intriguing thing about Keenum was his lack of press despite his phenomenal statistics throughout his elongated career at the collegiate level.
Tell me how sexy these passing numbers are:
2011: 5,631 yards, 48 touchdowns, five interceptions
2010: 636 yards, five touchdowns, five interceptions (played three games)
2009: 5,671 yards, 44 touchdowns, 15 interceptions
2008: 5,020 yards, 44 touchdowns, 11 interceptions
2007: 2,259 yards, 14 touchdowns, 10 interceptions
The kid also has a decent rushing game. Keenum hit the end zone nine times in 2007, seven times in 2008, four times in 2009 and three times in 2011.
But, the concern is that Keenum played in the less than impressive Conference-USA. He posted great numbers but it unfortunately came in a conference that very few actually respect. 
No knock on C-USA, but it's certainly no SEC.
Keenum is currently projected to go between the fourth and fifth rounds.
Austin Davis, Southern Mississippi
Now it's time to get into a few names you probably haven't heard of. One of those names being Southern Mississippi's Austin Davis.
Davis, just as Newton, is an exceptional athlete. He has solid throwing mechanics, possesses decent arm strength and displays a good sense for the game.
The more appealing aspect of his game, however, is his big play ability on the ground. 
In his 2011 campaign, Davis threw for 3,496 yards and 30 touchdowns. And with his feet, Davis picked up 804 yards and 14 touchdowns over his past two seasons.
However, Davis does exhibit quite a few weaknesses.
Davis does not have great velocity on his throws and wasn't exactly accurate during his time at Southern Mississippi. The fact that he too played in C-USA is another minus for his draft stock.
As of now, Davis looks to be a career backup or a very long-term project. He is projected as a sixth or seventh round selection.