Why No Team Can Take Down the Chicago Bulls When Healthy
March 28, 2012

Jonathan Daniel/Getty Images
The only obstacle standing between the Chicago Bulls and their postseason hopes is health.  Although the Bulls have played the majority of this season without the benefit of their entire lineup, the team's continued success gives notion to this claim.
At 40-11, Chicago sits atop the NBA standings and is the only ball-club to have clinched a playoff berth.
What's most impressive about the team's 51-game résumé is not the result, but rather the procedure.
Throughout the course of the season, the Bulls have be able to spin their struggles with injuries from a negative, into a beaming positive.
There are currently 11 players on the team roster who average at least 13 minutes of playing time per game—a number that not only highlights the team's battle with injuries, but also explains their successes.
Derrick Rose, Richard Hamilton, C.J. Watson and Luol Deng have all missed extended periods of action due to injury.
Despite their absences, head coach Tom Thibodeau has been able to find a rotation of role players who he can trust during late-game situations.
The key to Chicago's triumph over adversity lies within its roster.
The Bulls are by far the most complete team in the NBA and have unmatched balance and depth at every position.  Each player possesses a unique skill-set and serves a different purpose—which makes it extremely difficult for opponents to counter.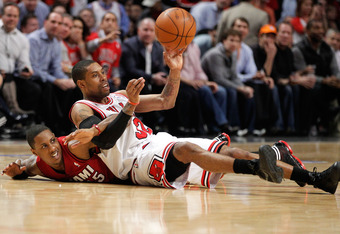 Gregory Shamus/Getty Images
In a current seven-game stretch where they've been without the league's reigning MVP, Chicago has turned to John Lucas and Watson to run the offense.  In place of Rose, the backcourt duo has responded by leading the team to victories in five of those contests—including wins over playoff teams such as the Miami Heat, Philadelphia 76ers and Orlando Magic.
In a seven-game series, Chicago would not only have the advantage in home-court and roster versatility, but also in coaching.
Last season, Thibodeau set an NBA record for most wins by a rookie head coach with 62.  Although he's only in his second year at the helm, Thibs is a defensive mastermind and has consistently gotten the most out of his team.
Even with a handicapped roster, the Bulls have the top-ranked defensive unit in the league. The team allows a paltry average of only 89.1 points (second) and collects just under 46 rebounds per game (first).  Their hustle and effort is combined with an unselfishness that leads to the tune of 23.1 assists per game (fourth).
While these rankings become arbitrary come playoff time, they shouldn't be ignored.
By placing at the top in these three categories proves how playoff-ready the Bulls truly are.
Postseason play traditionally comes along with a decrease in scoring and a drop in tempo.  This bodes extremely well for Chicago because they already play a suffocating brand of half-court defense.  There is absolutely no reason to believe this will change as we near the end of the season. 
Aside from Rose, the team lacks another player who can consistently create his own shot.  However, the team disguises this deficiency with tremendous ball movement and balance. 
While Rose, Deng and Carlos Boozer combine to do the bulk of the scoring, the rest of the offense is distributed among seven players who all average between seven and 11 points.
This means that the Bulls have a multitude of scoring-options and aren't as prone to scoring-lulls when their All-Star point guard needs a breather.
It is this kind of willingness to share the ball which transitions into so many wins.
Under the guidance of Thibodeau, this injury-shaken Bulls team has somehow managed to overcome their biggest hurdle and turn it into their greatest asset.
Even if the team can't come to full health, they are still primed to win the NBA Finals.
If they can, the playoffs may not even be worth watching.