Cleveland Cavaliers Have Made a Defining Pickup in Donald Sloan
March 28, 2012

Chris Chambers/Getty Images
Every once in a while, amidst the errors and bad decisions, an NBA General Manager makes a move that can play a big role in defining his career.
These aren't the moves that everyone, or anyone for that matter, expects. They're not the obvious moves. They're the moves that result in the discovery of a talented player who people were reluctant to give a chance. Cavaliers' General Manager Chris Grant has made one of those moves by acquiring Donald Sloan.
At the trade deadline, Grant decided to send backup point guard Ramon Sessions to the Lakers in a trade that brought back Luke Walton, Jason Kapono (who the Cavs cut) and most importantly a first-round draft pick. That deal left the Cavaliers without a capable backup, so Grant went to the NBA D-League.
Enter rookie point guard Donald Sloan out of Texas A&M University.
Sloan has spent much of the 2011-2012 season bouncing back and forth from the D-League. He played in five games with the Atlanta Hawks, and was then sent back down. He then played three games with the New Orleans Hornets before he was sent back down.
Finally, after the trade deadline, he became a part of the Cavaliers organization for the remainder of the season.
He began impressing Cavaliers fans from the minute he put on the wine and gold.
In just his second game with the Cavaliers, and his first with decent minutes played, Sloan put up 11 points in a win over the New Jersey Nets. Though that's his high point total of his young career, he's showing that he can handle running the offense and distributing the ball like he did in four years as an Aggie.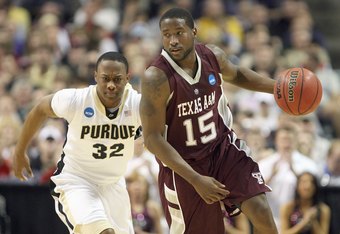 Otto Greule Jr/Getty Images
I must say, I was pretty excited when the Cavaliers announced they would be picking up Sloan. Not only do we share an Alma Mater, but we were actually there at the same time. I got to see Sloan perform in college, and that has given me hope for what he can do at the professional level.
At Texas A&M, Sloan was the true leader of several teams that went to, and won games in, the NCAA Tournament. He was never really billed as A&M's best player, but when they needed a play during his time there, they made sure to get him the ball and he would make something happen.
The teams Sloan played on often over-performed, as the talent level there never really matched up with some of their opponents. Sloan was a major part of that.
In college, Sloan often displayed his offensive presence by either pulling up for a jumper, which he has a nice touch on, or he would drive to the hoop with authority. Sloan was always a powerful point guard who would use his strength to get to different spots on the floor that would allow him to make a play.
He really was a main reason for the recent success of the Aggies
So when I saw that the Cavaliers were picking him up, I was thrilled. Not only was I happy because a fellow Aggie would be playing for my hometown team, but I was thrilled that the Cavaliers were getting a guy who was clearly ready for his shot at the NBA.
Sloan has looked NBA-ready for the past couple of years. That's not to say that he looked like a top draft pick, but he really worked on his game to get it to that next level.
When I first started watching Sloan, he was a little out of control and would get caught trying to do too much with the basketball. Over time, he really settled down and started letting the game come to him. This is when he turned the corner from being a good player, to being a professional prospect.
So what can Cavaliers fans expect out of Donald Sloan?
Fans should expect to watch a guy who is ready to be the best backup he can be to Kyrie Irving. The great thing about picking up some guys out of the D-League is that they want to be in the NBA so bad that they don't mind playing second fiddle to starters.
Sloan is a guy who will become an emotional leader of the reserve group. He was always the leader of his college teams, the guy his teammates could look to for composure and inspiration. Once he is allowed to become comfortable with an NBA team, that side of Sloan should become apparent again.
Fans can expect a hard-working player who hustles up and down the court every time he is in the game. Sloan made a name for himself as a player who was constantly positioning himself to make plays on offense and defense.
Sloan is also a change of pace from Kyrie Irving. Irving is all about body control and finesse. He is the type who can kill you with patience and agility. Sloan is a big, strong and athletic point guard who can make some electrifying, high-flying plays. He will present a different element, forcing opposing teams to alter the game plan when he comes in for Irving.
Cavaliers fans shouldn't expect Sloan to become a player who will give Irving a run for his money as the starter. Though I think he can be a very talented contributor, he's not on the same level as Irving. Expect Sloan to embrace his role as the backup and to provide the Cavaliers with depth and versatility at the lead guard position.
The Cavaliers have given Sloan the opportunity to make his mark with the team, and he has begun to do that in his first few games. If they give him a real chance to stick on the team this year and after, he could very well prove to be a guy who can stick around and help the team win for years.
He could turn out to be Grant's diamond in the rough.