Exploring Every Team Need the New Orleans Saints Must Address in 2012 NFL Draft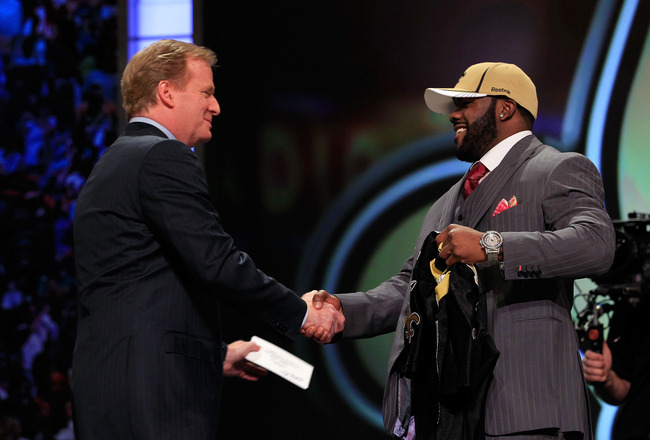 Chris Trotman/Getty Images
The New Orleans Saints will only have six picks in the upcoming draft, and there are a lot of areas that need to be filled.
However, the Saints have done a great job of filling needs through free agency thus far.
Coming into the 2012 offseason, the Saints' biggest needs included defensive tackle and middle linebacker. After Carl Nicks and Robert Meachem left in free agency, the Saints immediately needed some guard help and wide receiver depth.
The Saints answered by bringing in huge free agents in Brodrick Bunkley, Curtis Lofton and Ben Grubbs. New Orleans also has receivers that performed well last preseason in Joe Morgan and Andy Tanner. Not to mention a young player in Adrian Arrington that has been waiting for his shot.
The Saints lost corner Tracy Porter to the Denver Broncos, but they have two early-round draft picks in Patrick Robinson and Johnny Patrick that will fill that void.
Looking at the Saints on paper, there are not many glaring needs.
New Orleans can definitely use some depth in certain areas, and only a couple seem to be high priority for this offseason.
Let's take a look at the needs that the Saints must address in the 2012 NFL Draft.
Defensive End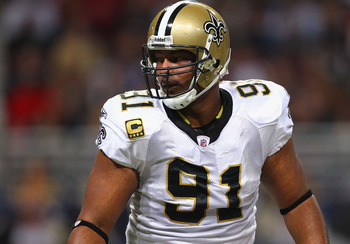 Dilip Vishwanat/Getty Images
The defensive end spot is one of the most confusing areas for the New Orleans Saints.
On one hand, they have Will Smith, Cameron Jordan, Junior Galette, Turk McBride and Greg Romeus.
Smith and Jordan are sufficient starters and Galette, McBride and Romeus all have the potential to turn into great ends.
However, on the other hand, Smith is aging and has not performed as well in recent years, Jordan has not shown great pass rushing skills and Galette, McBride and Romeus could just as easily end up being busts.
Steve Spagnuolo brings some hope into the New Orleans defense because he may be able to inspire these players to play better than they have. Spagnuolo specializes on the defensive line, and expects a lot from that group.
With that said, he will need productive players at the end spots. He needs guys that will get after the quarterback and take down the ball carrier.
The Saints could very well decide to take a defensive end with their first or second pick in the draft. Granted, that would be a third or fourth round end, but the Saints are known for finding gems among the dirt in the draft.
Cornerback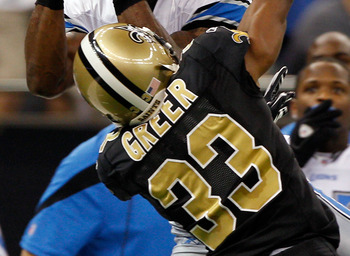 Chris Graythen/Getty Images
The cornerback spot is an area that the Saints could use a little depth in.
The No.1 spot is locked down by Jabari Greer. The second and third corners will most certainly be Patrick Robinson and Johnny Patrick.
New Orleans will be solid with those three corners, but they need some depth behind them. Most teams carry around five cornerbacks throughout the season.
The Saints currently have six corners on the roster, but all three of those guys were rookies last year. New Orleans could decide to spend a fourth or fifth round pick to upgrade their corner depth.
Defensive backs are drafted fairly often because of their ability to help out on special teams as well on the field. In today's NFL, teams need four capable corners and right now the Saints only have three.
Expect the Saints to go after a corner at some point in the 2012 draft.
Offensive Tackle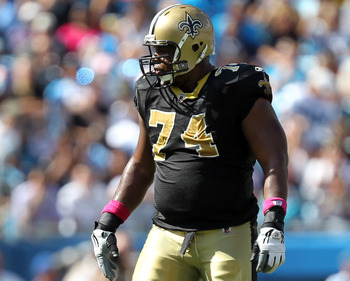 Streeter Lecka/Getty Images
The New Orleans Saints have had one of the best offensive lines in the NFL for the past six years. I expect the same to continue in 2012, but they have to get some depth at the tackle spots.
The Saints have Jermon Bushrod, Zach Strief and Charles Brown as their primary tackles. Some young players are currently on the roster, but have not proved themselves at all and will likely just be camp bodies.
Bushrod is coming off of a Pro Bowl year and will remain the starter at left tackle, but Brown and Strief could battle it out in the preseason for the right tackle spot.
Regardless of who starts, the Saints will likely only be left with one capable backup tackle. Last year, the Saints learned that one backup tackle is not enough.
Good offensive tackles can be found late in the draft, and the Saints may decide to get a backup with a fifth- or sixth-round pick.
Tight End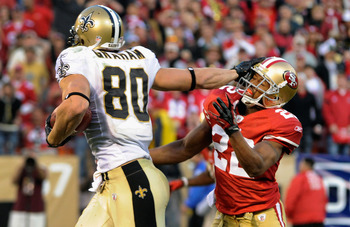 Thearon W. Henderson/Getty Images
The tight end position has been solidified by Jimmy Graham. The New Orleans Saints have their starting tight end for the next decade.
However, they do not have a reliable backup tight end. David Thomas has played very well in the past, but he has been battling injuries for the past few years.
Michael Higgins has performed well in certain situations, but he may end up being nothing more than a fill in for teams late in the season.
The Saints definitely want to have another tight end that is a threat to defenses. New Orleans loves to have weapons on offense, and Thomas and Higgins are not great weapons.
A top quality tight end will be tough for the Saints to find late in this year's draft, but there is no doubt that they will be looking to bring someone in.
Safety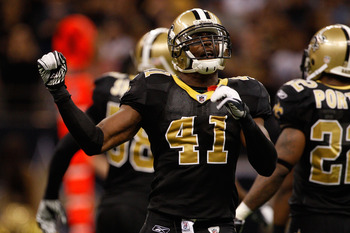 Chris Graythen/Getty Images
The New Orleans Saints have a good group of safeties on the roster. In fact, Roman Harper and Malcolm Jenkins have the potential to be one of the best safety tandems in the league.
The depth behind these guys is pretty solid as well. The Saints currently have Jonathon Amaya and Isa Abdul-Quddus on the roster, and both of these guys showed some potential in limited playing time last year.
However, the safety position is a spot that the Saints could still consider.
It is very easy to find great safety talent late in the draft and these players are guys that can immediately contribute to the team through special teams.
These players may not be Pro Bowl caliber guys, but the Saints could go after another safety late in the draft to get some special teams help.
Wide Receiver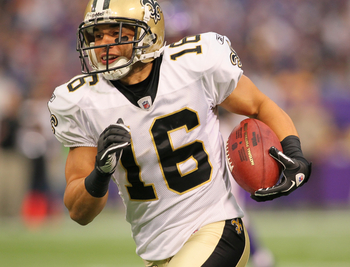 Adam Bettcher/Getty Images
The New Orleans Saints receivers are some of the best in the NFL.
Despite the loss of Robert Meachem, the Saints still have Marques Colston, Lance Moore and Devery Henderson, all of whom are proven starters in the league.
The Saints also have young, talented receivers in Joe Morgan, Adrian Arrington and Andy Tanner. These players do not have much experience, but have shown some promise.
New Orleans may have a good amount of talented receivers, but this is another position that teams will take late in the draft for special teams help.
Many teams have drafted receivers for special teams and the guys have turned into valuable offensive weapons.
I look for the Saints to take a chance late in the draft on a receiver, and we can watch him turn into one of the most productive guys in the league.
Keep Reading

New Orleans Saints: Like this team?