New England Patriots Draft 2012: Exploring Every Need the Patriots Must Address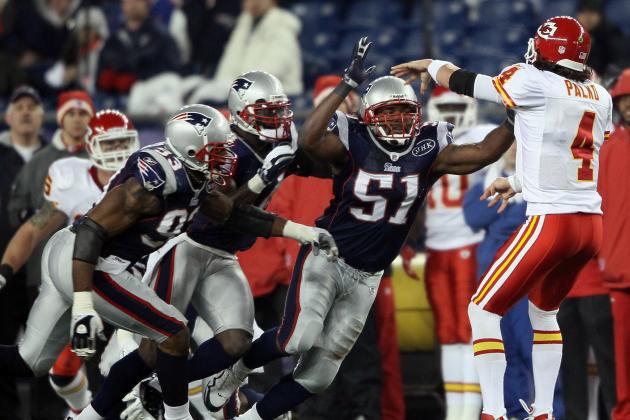 Elsa/Getty Images

Free agency in the NFL was a frenzy as usual this year, but this time, the New England Patriots weren't just sitting around and watching.
Instead, the Patriots were busy. Very busy. They blew up their wide receiver depth chart and upgraded it by signing Brandon Lloyd, Anthony Gonzalez and Donte Stallworth. They made moves along the defensive line by adding Jonathan Fanene and Trevor Scott. Corners Will Allen and Marquice Cole and safety Steve Gregory were good pickups for the secondary.
Pretty impressive. But it's not enough. Not yet, anyway.
The Patriots still have a hearty list of needs going into April's NFL draft. They're AFC champions and have earned rave reviews for their performance on the open market. But they can be better. A lot better.
Here are the areas they should have an eye on improving.
Begin Slideshow

»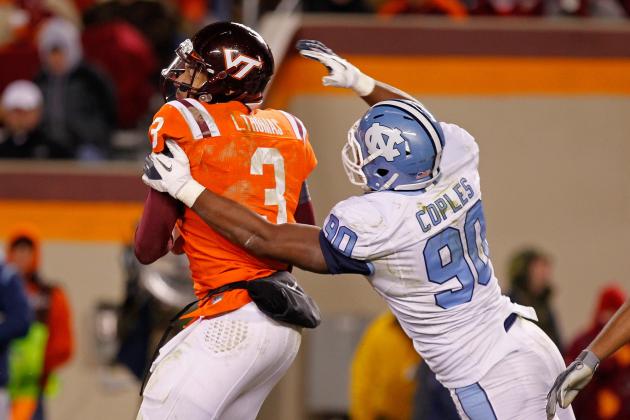 Geoff Burke/Getty Images

If the season started today, the Patriots' best pass-rusher would be linebacker Rob Ninkovich.
That's not going to cut it.
Mark Anderson and Andre Carter both had 10 sacks for New England last year. Now, Anderson's gone, and Carter, a free agent trying to recover from a torn quad, may be as well.
The Patriots can't afford to leave the pass rush unaddressed when the draft kicks off April 26. Now more than ever, the teams that win championships are the ones that can hassle quarterbacks and disrupt passing attacks.
An inability to attack the pocket would cost New England dearly in the long run.
Fortunately, pass-rushers are available throughout this year's draft class. Players like North Carolina's Quinton Coples, South Carolina's Melvin Ingram and Alabama's Courtney Upshaw are expected to go all throughout the first round.
The Patriots pick at No. 27 and No. 31. They can move up or sit still and still have high-upside rushers to choose from.
Though the Patriots have several needs, this is the most critical. A failure to upgrade the pass rush would make it very difficult to improve on last year's 31st-ranked defense.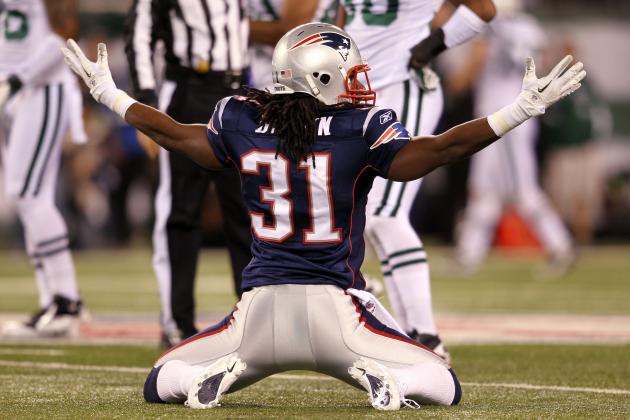 Nick Laham/Getty Images

The Patriots bolstered the safety position by signing former Charger Steve Gregory in free agency, but that doesn't mean the last line of defense can't go without some work.
New England was hampered all season by subpar safety play, as the preseason releases of James Sanders and Brandon Meriweather left the team without a real solution for the vacancy next to strong safety Patrick Chung.
James Ihedigbo eventually won the starting role, but the team clearly needed a more reliable option to pair with Chung going into this offseason. The Patriots struck out on LaRon Landry, and while Gregory helps, the position is still weak.
Mark Barron of Alabama is the most highly thought-of safety in the draft pool, but his projected first-round stock might be too rich for the Patriots, especially if they plan to zone in on other weaknesses with their two first-round picks. Whether they go high or low, a safety has to be on the list for New England this April.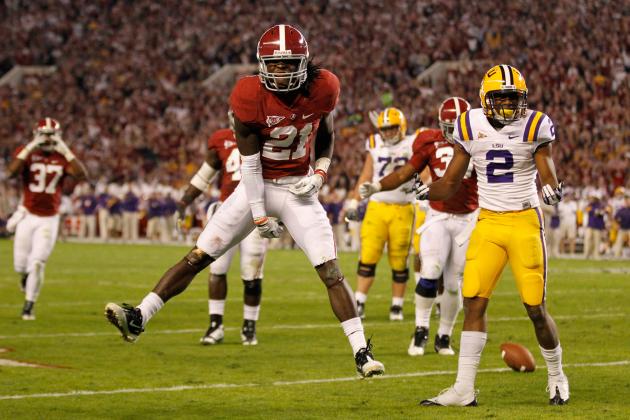 Streeter Lecka/Getty Images

The Patriots were awful in pass defense last year, and problems in that area are usually derived from two flaws. Either the defense struggles to get to the quarterback, so the passer has time to settle or the receivers have time to crack good coverage, or the backs can't keep up with receivers right from the snap.
The 2011 Patriots were above the league average in sacks, ranking 14th, and were 31st in passing yards allowed. The problem was all there, black and white, clear as crystal.
They simply couldn't cover.
Devin McCourty had a difficult time in his sophomore season, getting burned so often in man coverage that Bill Belichick had to try the first-rounder at safety. Kyle Arrington and Sterling Moore performed well, but a revolving door of Antwaun Molden, Phillip Adams and Nate Jones failed to click.
Though the Patriots were hampered badly by cornerback play last year, the position could actually be a strength as is. If McCourty returns to form or somewhere close to form, a McCourty-Arrington-Moore trio, with contributions from former second-round pick Ras-I Dowling, could be good enough going into next year.
Of course, that's a risky proposition. McCourty is by no means a safe bet, Dowling has battled injuries his whole career and Moore, clutch as he may have been this postseason, could simply be a flash in the pan.
When Arrington is the Ty Law of your hypothetical secondary, an upgrade doesn't hurt.
Cornerback will also be a deep position this year, with Alabama's Dre Kirkpatrick and North Alabama's Janoris Jenkins among the highly-touted defensive backs in New England's trade-up range. The Patriots could also stay put and have a crack at players like Stephon Gilmore (South Carolina), Jayron Hosley (Virginia Tech) and Alfonzo Dennard (Nebraska).
The Patriots' cornerback situation isn't quite as bad as the No. 31 ranking suggests. Of course, when you are that low, you most likely need help anyway.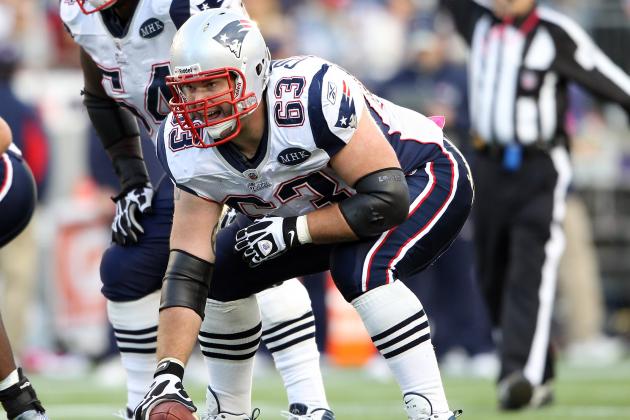 Elsa/Getty Images

This offseason has seen the Patriots become a little shakier in the trenches on offense.
Logan Mankins's knee injury from the postseason turned out to be a torn ACL, and while the All-Pro guard says he'll be ready to go by camp, his timetable for a return is unknown. Longtime center Dan Koppen is a free agent. Left tackle Matt Light might hang 'em up, as might guard Brian Waters.
Nate Solder, Sebastian Vollmer and Dan Connolly are penciled in along the line, and Robert Gallery's addition provides the Patriots with insurance should Light and Waters decide that they've had enough.
Still, the Patriots drafted Solder in the first round last year to begin the process of getting younger at the line. That theme should continue with this draft.
The Patriots will likely be looking to improve the interior of the line. Solder is the left tackle of the future, and Vollmer is a former All-Pro who, when healthy, has played well at both tackle positions. In addition, Marcus Cannon—all 358 pounds of him—saw his playing time go up late last season, so the edges look set.
The inside is a little murkier. Connolly will likely be the replacement for Koppen at center, though he also played well at guard in 2010 during Mankins's holdout and could slide over if Waters and Mankins put the team in a bind, meaning the team would need a center.
Whatever the case, the Patriots would be wise to improve the inside of the line. Even if Waters returns, he's still at the point of retirement, so New England should continue to prepare for when Waters and, down the road, Mankins move on.
Dante Scarnecchia has been a wizard at developing NFL offensive linemen. Look for the Patriots to give him another project.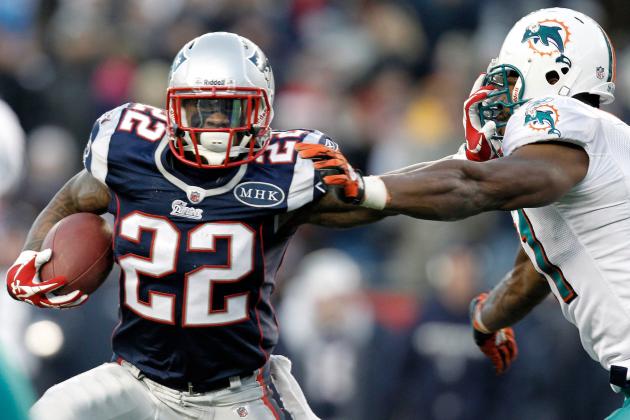 Winslow Townson/Getty Images

The running back picture for the Patriots has changed recently. Last year, it was their deepest position, as BenJarvus Green-Ellis, Stevan Ridley and Danny Woodhead competed for touches. Second-round pick Shane Vereen was a clear weapon in the making.
Now, Green-Ellis is out and Ridley is coming off a fumble-ridden end to the season. Even after spending two draft picks on backs last year, the Patriots should be open to addressing the position again this year.
With the departure of Green-Ellis, a former 1,000-yard rusher and the team's best red-zone runner, the Patriots have a lot of production to make up for. Ridley showed clear promise last year, but it's not known if he can handle Green-Ellis's workload or be the physical runner that Green-Ellis was.
If the Patriots get a chance to steal a running back, they shouldn't pass up that opportunity.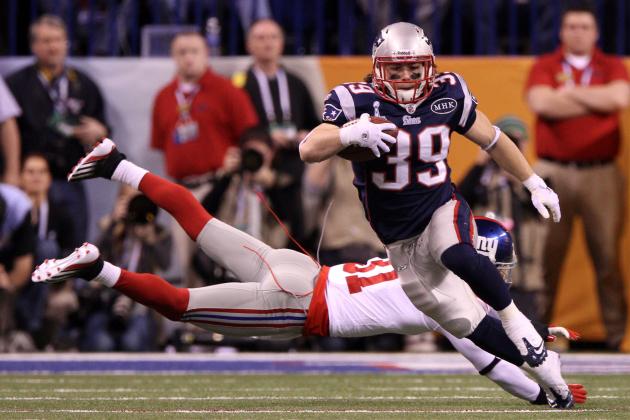 Elsa/Getty Images

It wasn't the most glaring weakness, but it was definitely an issue. The Patriots didn't have any game-breaking ability returning kicks last year. None. They averaged 21.4 yards per return, good for 29th among the 32 teams in the league.
Leading returner Danny Woodhead, as slippery as he can be in the open field as a running back or receiver, couldn't translate that elusiveness to kick returns. His 21.9-yard average was tied for 31st in the league (ironically enough, with Devin Hester). Julian Edelman, whose 23.7 average led the team, would have ranked 24th in the NFL had he returned enough kicks to qualify.
Kickoffs were predicted to become obsolete with the rule changes before last year, but as players like the New York Jets' Joe McKnight and Green Bay's Randall Cobb showed, the return game can still make quite a difference.
Kickoff returners can be found and developed on the cheap because they are often players who don't latch onto any other positions. The players with defined skill sets that project well to a specific position get drafted high, leaving behind the terrific athletes without a sure-fire position.
Fortunately, those terrific athletes often make good kick returners.
The Patriots have seen this play out before. Bethel Johnson couldn't make it as a receiver, but he was a dynamic returner. Ellis Hobbs was a so-so corner, but he was dangerous bringing back kicks. Brandon Tate never figured out the whole route-running thing, and while his return reputation was more decided by two great runs rather than consistency, he was still far better than last year's combo of Woodhead, Edelman and Wes Welker.
It's a win-win. The Patriots can add a dimension to their attack, and they won't have to risk much to do it.