Fantasy Baseball BABIP Wonders: 5 Guys That Could Regress
March 28, 2012

Harry How/Getty Images
It's not uncommon for fast players to have high BABIP (batting average on balls in play). With their speed they are able to beat out throws. This is a group of players that had high BABIPs last year in relation to their speed. Baseball is a game of averages, which could lead to regression this year.

Alex Avila, Detroit Tigers 
In 2010, Avila had a .278 BABIP, which led to a .228 batting average. Last year, he was at .366 and .295. So which one is he? I think his BABIP will fall somewhere in the middle (.320-ish), but his average will be around .275. Still, pretty solid for a catcher, but don't expect last year's production.

Alex Gordon, Kansas City Royals 
Gordon finally met his expectations last year posting a .303-101-23-87-17 line. I'm not saying he can't put up another outstanding season, but his .358 BABIP last year concerns me a little.

Freddie Freeman, Atlanta Braves 
Freddie had a .339 BABIP, which led to a .282 batting average. He started (.236) and ended (.254) the year on sour BABIP notes. Those were the two months with his lowest strikeout rates. I anticipate improvement on his overall 22.4 percent strikeout rate, which will lead to a lower BABIP, and either a flat or a slight decrease in his average.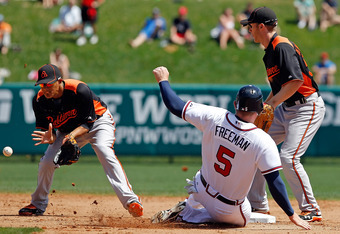 J. Meric/Getty Images

Jhonny Peralta, Detroit Tigers 
Peralta's .325 BABIP was his highest since 2007. With it came a career-high .299 batting average. Not only is he a regression risk because of his BABIP, but as a lifetime .268 hitter, it would not be a stretch to think that average declines. That said, he should still be a solid HR and RBI source.

Lance Berkman, St. Louis Cardinals 
In 2009, his BABIP was .296. In 2010, it was .282. Last year, at .315, it was his highest since 2008. At 36, it would not be unimaginable for his BABIP and batting average to drop off from the respective .315 and .301 numbers he reached last year. Especially when you consider Albert Pujols' departure.

Also check out: