New York Jets: Tim Tebow's Favorite Words and Phrases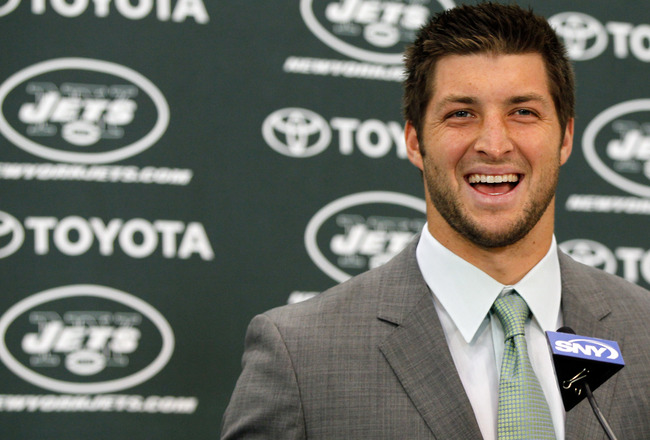 Mike Stobe/Getty Images
Tim Tebow has a habit of using particular words and phrases over and over again at every single one of his press conferences. Why do hundreds of people need to be at his press conferences when his responses are so predictable?
Here's a list of common words and phrases Tebow uses in all his press conferences, in no particular order. This does include his first New York Jets press conference.
"First and Foremost..."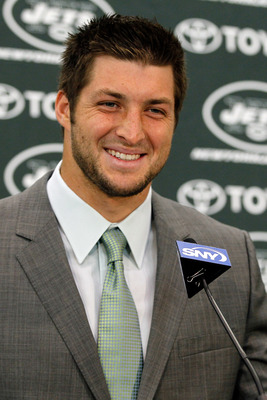 Mike Stobe/Getty Images
It seemed appropriate to start the slideshow with this phrase. Normally, these are the first words of every press conference, followed by the statement, "I would like to thank my Lord and Savior Jesus Christ."
However, Tebow managed to fit this statement in on multiple occasions at his NYJ press conference.
I don't have a problem with him thanking Jesus, but could he seriously use a different statement before he does that?
"Excited"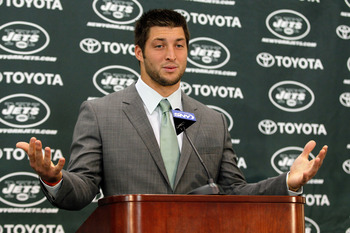 Mike Stobe/Getty Images
We get it Tim, you're excited. During his 30 minute NYJ press conference, ESPN counted Tebow using various forms of the word "excited" 45 times.
The funny thing is, he wasn't doing it on purpose.
You just can't make that up.
"Relationship"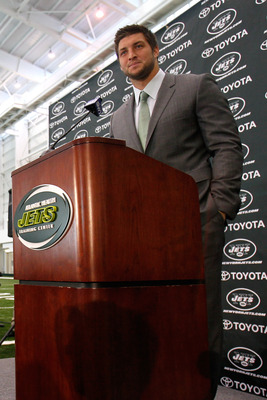 Mike Stobe/Getty Images
Whether he's talking about his coaches or teammates, he makes it pretty clear that he has a "great relationship" with these people.
Again, that's great. But telling us once is just fine.
"Supportive"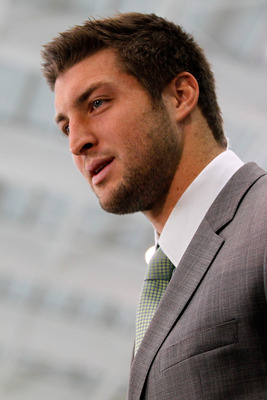 Mike Stobe/Getty Images
Yes Tim, Jets fans are supportive.
Thank you for touching on that, once again.
"Be the Best Player I Can Be"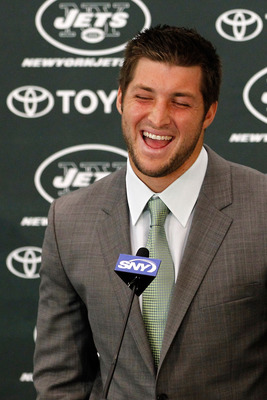 Jeff Zelevansky/Getty Images
That's good Tim. We really couldn't have figured that out for ourselves.
We thought you were going to be different.
We thought you were going to try to be a bad player, just so you could get cut.
Thanks for clearing that up Timmy.
"Opportunity"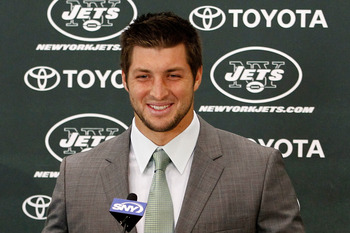 Jeff Zelevansky/Getty Images
Hey Tim, you could say words other than "opportunity."
You could say something like chance, circumstance, occasion, or moment.
Just to throw a few out there.
"I'm Honored..."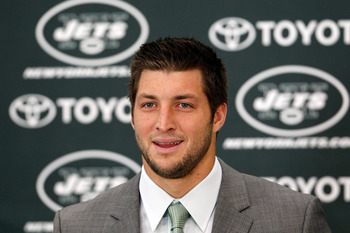 Jeff Zelevansky/Getty Images
I hate to break it to you Tim, but sucking up won't make you the starting QB. No matter how honored you are, and no matter how many times you say it, you're going the be the backup QB.
It's okay, Tim. I'm not the Jets starting QB either.
"I'm Looking Forward..."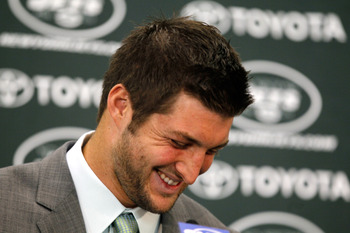 Mike Stobe/Getty Images
Personally, I thought you were looking backwards.
My bad.
"Teammates"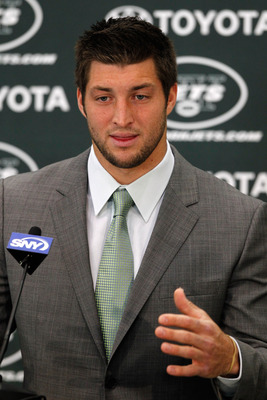 Jeff Zelevansky/Getty Images
After he thanks Jesus, he thanks his teammates. Again, nothing wrong with that.
But it doesn't hurt to get a little specific. I mean, just a thought.
"Thank You, and God Bless"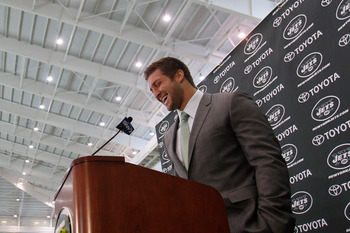 Mike Stobe/Getty Images
It's what he says at the end of all his press conferences.
God Bless You too, Tim. Good luck with the Jets, you're going to need it.
Keep Reading

New York Jets: Like this team?