Orlando Magic: Why J.J. Redick Is Ready to Breakout into a Star
March 28, 2012

Sam Greenwood/Getty Images
"I dream big," Redick said, "then work to make those dreams come true."
In the summer of 2004, J.J. Redick was faced with the biggest decision of his life: Play for a university where he would be promised consistent minutes, or fight his way into the rotation at Duke. While many believed the former was the right career move, the sharpshooting Redick had others plans. The young man from Virginia decided to play under coach Mike Krzyzewski at Duke University.
Instead of falling under the criticism around him, the sharpshooter put his head down and strived to become a better overall player.  
In his first year at Duke, Redick's career took off. Not only did the guard receive consistent minutes from Coach K, but he developed into arguably the team's most valuable weapon. His 15 points per game average his freshman season is a testament to the aforementioned statement.
In his sophomore season, the smooth shooter improved his scoring average while leading his Duke team to the Final Four. His hard work payed off, as everyone, including Coach K, was impressed by Redick's seamless transition to the college game and immense improvement.
"You can never project that he'd be as great as he has become," Krzyzewski said. "He had great, great spirit. He was a stud."
His second two seasons of college eligibility were filled with even more success. In his junior year, Redick was named co-captain of the Blue Devils. His senior year, though, was where the national attention was at an all-time high.
Redick scored 21.8 points per game while taking home most of the major player of the year awards. The list includes Naismeth College Player of the Year, ACC Player of the Year and John R. Wooden Men's Player of the Year Award. Not bad for a player who many thought should have shied away from Duke.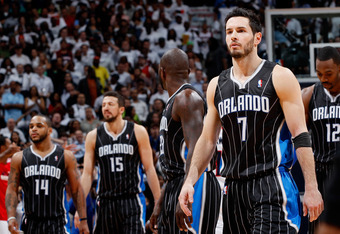 Kevin C. Cox/Getty Images
Despite the fantastic college tenure, Redick's NBA draft stock was quite low. Many scouts, though impressed with his outside shot, questioned whether his lack of elite athleticism and inability to create a shot off the dribble would pose problems down the road.
Many pointed to Duke's game against LSU in the NCAA tournament as a perfect footage showing Redick's shortcomings. In the game, LSU athletic guard Garrett Temple wreaked havoc on Redick, as the sharpshooter went 3-of-18 from the field. Due to these doubts, Redick slid to the 11th overall pick where Orlando selected him.
In his first few seasons in Orlando, many expected big things from the former Duke star due to his amazing college performances. This, however, was just not the case. Due to the plethora of quality swingmen on the roster, including Trevor Ariza, Grant Hill and Keith Bogans, Redick never fully received a chance to shine.
Despite the lack of playing time, Redick put his head down and strived to become a better overall player.
Finally in the 2008-09 season, J.J. Redick began to see a sharp increase in his minutes. Instead of the previous seasons' 8.1 minutes per game average, Redick saw over 17 minutes of court action per night.
In the 2009-10 season, Redick improved his scoring to nearly 10 points per game and, in the 2010-11 season, the former Duke star broke the double-digit points per game average mark with over 10 points.
After the 2010 season, the Chicago Bulls signed Redick to a three-year, $19 million contract in hopes of him being the team's starting guard next to Derrick Rose. The Magic, however, matched the offer which put Redick back to a bench role.
Redick did not complain, however, but instead put his head down and strived to become a better overall player.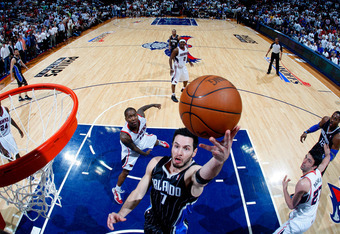 Kevin C. Cox/Getty Images
This season, Redick is averaging a shade under 11 points per game. Even though he is still finds himself on the bench to begin games, Redick has gained a major role in the rotation as the team's sixth man. However, there are bigger things destined for J.J. Redick. 
Since the beginning of his college career, Redick has become accustomed to the constant put-downs, criticisms and complaints. But, in most cases, Redick proved his doubters wrong. But, what if his next biggest challenger his himself.
In an interview with the Charlotte Observer, Redick said, "I think I'll be a role player like 80 percent of the players in the league are. I don't expect to be a star, I'll just shoot, be a team player."
Well, J.J. Redick, lets see you take on yet another challenge and become the star you never expected to be.
In my opinion, Redick will succeed, as he will face this next doubter just like the previous ones: By putting his head down and striving to become a better overall player.
"Sometimes I even create it in my mind that people are doubting me," Redick told ESPN. "People have these doubts, and I have to prove them wrong."