TNA Impact Wrestling Preview: Hogan Makes a Decision, Anderson vs Hardy and More
March 29, 2012

That's right, there's something other than WrestleMania happening this week, and it's a new episode of TNA Impact Wrestling.
TNA has been on a major roll so far this year but took a step down last week.
They look to make up for it this week, though, as the company has confirmed three matches, an in-ring segment and the debut of a music video.
Let's see what TNA Wrestling has in store for the fans this week!
Longnecks and Rednecks: James Storm's Entrance Theme Gets a Music Video
TNA looks to be getting into the country music business as James Storm's entrance music, "Longnecks & Rednecks" debuts a music video this week.
Storm started to use his current music around the time of Bound for Glory when he was in the final four of the Bound for Glory Series.
When Beer Money broke up for good he began to use it permanently. Since then he has become one of the top faces in TNA Wrestling.
Storm will most likely be in the ring to introduce the video, but will it go smoothly?
Despite Bobby Roode's lawyer stating that he wouldn't be appearing until lockdown, the world champion could surprise everyone and show up to ruin this moment for the Cowboy.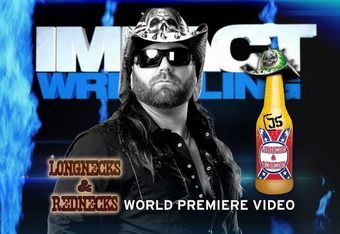 You also can't count out Bully Ray, who has had his share of problems with Storm.
If Austin Aries gets to the bully first, though, then the Cowboy may have nothing to worry about.
Matt Morgan vs. Crimson
Matt Morgan and Crimson first came together due to their hatred for Samoa Joe. Joe took Crimson out of the Bound for Glory Series while Morgan came to his defense.
Once Crimson was able to return he immediately targeted the Samoan Submission Machine. Morgan stuck around to feud with Joe as well and that started the tension between the two wrestlers.
After Crimson won a triple threat match between them at Bound for Glory, he and Morgan finally went to blows at Turning Point.
As the match ended in a no-contest, Sting saw some major potential in them.
He put them in a team and they quickly won the Tag Team Championship, holding the belts until Against All Odds where they lost them to Joe and Magnus.
After much miscommunication, they lost the belts as well as the rematch. They received one more shot at Victory Road but lost when Crimson turned on the Blueprint.
The feud between these two is finally back on, and they'll go one-on-one this week.
Can Crimson continue his undefeated streak or will Matt Morgan finally break it?
Madison Rayne vs. Velvet Sky
The Knockouts are back in action this week as two former champions go one-on-one.
Velvet Sky has been in Knockout's obscurity since losing the title to Gail Kim. She has been in random feuds or has just popped once in a while for a match.
Madison Rayne on the other hand has been right there in the main storylines, mainly as Gail's lackey.
After Against All Odds Madison became the No. 1 contender for the title, much to the dismay of her best friend.
Gail would ultimately retain her title leaving her challenger with nothing.
Now two women that Gail has taken down will be facing off.
With the champion in need of a new challenger, will this match put Velvet Sky or Madison Rayne in line for a title shot?
Mr. Anderson vs. Jeff Hardy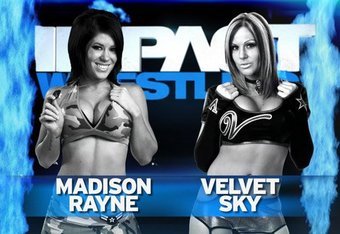 After an intense feud with Bully Ray that culminated at Bound for Glory, Mr. Anderson disappeared from TNA Wrestling.
After three months away, everybody's favorite A-hole returned to aid A.J. Styles in his feud with Christopher Daniels and Kazarian. At Victory Road, Anderson and Styles defeated their adversaries, and it now seems like Anderson is moving on.
Jeff Hardy has been entangled in a feud with Kurt Angle. As Angle declared his hatred for the Charismatic Enigma the two would have a match at Victory Road.
After a bit of cheating, the Olympic gold medalist defeated Hardy and now claims to be moving on.
While Hardy wants a rematch inside the cage at Lockdown, Angle refuses to give it to him.
Hardy must get his mind off of Angle, though, as he must contend with Anderson.
Who will be victorious in this encounter? Will Kurt Angle get involved somehow? How about Daniels and Kazarian; are they moving on like Anderson?
Hulk Hogan Makes a Decision: Will Hulkamania Run Wild as General Manager?
Since Sting took control of Impact Wrestling after Bound for Glory, world champion Bobby Roode has been quite the thorn in his side.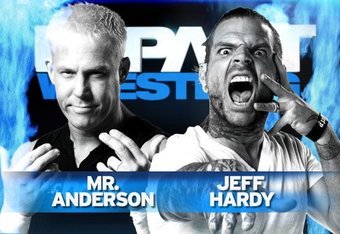 Things boiled over at Against All Odds when the Icon tried and failed to screw Roode out of the title.
After Roode attacked him on the following episode of Impact Wrestling, Sting made a match between them for Victory Road. Roode managed to defeat him but winning just wasn't enough for the champion.
He hit Sting with a chair, tied him up in the corner and proceeded to threaten TNA President Dixie Carter.
Last week Dixie wanted to fire him but Sting declared that firing him would be letting him off way too easy.
Sting decided that he wasn't ready to give up wrestling and stepped down as general manager of Impact Wrestling. He did have a replacement in mind, though, and that replacement was Hulk Hogan.
At the end of the show, the fans chanted for the Hulkster but he never gave an answer. This week the Immortal one makes his decision on whether or not he'll take the job.
Will Hulk Hogan become the new general manager of Impact Wrestling or will he pass on the job? If he passes, who will Dixie Carter get for the role?
This week's episode of Impact Wrestling shows a lot of promise.
Can TNA Wrestling pick themselves back up after last week? Tune in to find out!