Golden State Warriors: The Best Case Scenario for All Returning Players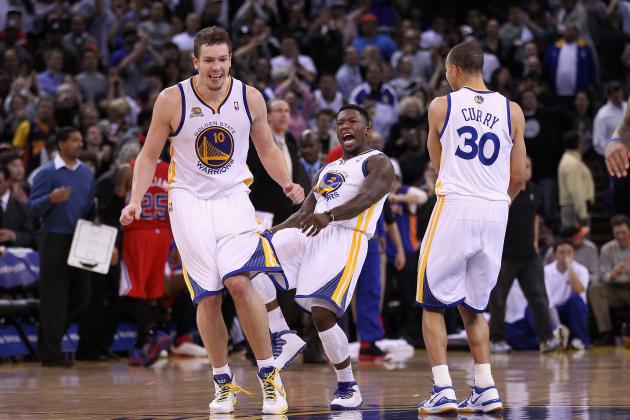 Ezra Shaw/Getty Images

The Golden State Warriors have 10 players who are currently under contract for next year, and five more who are likely to return anyway.
If every single one of them plays to their full capability, the Warriors will likely compete for a title. Or maybe they'll win it all easily. It's hard to say, as there has never been a team in which every player had the best season they could. That would also imply having every player play (or be capable of playing) 82 games.
Obviously, if the Warriors had multiple guys playing their best all season long, somebody would have to be traded. For example, if Andrew Bogut has the best season he could, he'd make another All-NBA selection. But if Andris Biedrins also has his perfect season, the Warriors would have two top-10 centers. Then, one of them would likely be coupled up with another underused player for some big talent.
Five of the guys mentioned below are small forwards, and three of them could definitely be starting quality.
I'll explain more if you keep reading.
Begin Slideshow

»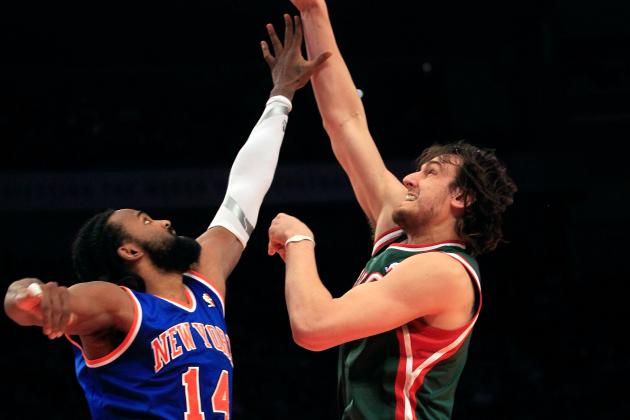 Chris Trotman/Getty Images

The biggest key for Andrew Bogut will be for him to stay healthy. At 27, he's definitely at a point in his career where he can play the best ball of his life.
What is missing from his game? He's one of the best inside presences in the NBA, and he has a great low-post game. If you put too much defensive attention on him, he's capable of making good passes to make you pay for it.
If Bogut stays healthy and plays well, watch out for the Warriors.
Ideal stat line—18.5 PPG, 12.0 RPG, 3.4 APG, 2.8 BPG, 1.1 SPG, .567 FG%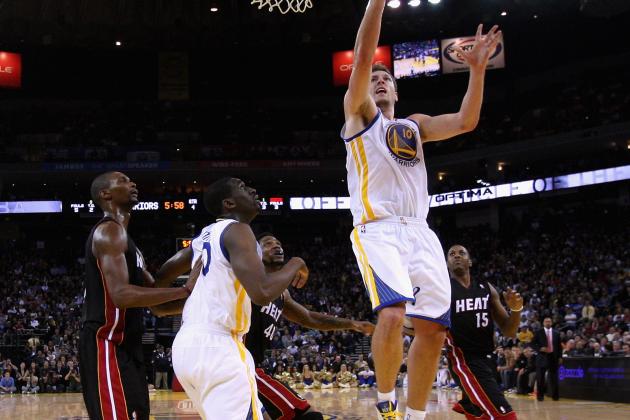 Ezra Shaw/Getty Images

David Lee is having a great season, and most of the world doesn't realize it. He's averaging about 19 PPG and 10 RPG while making more than half of his shots.
What people especially don't realize is that he is arguably the most important reason that his team was easily in playoff contention before the big trade, despite the fact that Steph Curry was out practically all year.
I don't see his numbers getting a lot better or worse, but it's really tough to predict. Lee has actually had to play a lot of center this year. Not only that, but all year, he's been guarded by the other team's best post player all game long, as Ekpe Udoh does not truly count as a "post threat".
But next year, he'll be playing alongside Andrew Bogut, who will take the pressure off him defensively, help him out on the boards, and frequently force the other team to put their weaker defender on Lee. So while Bogut will take some of Lee's rebounds and post touches, it will make it easier for Lee to do what he does.
His stats may go up or down, even though David Lee himself may not be any different next year.
The main area where David Lee needs to improve is defense. His on-ball defense is fair at best, but his ability to rotate in help defense or guard pick-and-rolls is just sad. Luckily, Andrew Bogut is one of the best defensive big men in the league, but if David Lee watches some extra film defensively, or talks to some experts in the area, the Warriors will have the chance to be a notable, solid defensive team next year.
Ideal stat line:—20.6 PPG, 10.9 RPG, 2.9 APG, .539 FG%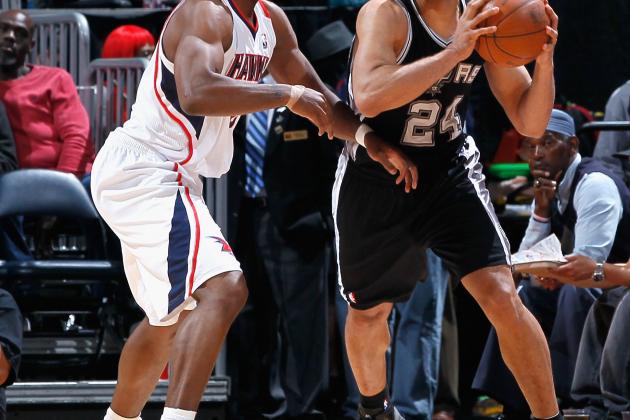 Kevin C. Cox/Getty Images

First, let me say that the ideal for Richard Jefferson would be for him to be back in his 20s, when he was averaging well over 20 PPG.
The good news is that, while his athleticism is no longer worthy of the highlight reels, his shooting has become impressive. In fact, last year he made 44 percent of his threes.
Still, RJ is capable of being a starter on many teams. His defense isn't terrible, and he can still score in a variety of ways.
There are two major questions surrounding Richard Jefferson. First of all, how sharp is his rate of decline?
Every year for the past couple years he has been noticeably less explosive than the previous year. I mean, he is 31. Many players completely lose it once they get to their 30s.
Secondly, can he figure out how to fit in? That was his problem with the Spurs. Could he run the offense, could he effectively choose when to be aggressive, and could he be consistent in his role?
Obviously not, as they had no problem trading him.
I'm not sure how much he has left in the tank, but for at least next year, he can be an important role player at the very minimum. If Jefferson pulled it together, the Warriors could definitely use him. Or, if Dorell Wright was also having a rebound year, RJ would be of some trade value to anyone who could take his contract.
Ideal stats—14.2 PPG, 4.3 RPG, 2.4 APG, .46 FG%, .43.7 3P%.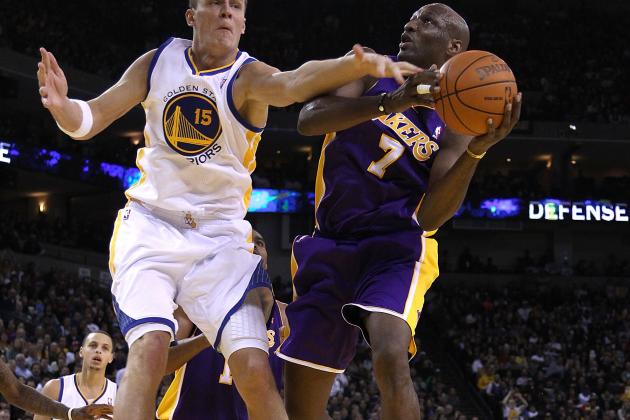 Ezra Shaw/Getty Images

If you've actually watched Andris play well, you'd know that he could be a solid starting center.
If this is your first season watching the Dubs, I really don't know what to tell you. But, he has proved that he is at least capable of a few good things.
In the 2008-09 season, he averaged 11.2 RPG and 11.7 PPG while making 57.8 percent of his field goal attempts. He also once averaged 1.7 BPG and even 1 SPG.
The point is, whenever Andris is motivated and healthy, if that is even possible anymore, he can be a hustle player and a fundamentally-sound center with a nice hook.
At this point, there is only so much hope I have for him in the near future, but at least next season he won't even have a shot at the starting role if Bogut stays healthy, and coming off the bench actually tends to make him play better.
Assuming that he only plays on the bench here is his ideal stat line.
Ideal stat line—15 MPG, 4.6 PPG, 4.2 RPG, .6 APG, .4 BPG, .6 FG%.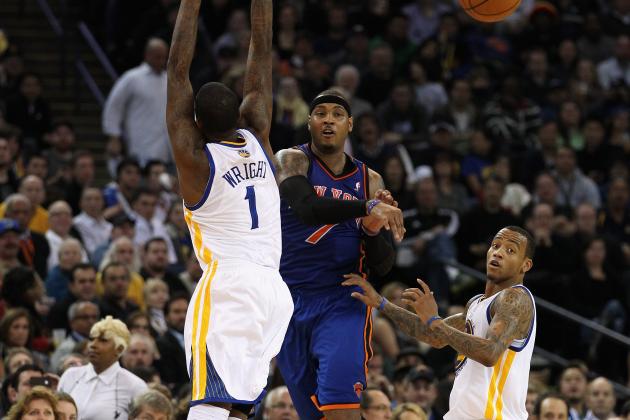 Ezra Shaw/Getty Images

Last season Dorell Wright proved to himself and the rest of the world that he was a capable small forward and that he could get even better.
This year, especially for the first six weeks, he forgot all about it. The guy who led the NBA in threes last year was actually afraid to shoot them. All the progress he made last year on driving to the hoop—gone. While at the very least he's looked more confident lately, he still is significantly behind where he was last year.
That said, when he plays well, he is a very good perimeter defender, a solid rebounder, and he can knock down heavily-contested threes from practically half court. And he can use his range to get to the hole.
If he remembers who he is next year, Wright can have a year even better than last year. On the other hand, he might also have less responsibility on offense next year, so an improvement in efficiency would be just as good.
Ideal stat line—17.9 PPG, 5.8 RPG, 3.2 APG, 1.6 SPG, .9 BPG, .462 FG%, .408 3P%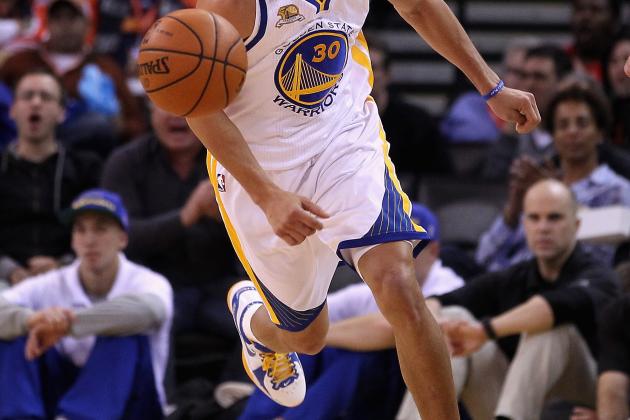 Ezra Shaw/Getty Images

If Stephen Curry is healthy all year next season, he will have the best season of his career thus far and will be an All-Star candidate. That's a given.
Steph Curry is an elite shooter and a quick ball handler. He's also a good passer, and at times, a great one. He's not an explosive athlete and he throws away a shocking amount of one-handed running passes. For some reason, his free-throw percentage dropped from about 90 percent to about 80 percent. I'm not sure why that happened, but let's say it's a fluke.
Ideal stat line—20.9 PPG, 7.2 APG, 5.0 RPG, 1.9 SPG, 2.2 TOPG, .492 FG%, .46 3P%, .94 FT%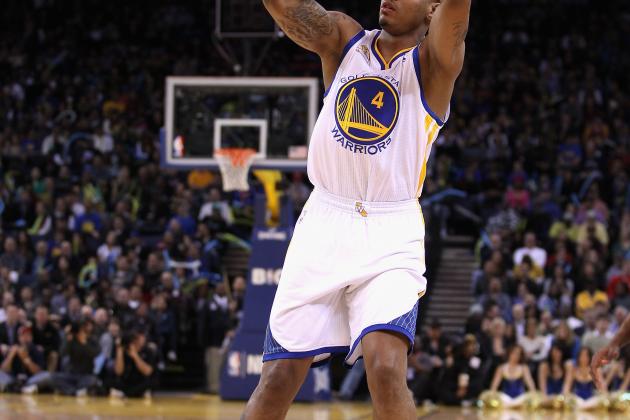 Ezra Shaw/Getty Images

Although he has cooled down considerable since the beginning of the year when he was making well over half of his threes, Brandon Rush is enjoying the most efficient season of his career.
While his shooting improved since last year, he has learned how to take advantage of his range to get past his defender. Often times this year he has not scored or gotten an assist, but he has initiated a play for the Warriors. He is also a good defender on the perimeter.
Rush does not have the upside to be a star, but he has the talent and consistency to be a key guy and maybe even a starter. Unfortunately, next year he'll be on a team with at least two other small forwards, assuming the Warriors extend him a qualifying offer.
Unless he gets a little quicker and plays more minutes at shooting guard, he might have to be traded to get his fair share of minutes.
Ideal stat line—19 MPG, 7.8 PPG, 2.2 RPG, 1.4 APG, .484 FG%, .515 3P%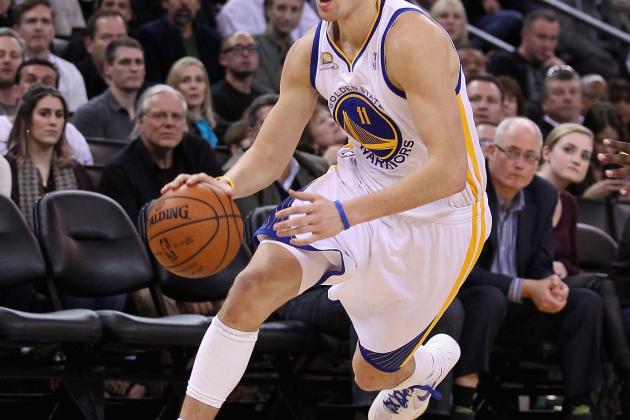 Ezra Shaw/Getty Images

Klay Thompson is one of the most polished spot-up shooters in the NBA, which is pretty good for a rookie. He has great size for a shooting guard at 6'7" and he's fairly quick, too. Despite a rough start to the season, he's averaging over 10 PPG in not even 21 MPG while shooting 43.4% from deep.
He tends to look pretty lost on defense, though, and while his ball handling is nothing to hang his head about, he doesn't have any idea what to do once he gets in the key, as finishing, drawing contact, and distributing are not his strengths. Teams that force him to drive and make a play tend to contain him pretty well. The secret might get out pretty quickly.
Thompson still has a while to go before he plateaus, but at one point, he may have to add more skills to his repertoire and/or become more explosive if he wants to be more than a great three-point specialist.
Ideal stat line—19.4 PPG, 3.7 RPG, 3.3 APG, 1.4 SPG, .45 FG%, .462 3P%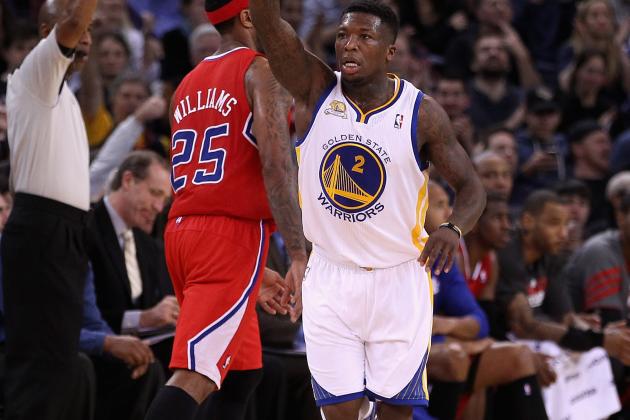 Ezra Shaw/Getty Images

Nate Robinson, like the remaining of the players in this slideshow, will be an unrestricted free agent next season.
People still have trouble taking Nate Robinson seriously, but this year he's actually putting up numbers comparable to many starting point guards. While being generously listed at 5'9", Robinson is an unbelievably athletic combo guard who can get hot and score in a hurry.
He can also make horrible decisions and he has a reputation as a joker who doesn't focus.
Robinson is having his best year since his New York Knicks days, and he may be expecting a bigger paycheck and more playing time than the Warriors can offer him next year.
But if he comes back, expect good things.
Ideal stat line—14 MPG, 5.5 PPG, 2.3 APG, 1.3 RPG, .418 FG%, .348 3P%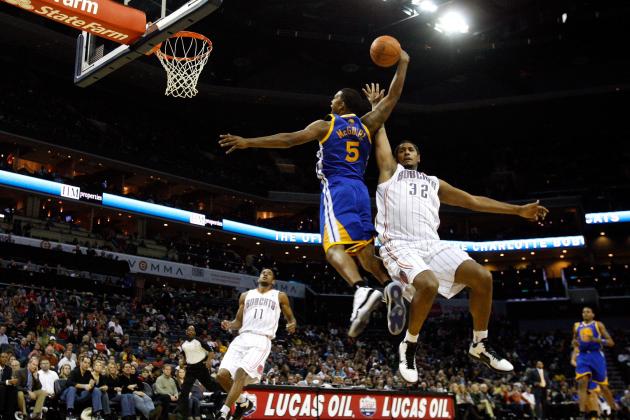 Streeter Lecka/Getty Images

Dominic McGuire, or as I call him, "D-Mac," is just what the Warriors need, other than the fact that he's yet another small forward. He's a defensive specialist and a hustle player who doesn't need to be involved offensively. He's a no-stats All-Star (a la Shane Battier, except not nearly as good). He's having arguably his best season, and if anybody has taken note, some good team looking for a role player might give him decent money next year.
If he stays with the Warriors, however, his services will be much appreciated.
Ideal stat line—11 MPG, 2.2 PPG, 2.6 RPG, 1 APG, .464 FG%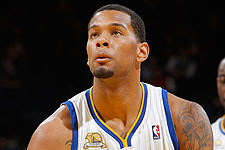 Photo at http://www.nba.com/warriors/news/tyler_assigned_dakota_022712.html
Jeremy Tyler is a true "project." While he has some good upside, he has given the Warriors almost nothing this year. But, I doubt they'd work with him so much this year and not have him next year.
Ideal stat line—8 MPG, 3.8 PPG, 2.7 RPG, .471 FG%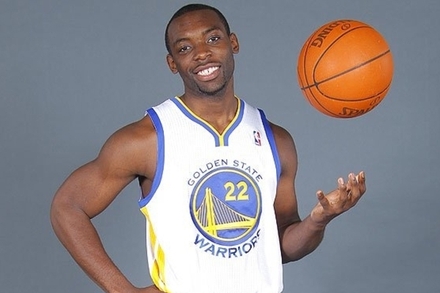 http://bleacherreport.com/articles/751352-meet-charles-jenkins-mama-there-goes-that-man-from-new-york-to-golden-state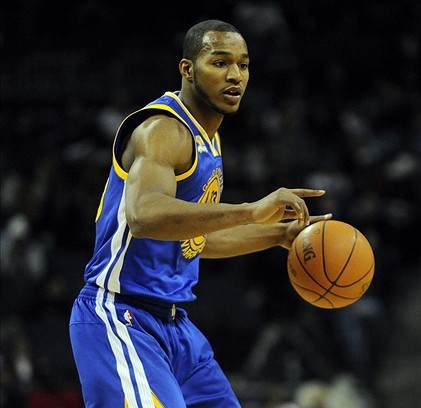 http://bluemanhoop.com/2012/02/07/moving-around/
I've seen this guy play before, and let me tell you, he has the athleticism to be in this league. In fact, he could win a dunk contest.
Chris Wright does not actually do a whole lot besides jump really high, run really fast, and play really hard. But he does those things well (like Jeremy Evans, who won this year's dunk contest). In fact, Wright is stronger and faster than Evans, and he may have more potential. He should definitely find a spot in this league.
If he's with the Warriors next year, he won't see much playing time as a fourth or fifth-string small forward.
Ideal stat line—6 MPG, 2.9 PPG, 1.5 RPG, .8 BPG, .7 SPG, .52 FG%
http://www.beaumontenterprise.com/sports/article/Aldridge-Felton-lead-Blazers-past-Warriors-90-87-3433983.php
The Warriors always have room for a backup center that blocks shots. Enough said.
Ideal stat line—7 MPG, 1.2 PPG, 1.7 RPG, .8 BPG, .567 FG%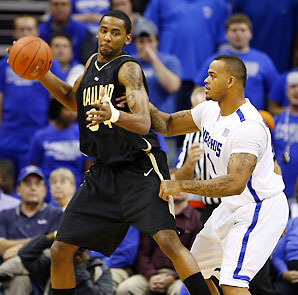 http://blacksportsonline.com/home/2011/10/atlanta-hawks-rookie-keith-benson-struggling-overseas/
All we know about Keith Benson is that he's talented and he needs to add weight. I can't even get into his stat line, but he is said to have some upside.
If a team is willing to work with him, he may quickly become a solid player.