10 Fighters Who Need to Throw in the Towel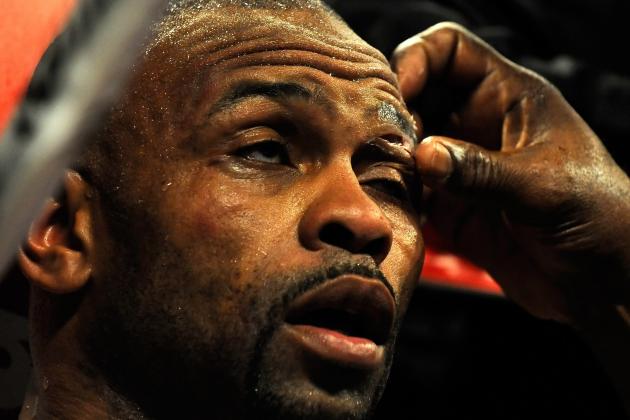 Ethan Miller/Getty Images

Manny Pacquiao and Floyd Mayweather are currently the top icons of boxing, just as Roy Jones Jr. and Shane Mosley were a few years ago.
Sadly, Mosley and Jones—two of the best fighters of the era—didn't know when to throw in the towel and call it a career. Will their legacies be different than if they had retired at their prime?
We have to be thankful for the boxing legends on this list, who have entertained us since the early 2000s. However, boxing is a sport that could cause severe brain damage if a fighter stays in the ring too long.
Here are 10 boxers who should retire as soon as possible.
Begin Slideshow

»
Chris Trotman/Getty Images

Sugar Shane Mosley was one of the most entertaining boxers of the early 2000s. We all remember his four marquee wins vs. Oscar De La Hoya and Fernando Vargas.
At that time, Mosley had the killer instinct in the ring.
While he is still as talented, Sugar seems to have lost a step in the past two years. In his fights against Pac-Man and Sergio Mora, Mosley was unable to take advantage of his opponents' weaknesses.
The fire in his eyes seemed to be gone. He wasn't the same.
Mosley is now 40 and has won only two of his last six fights. He is now set to fight a younger Saul Alvarez, and the betting odds don't give him much of a chance. Assuming that he will lose this fight, Mosley won't have a win in his past four fights.
Is that the way we want to remember the great Sugar Shane Mosley?
After his loss to Mayweather in 2010, he should already have retired. It's now time to correct the situation and throw in the towel after the Alvarez fight, win or lose.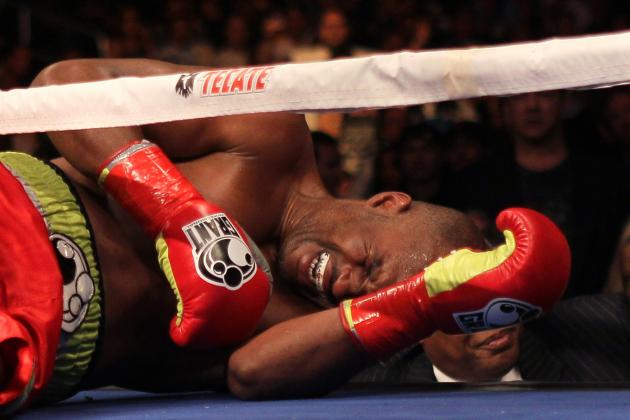 Stephen Dunn/Getty Images

Bernard Hopkins had a remarkable career. He became the oldest fighter to win a major world championship by defeating former champion Jean Pascal.
Even though the Executioner looks better at 47 than he did at 37, he should think about leaving boxing once he is at the top.
In the past five years, Hopkins defeated Antonio Tarver, Winky Wright, Kelly Pavlik, Roy Jones Jr. and Pascal. He has one of the best resumes in boxing history.
He shouldn't stick around too long, like Jones did. Who knows when his body will finally give up on him?
After his fight against Chad Dawson, win or lose, the champion should retire and wait for his election to the Boxing Hall of Fame.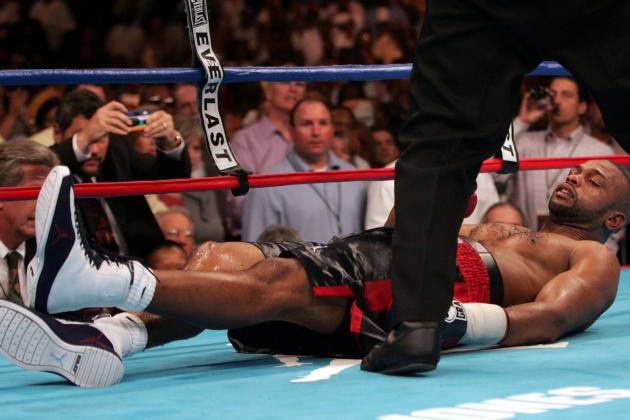 Elsa/Getty Images

Is there a single boxing fan still enjoying watching Roy Jones Jr. fight?
Once considered the best pound-for-pound fighter in the world, Junior is now sadly used as a punching bag.
Loser of three of his past four fights, the 43-year-old fighter took a bad beating vs. Denis Lebedev in 2011. Jones stayed on the canvas for several minutes after the brutal knockout.
It's a shame to see such a talented boxer sticking around the sport too long. His speed and talent were unmatchable a few years ago, but he might have tarnished his legacy by not quitting at the right time.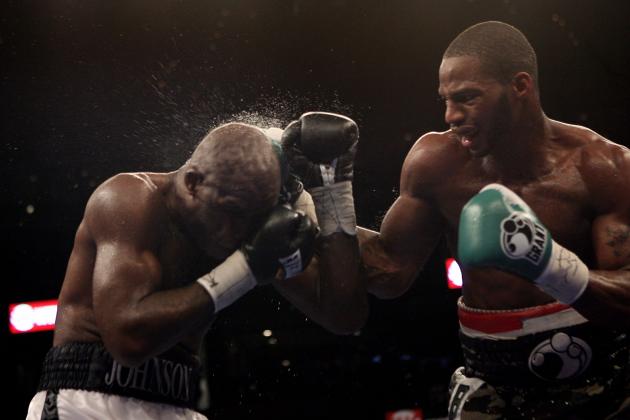 John Gichigi/Getty Images

Glen Johnson was born in 1969 and had his first professional fight in 1993. He is now one fight shy of 70 professional bouts.
You would think that Johnson is now a retired boxer enjoying some time on the beach, right?
Usually, lighter fighters are the ones who will fight many years, but Johnson never had a fight below 150 pounds and is still fighting!
The Road Warrior has been a decent fighter throughout his career, but he should definitely think about throwing in the towel. His best days are far behind him.
He lost five of his last nine fights and looked horrible last November versus a younger Lucian Bute.
Let's be honest here: Since his Bernard Hopkins fight in 1997, Johnson is 19-16-2, which includes two wins against opponents with a record below .500. In brief, he's 17-16-2 against opponents with a record above .500.
Johnson has never feared anyone and jumped in the ring with some of the best fighters of his era. He deserves a lot of praise for it.
Nevertheless, his last fight vs. Bute was a real joke, and it's time for him to leave boxing.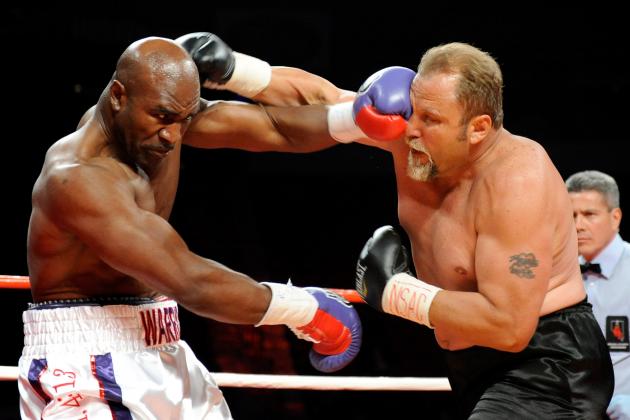 Ethan Miller/Getty Images

Evander Holyfield is soon set to receive his senior citizen card, but he doesn't want to give up his hope to regain a major world championship.
But does anyone have any interest in seeing him fight opponents like Brian Nielsen and Frans Botha?
Holyfield began his professional career in 1984. Since his draw decision to Lennox Lewis in 1999, Holyfield is 8-7-2 with a no contest. In 13 years, the Real Deal had 18 fights; his body didn't take too much damage in the most recent years.
That doesn't change the fact that he is soon turning 50.
Holding to a dream too long could affect his health. He has not lost a single fight since 2008, so Holyfield could retire on a winning streak after having given a lot to his sport.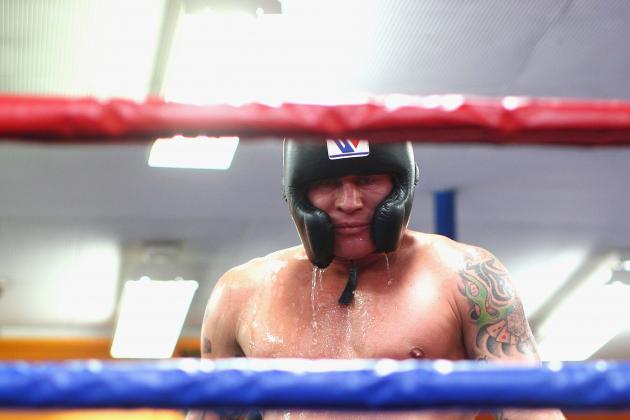 Ryan Pierse/Getty Images

Danny Green, alias the Green Machine, was once considered to be a top Australian boxing prospect. His longtime rivalry with fellow boxer Anthony Mundine made the news several times.
Green retired on March 2008, but it only lasted one year, as he returned to the ring in April 2009.
It might have been an error.
Although Green offered great fights to the public and defeated an old Roy Jones Jr., his past two fights of 2011 were horror stories. Once fighting at 167 pounds, Beyer entered his past two fights near the 200-pound mark.
He lost against a semi-retired 42-year-old Antonio Tarver. While Tarver was spending most of his time being an actor and commentator, he was able to win by TKO in the ninth round. Green was clearly dominated.
He then moved on and challenged Krzysztof Wlodarczyk, who tried to commit suicide a few months before the fight and was placed in an induced coma. Green once against lost by knockout.
The Green Machine, now 39 year old, is definitely set to retire. He doesn't have it anymore.
Al Bello/Getty Images

Antonio Tarver, 43, has won his two past fights and only has 35 professional bouts.
Still, his two losses to Chad Dawson in 2008 and 2009 should have been a sign for him to throw in the towel.
Used to fighting at 175 pounds, Tarver weighed 221 pounds a year later when he faced Nagy Aguilera. He then followed with a fight vs. an overweight just like him, Danny Green.
Tarver might have a limited number of fights in his career, but he has achieved a lot by fighting Roy Jones Jr. twice, Glen Johnson and Chad Dawson. He has also faced Bernard Hopkins and Clinton Woods.
We will all remember his TKO win vs. Junior in 2004.
Tarver was able to limit the damage throughout his career by being selective in his fights. He should take advantage of this bright career management and quit while he is healthy and on a winning streak.
By entering the ring at over 200 pounds, Tarver shows he might just agree with me. He doesn't feel like making the necessary effort to make the weight. It is a sign that he needs to hang it up.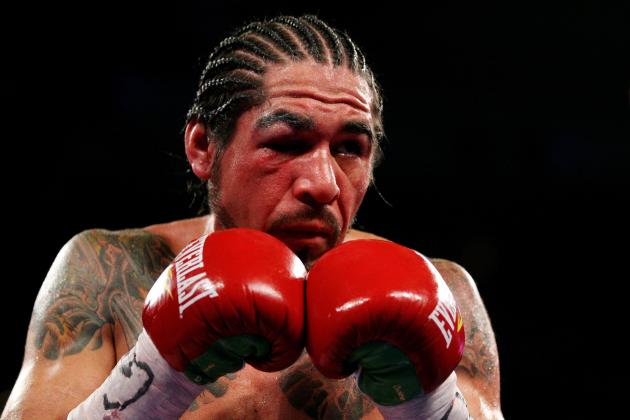 Al Bello/Getty Images

Antonio Margarito is 34 and saw his name tarnished in 2009 when an illegal knuckle pad was found in his hand wraps before his fight vs. Shane Mosley.
Since then, people are questioning his 2008 win vs. Miguel Cotto.
Margarito isn't able to fight against elite fighters, as he lost three of his past four fights. There have been a lot of concerns about his eye and his health in the past few years, and his fight against Cotto doesn't help matters.
Since Margarito can't compete against the best fighters of his generation, he shouldn't jeopardize his health anymore.
Throw in the towel, and call it a career.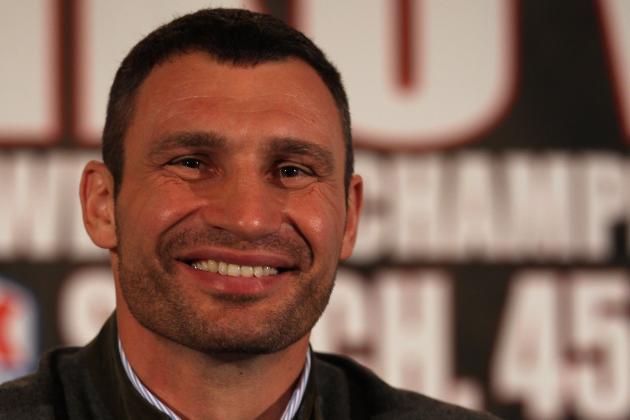 Andrew Redington/Getty Images

The older Klitschko brother, Vitali, is 40 and basically undefeated. His lone defeats were due to injuries and cuts.
Ironfist has not lost in almost nine years, and only two opponents were able to hear the final bell in the 12th round.
Klitschko has proved that no one, except maybe his brother, can come close to his talent and physical shape. The heavyweight has done everything possible in the division and has a bright future in front of him with his Ph.D.
In the heavyweight division, there is always a slim chance of an upset with a lucky punch. Why should Klitschko risk tarnishing his perfect career with a lucky win by an unworthy opponent?
No one is decent enough to challenge him, and Ironfist is now at the age where he should move on.
He will be remembered as one of the greatest heavyweights.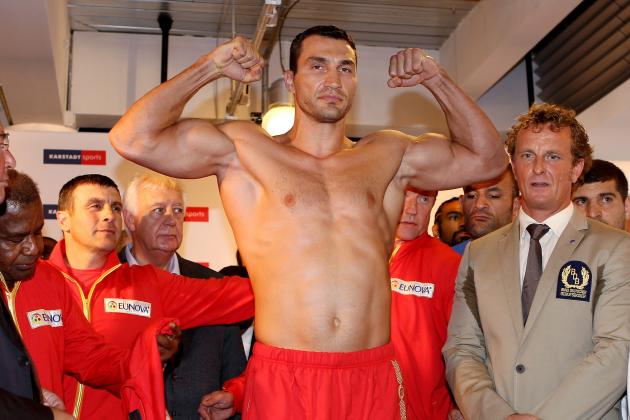 Scott Heavey/Getty Images

The younger Klitschko brother, Wladimir, has had 60 professional fights. He has won 57 of them, and 50 by way of knock out.
The Steelhammer owns the WBA, IBF, IBO and WBO title. There are no worthy challengers that have a chance to beat him.
At 36, Klitschko has a Ph.D. just like his brother, Vitali. There isn't much anticipation for any of his fights lately, as we all pretty much expect wins of Klitschko.
Leaving the sport as a winning champion with four titles would be quite a great way to end a career.
For more boxing news, follow me on Twitter.