Toronto Raptors Offseason Agenda: Small Forward Edition
March 27, 2012

Chris Chambers/Getty Images
For the causal Toronto Raptors fan, this season looks like more of the same. In the end, the Raptors will fail to make the playoffs and finish the season with a record below .500. 
However, for those that closely follow the Raptors, this season isn't as bad as it looks. Dwayne Casey has made strides with the team's defence. They are no longer the the league's worst. The team has been in a number of close games, and if it wasn't for injuries, they most likely would have finished with another eight to 10 wins.
As things stand right now, John Hollinger of ESPN projects Toronto will finish the season with a 23-43 record, thus finishing in a three-way tie with Detroit and Sacramento for the fifth-worst record in the league. Therefore, depending on tie-breakers, they would have the possibility of drafting anywhere between first and 10th.
The upcoming NBA draft is poised to be one of the deepest in years. It is headlined by the likes of Anthony Davis, Andre Drummond and Harrison Barnes. Any lottery team will be able to add a good, young piece to their core. 
Toronto has eight players under contract for the 2012-13 season, along with the ability to extend a qualifying offer to Jerryd Bayless, and a team option for Solomon Alabi. These 10 players would give the Raptors just under $45 million in salary for next season.
The team also has a $2.8 million cap hold for Jonas Valanciunas. Assuming they draft No. 5 again this year, that is another $2.8 million cap hold, for a total of $50 million in committed salary and three empty roster spots.
The biggest area of weakness remains the small forward position. Toronto has not been able to find a suitable option at the 3-spot in years.
Kevin C. Cox/Getty Images
The best-case scenario would be to add a blue-chip prospect like Barnes or Michael Kidd-Gilchrist. Both look ready to make the jump to the pros and would easily become the favourite to start over the likes of James Johnson or Linas Kleiza.
Barnes is a scorer, and even if he isn't as talented as once thought, if he were to reach the level of a Luol Deng or Danny Granger, it would be a welcome addition to the team.
Kidd-Gilchrist on the other hand isn't the polished scorer that Barnes is, but is drawing rave reviews for his defence in the NCAA tournament. He is quickly moving up mock draft boards and could end up being drafting ahead of everyone not named Anthony Davis.
Who the Raptors add will all be based on draft position. If they slide all the way down to 10th, it is doubtful either Barnes or Kidd-Gilchrist will still be available.
If Toronto lucks out and gets the first overall pick, there can be no doubt that Davis will be the man selected. The Kentucky star is the consensus No. 1 overall selection and looks to have the potential to be a franchise-type player.
The Raptors already have a logjam at the power forward, but when someone with Davis' talent comes along, you'd be a fool to pass him up  A team should always take the best player available, instead of drafting based on need. When a team goes on need, they often end up reaching for a player, much like Toronto did in the 2004 NBA draft when the team passed on Andre Iguodala and selected Rafael Araujo.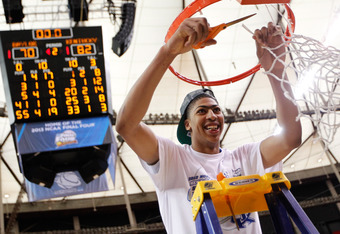 Streeter Lecka/Getty Images
If Toronto is unable to find a small forward in the draft, the other options are via trade or free agency.
Regardless of who the team drafts, either Amir Johnson or Ed Davis will be moved this offseason. Valanciunas is set to come over in the summer and will need to get minutes. He will need, and be given, every opportunity to develop into the team's starting centre.
Either player alone would not be enough to bring in a starting caliber 3-man, but along with another player and maybe a draft pick, it might be enough
The other option is free agency. There aren't a lot of great options available, the best 3 being Michael Beasley, Jeff Green and Nicolas Batum. 
If Minnesota and Portland extend qualifying offers to Beasley and Batum, it gives them the right to match any offer. Green, on the other hand, is an unrestricted free agent. Boston originally extended a qualifying offer, but it was revoked upon learning of Green's heart condition.
Of the three, Batum is the most intriguing. He is a long, athletic player who fills up the box score. In 22 games as a starter this season, he's averaged 15.7 points, 1.5 assists, 5 rebounds, 1 steal and 1 block per game.
Batum has improved each of his four years in the NBA, and appears ready to become a full-time starter.
The question then becomes whether the Raptors would be able to sign him.
The salary cap is projected to stay at $58 million for the 2012-13 season. This means that unless Toronto makes a trade or uses its amnesty provision to reduce its payroll, the team will only have approximately $8 million in cap space.
Batum will likely be looking for a contract similar to Gerald Wallace, Wilson Chandler, Danilo Gallinari or Thaddeus Young, which is in the $7 million to $9.5 million range per season.
The Trail Blazers are likely to match a four-year $35-40 million deal, and therefore, the Raptors would be forced to overpay if they want to snag Batum. Toronto, however, is in no position to overpay in their current cap situation.
It's not clear what players will still be on the roster when next season tips off, but what is certain is the team will look dramatically different.
This summer is set to be one of the most important for the Raptors. If Bryan Colangelo and Co. make the right moves, there is no doubt the Raptors could compete for a playoff spot as early as next season. 
Colangelo came to Toronto widely regarded as one of the best young minds in the NBA, but has not quite lived up to that billing thus far. Now it is time for him to show why he is a two-time NBA Executive of the Year recipient.