Predicting the AFC and NFC Championship Games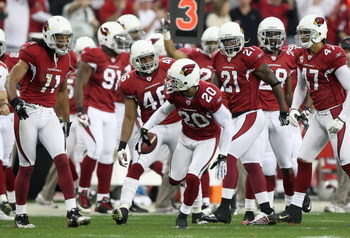 What a playoffs it has been so far. There have been some surprising upsets and some expected outcomes; nonetheless, the NFL playoffs have been exciting thus far.
Tomorrow's conference championship games should be no different. Is it ironic or just mere coincidence that the same week that a U.S. plane was brought down by birds (Thank God everyone was safe), three of the four remaining teams in the playoffs are also birds: Cardinals, Eagles, and Ravens.
Let's take a look at the matchups and see if the theme of birds will continue into the Super Bowl or if perhaps we will have an all Keystone state championship.
AFC Championship Game: Baltimore Ravens at Pittsburgh Steelers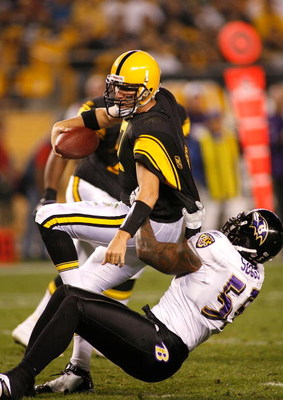 Two teams that hate each other. Two teams that love to hit. Two teams that will flap their jaws all game long. Lastly, two teams that are coming into this game confident that they will move on to the Super Bowl.
Most experts and analysts have been breaking this game down all week long and have basically decided the teams are pretty equal in most facets of the game...until they get to the offenses.
Pittsburgh has a more consistent offense overall with Roethlisberger's arm and Willie Parker's legs. The Ravens rushing attack can match Pitt's but the difference in the game is the Steeeler's ability to pass.
Now, the Ravens's rookie Quarterback has played mistake free football thus far in the playoffs and this has been crucial for the Ravens. However, Flacco also has not had one good game or in NFL standards, he has not even had a decent game in the playoffs...he hasn't had to though.
The Steeler's defense is statistically better than the Ravens but the Ravens defense may be playing better at this very moment. I think the Steeler's defense was a little exposed last week as Charger's Quarterback Phillip Rivers did have some success in the air.
The key for this game for Baltimore is Joe Flacco HAS to have a decent to good game. He needs to throw a couple of touchdowns and he needs to keep doing what he has done great... play turnover free football.
For the Steelers, Willie Parker has to have a nice game on the ground because they do NOT want their offense to be one dimensional.
Player Predictions:
Roethlisberger- 16-28 156 yards 1 td 2 int's and a fumble
Flacco- 13-23 175 yards 2 td's 1 int
Parker- 24 rushes 74 yards
McGahee- 13 rushes 42 yards
McClain- 19 rushes 71 yards 1 td
Final prediction:
Ravens over Steelers 21-17
Bet- Take Ravens +6
NFC Championship Game: Philadelphia Eagles at Arizona Cardinals
Who would have ever thought the NFC Championship Game would be between the Arizona Cardinals and the Philladelphia Eagles? Honestly, anyone? I have loved this Arizona team all year but I stopped drinking the Kool-Aid at the end of the year when they stopped showing up. And the Eagles... what an up and down season! McNabb gets benched, the team looks terrible, suddenly McNabb is playing great again and the team looks like the real deal.
Everyone knows these two teams played several weeks ago and the Eagles absolutely demolished the Cards. Nevertheless, this is a different Arizona team with a ton of confidence. They are playing at home... assuming the roof will be closed (Warner likes it), this provides for a great home field advantage for them. The passing game will most likely be more efficient and the crowd noise will be much louder.
Michael Westbrook has really struggled to get any open space during the postseason which is why the Eagles' defense has been the key for their victories. I expect Westbrook to have a much better game and I think he will have some success in this game... he is too good to hold down again.
The Eagles' secondary has been tremendous all year. Their corners are great in one on one's and they have one of the best safety's in Brian Dawkins. Yet, the Cardinals Larry Fitzgerald is in my eyes now one of the best receiver two receivers in the NFL. He has size, speed and of course incredible hands. Anquan Boldin is also back this week which means the Eagles are going to have to worry about two big playmakers. In addition to their wide outs, the run game has been rejuvenized and looks as good as it did at the beginning of the year.
Edgarrin James looks fresh and ready to lead his team into the Super Bowl and of course you have possible NFL Hall of Fame quarterback Kurt Warner. Warner HAS to take care of the ball and not hold on to it too long. The Eagles love to blitz and if Warner sits back there and waits too long, he has a tendancy to fumble the ball.
Donovan McNabb seems to have a lot of confidence coming into this game and he seems determined to finally get his ring. He really needs to be able to throw the deep ball well because Arizona's seconday has been all over any short routes this post season. Their corners and safeties are extremely athletic and McNab has to be able to take shots down field.
Whomever leads in turnovers will lose this game. The NFC Championship will be won by the team that can simply take care of the ball. I know it sounds redundant but in this game it is even more true. Will the Cinderella story continue or will the confident favorites move on?
Players Predictions:
McNabb (PHI)- 24-37 298 yards 2 td's 1 int 1 fumble
Warner (AZ)- 28-44 306 yards 2 td's 2 int's
Westbrook (PHI)- 24 rushes 109 yards 1 td and 5 receptions 48 yards
Jackson (PHI)- 112 total yards
James (AZ) - 18 rushes 79 yards 1 td
Fitzgerald and Boldin (AZ)- Combine for 203 yards receiving 2 td's
Final Prediction: Cardinals shock the Eagles 28-27
Bet- Take Cardinals +3
The all birds Super Bowl, Cardinals vs Ravens
Keep Reading