WWE: John Cena Will Win, and More Predictions for WrestleMania 28
March 27, 2012

J. Meric/Getty Images
Hello, fellow Bleachers.
I have not been this excited for a WWE event in years.  
For all the warts on the face that is WWE Creative, I must confess they have done a great job selling the idea that this WrestleMania is going to be a landmark event. 
In this article, I will analyze some of the matches on the card, give my predictions and what will be the aftermath going forward.  I hope you enjoy and I eagerly await your comments and input.
Here we go:
The Rock VS John Cena
This is a case of darned if you do, darned if you don't.  
You have the Rock, who epitomizes the Attitude Era, a very popular time in WWE history with a very popular wrestler, but ultimately an Era that is past and a wrestler who has largely moved on to other pastures.  In John Cena, you have the current and future, for better or for worse.  We are in a PG world where the WWE is concerned. While the crowd reaction is far from unanimous, it is passionate. 
There is no question that the Rock will be the crowd favorite, but there will be a pro-Cena element.  This might not show as much at WrestleMania, but there is a strong pro-Cena faction in the WWE at large (I happen to be one of them, just for the sake of honesty).  No matter who wins, someone will be un-happy, and this is why there are rarely face-face matches.
While the Rock is immensely popular, the fact is Cena will take this one.  The match will be a brawl and one or both of these superstars may end up getting busted open before the night is through.
Now, before I am accused of wishful thinking and playing favorites, it is a question of simple economics.  
Cena goes on the road 310 days a year and for better or worse, is one of if not the face of the WWE.  He will continue to be the face of the WWE for a good five-to-10 years down the road and will likely be very active in the business for many years after that. 
The Rock will be around for a few shows here and there.  He is not going to be around for 310 shows a year.  He has many more projects other than WWE.  That is not hating on Rock (who I also love) nor is it playing favorites with Cena, it is simply the facts.
WWE can't afford to let a part-time wrestler from a previous era go over on their premier face for the next decade.  Expect this to be a great match—a good forty minutes back-and-forth, but in the end, expect Cena to win by pinfall.  What I am fairly sure of is that this match has way too much import and gravitas for anything like a screwjob finish that has been plaguing too many WWE matches.
As to an aftermath, expect Cena to be as divisive as ever depending on how the match goes down.  John Cena is of like politics:  Some will love him no matter what, some will hate him no matter what. 
But if Cena takes a beating but is able to give as good as he gets, he might start to convert some of his skeptics.  Expect Cena to ride this victory to a strap stint by August.
As for the Rock, expect him to be around here and there to be a consistent thorn in Cena's side for some time.  I don't for see a championship run for the reasons given above for why he will lose this match.
Triple H vs Undertaker
"The End of an Era" is how it is billed and I believe it will deliver on its promise, but I believe it will be a double going-away party. 
Ultimately, I think Undertaker will win and go 20-0 as 19-1 is too Patriots-esque and, in all honesty, "The Streak" means too much to the fans to end. 
There is no legitimate reason for a loss.  No up-and-coming face of the company needing a push to make him legendary.  Triple H and Undertaker are already at that level, even if this match never took place. In all honesty, no one who is up-and-coming is really worthy or needing of the kind of gravitas the mantle of the man who beat "The Streak" will bring. 
So in another bloodbath of a match, Undertaker will defeat Triple H.  And, like the last match, Undertaker will fade away, but this time for good with his streak intact.  At least I hope this will be the case.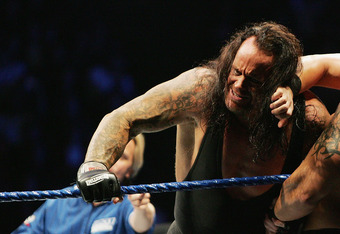 Gaye Gerard/Getty Images
Before you get all crazy, let me explain:
Undertaker has accomplished and been everything worth being in the business.  He has become almost bigger than the show itself.  He has an aura of invincibility that has lasted to this day.
Does anyone really want to see him lose?
You see it in sports of all kinds—the guy who stayed in far longer than was prudent. Rather than have the memories of what was, you have the unpleasantness of seeing the sports figure sully former greatness.  The Undertaker was great and is great in a way rarely seen in a sports figure.  He deserves that aura and the fans deserve to remember him that way.  If he ca't put on at least the kind of match he had at WrestleMania 27, then he needs to bow out. 
20-0 would be a perfect way to go.
As for Triple H, he too will bow out without really announcing anything in much the same way as Undertaker.  He too only has so many matches in him of the kind of caliber seen at WrestleMania 27 and we deserve the memories.  He will still be visible as COO and will get involved periodically with events in much the same way that Vince did, but for the most part his in-ring days will be about wrapped up. 
Unless, of course, you have him against Shawn Michaels at WrestleMania 29, which is possible since I predict HBK will appear to be about to turn on both principles before finally delivering a pure verdict. 
Triple H might not see it that way and it could precipitate a match at WrestleMania 29, but this remains to be seen.
CM Punk vs. Chris Jericho 
This match is the dark horse pick for Match of the Night, if not Match of the Year.  These two are immensely talented and will turn in incredible performances. 
Two things will happen. 
First off, CM Punk will win.  He has the sympathy of the crowd with Jericho bringing family into the equation which usually spells defeat for any wrestler.  But Jericho is rumored to do another tour with Fozzy and will be taking another hiatus from the WWE. 
The other thing that I think might happen is that this might be the beginning of a heel turn for CM Punk.  That guy lost his mind on Raw last night and this might be the beginnings of a much darker CM Punk. 
While I am not sure about the second prediction, I think the first is spot on.  CM Punk retains.
Daniel Bryan vs. Sheamus
I like Sheamus (not crazy about that Bart Simpson wannabe do, but love that Brogue Kick) and love Daniel Bryan as a heel.  This will be a better-than-expected match, but not quite in the same league as the matches mentioned.
On paper, this should be a slaughter. In reality, Daniel Bryan will win. 
Bryan has made a habit lately of defeating wrestlers he should have no chance against.  He should have no chance against Sheamus, hence he will find a way to win.  Beyond this bit of ex post facto reasoning, the fact is Bryan is massively over as a heel and generates tremendous heat. 
He is set for a massive push and will likely only drop the strap when WWE finds an anti-Bryan, another superbly skilled mat technician of at least similar size.  I am convinced that Bryan will never lose the strap after a match in which he himself is considered the underdog. 
Who this will be?
I am not sure, but if Show and Henry were not given the strap, I don't think Sheamus will be given the strap either.
Going forward, expect WWE to milk Bryan and his persona for everything they can get out of it.  I would love to say that Kofi Kingston will eventually beat him for the strap, as he is a wrestler that so very richly deserves that kind of push, but I think it is too soon and WWE Creative is too short-sighted.  Expect Sheamus to get a push of his own and stay in the main-event picture for some time, but it will be a bit before he is back in the title hunt.
Cody Rhodes vs. Big Show
This will be a decent match, thanks to the excellent skills of Cody Rhodes.  This will, however, end in a screwjob finish or DQ.  
Show will win but not get the strap because Cody Rhodes is doing way too good of a job in that role. They will not have Show lose outright, as it will do considerable damage to his character's reputation (though I confess, this never stopped WWE creative before) but Rhodes is set for an even bigger push and is one of the best intercontinental champs in a long time. 
If he does lose the strap it is because he is getting set for a World Title push. Then again, he might be getting one whether he wins or loses here at WrestleMania.  Expect Show to take a bit of a hiatus after this match.
Team Teddy vs. Team Johnny
On paper, Team Teddy doesn't have much of a chance here, but Long is the crowd favorite.  I expect Team Teddy to win and John Laurinaitis to be fired by Teddy Long.  He will still be around (he is still vice president of talent relations and thus has the power to be a thorn in Teddy's side), but I expect Teddy to take it.  He will not keep both general manager jobs for long (if that is the case, why have two shows anymore?) but for the short-term, he will be top man. 
Santino or Ryder will make the final pin.  Just a feeling.
Randy Orton vs. Kane
There is no way that this will be settled here. 
This will be a brutal match and I would be shocked if one or both are not busted open. 
In the end, this will end in a disqualification and will almost assuredly make its way into the crowd and last as much as 10 minutes after it is all over.  This is one feud that will continue into the coming year and will be likely settled around or at SummerSlam.
Kelly Kelly and Maria Menounos vs. Beth Phoenix and Eve
I guess I have to comment on this one as well.
This match is filler. 
With the exception of championship matches, Diva matches rarely end in a heel victory. 
Menounos has a broken rib and might not even make it to the show, not that many will notice as this has been one of the worst hyped matches in a WrestleMania in a very long time.  Doink and Dink got more of a push at WrestleMania than this match.  Expect Trish Stratus or Melina to step in if this is the case.  Nothing new will happen with any of the characters in this match and expect Beth Phoenix to keep her strap till Kharma returns.  Kharma takes the strap in the second of two matches between the two.  This will precipitate a face turn for Beth and a heel turn for Kharma.
Well, there you have it, Bleachers.
My predictions for WrestleMania 28. 
I look forward to your feedback and comments and look forward to reading predictions of your own.