NBA Draft 2012: 5 Players Who Hurt Their Draft Stock over the Weekend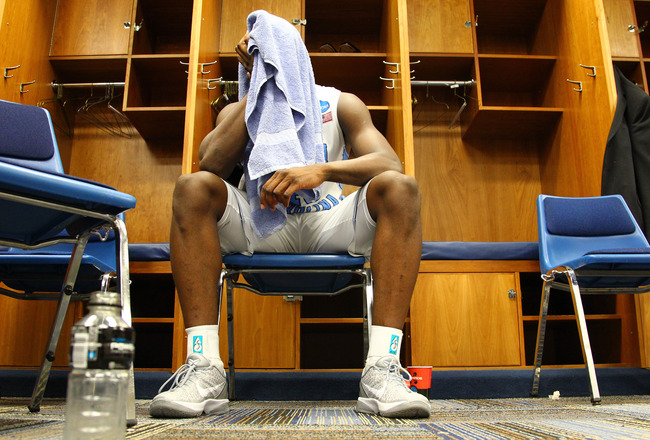 Dilip Vishwanat/Getty Images
Teams lose and teams win. It is the fact of life...in sports that is.
Although last weekend was a very exciting weekend in college basketball, that featured two No. 1 seeds going down in the Elite Eight, there are a fair share of players who hurt their draft stock.
Unless, you were born evil, it's never a fun thing to see a young man hurt his future. Although these five players will definitely be drafted, they may have hurt their draft stock over the weekend.
Read on to find out who these five players are.
Harrison Barnes, North Carolina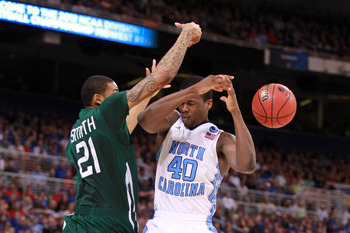 Andy Lyons/Getty Images
Harrison Barnes had a pretty good season, averaging 17.4 points per game and 5.2 rebounds.
Too bad that good season didn't carry on into the NCAA tournament.
Over the weekend, North Carolina played two games. In those games, Barnes averaged 12.5 points per game. Kendall Marshall's absence in those two games were huge for the Tar Heels, but that does not mean that Barnes cannot show up to the game and expect North Carolina to win.
Perry Jones, Baylor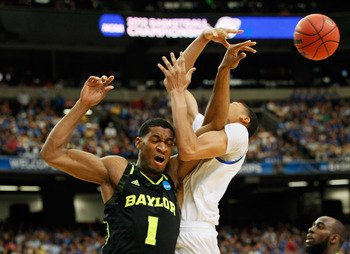 Kevin C. Cox/Getty Images
All season long, people have been saying that Perry Jones is overrated, and all season long, I have disagreed with them.
After such a poor outing in the NCAA tournament, I am starting to think the haters are right about Jones.
In Jones' first two games of the dance, he had two points in one game and seven points in the other. Yeah, that's pretty pathetic considering how high he is supposed to go in the NBA draft.
Jones may have had 17 points and eight rebounds in the loss to Kentucky, but his four turnovers were very costly to say the least.
Not to mention, he was only 6-of-14 from the field. Kind of hard to believe, considering many of his shots were taken pretty close to the basket.
Patric Young, Florida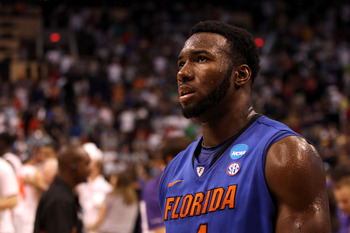 Christian Petersen/Getty Images
Patric Young is a big boy, and he definitely has a NBA body, but that does not mean he's going to be successful at the next level.
Young may play on a team that takes more shots than Kobe Bryant, but his presence is very dismal when he doesn't have the ball.
Young had an unimpressive seven points against Marquette and 11 points against Louisville.
If Young played for a different team, he may have shined on it, but he didn't, and he did not look anywhere near a lottery pick in the Sweet 16 or Elite Eight.
William Bufford, Ohio State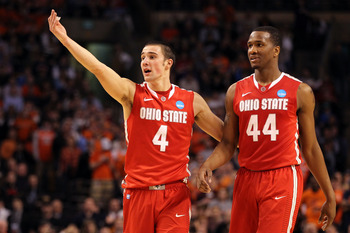 Jim Rogash/Getty Images
William Buford's draft stock wasn't that high to begin with, so it obviously did not help him to shoot as poor as he did over the weekend.
By poor, I mean 1-of-8 against Cincinnati and 3-of-12 against Syracuse. Yeah, not too good since Buford is supposed to be a good shooter and all.
Ohio State hasn't really needed Buford to be that productive on offense, since Deshaun Thomas and Jared Sullinger are going absolutely nuts in the dance, but some production would be nice.
Buford needs to play well in the Final Four.
Tyler Zeller, North Carolina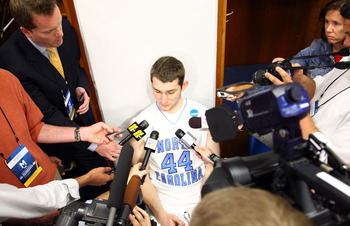 Dilip Vishwanat/Getty Images
After having the game of his life against Ohio, Tyler Zeller was pretty disappointing against Kansas.
In case you have forgotten already, Zeller went off against Ohio with 22 points and 20 rebounds. He then followed that up with 12 points and six rebounds against the Jayhawks.
So much was expected out of North Carolina and Tyler Zeller this season. They were ranked No. 1 going into the season and all.
Well, one game changes a lot, and the loss to Kansas ended the Tar Heels' season, as well as Zeller's season on a very bad note.
If you're a tweeter, feel free to follow me @TheTrevorLowry
Keep Reading