Final Four 2012 Schedule: Kentucky and Ohio State Will Set Up Classic Final
March 28, 2012

Michael Heiman/Getty Images
Pooling all the teams in the country in their current state, the best possible final game for this NCAA tournament is Ohio State and Kentucky.
So it's a good thing that both teams are still alive and on opposite sides of the bracket. On Monday, they will be squaring off against each other for the national championship. 
Now, it would be easy to just say that the Wildcats and Buckeyes will meet in the final and let that be the end of it, but let's take a look at why they are going to square off. 
Semifinal 1: Louisville vs. Kentucky
The rivalry may be fierce, but the Wildcats will claim the game—and rather easily at that. The Cardinals have gone way beyond where they should, having Michigan State fall incredibly flat and then Florida choke in their Sweet 16 and Elite Eight games.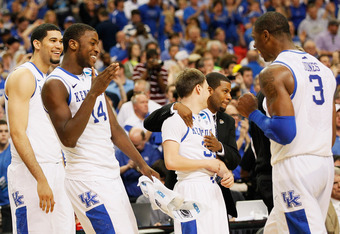 Kevin C. Cox/Getty Images
That isn't going to happen against Kentucky. The Wildcats are just too strong overall, as they have six players on the roster who average more than 10 points a game. Louisville doesn't score well enough to compete with a team which has scored 184 combined points over the last few games. 
The worst thing for the Cardinals is that Kentucky won't need to score that many points to win this game. Louisville will need the game to be in the low 70s, and that's the highest they can allow. Meanwhile, Kentucky can have a flat game and score 75. This is just a mismatch. 
What makes Kentucky such a tough match is how good they are on defense. Louisville is good on the glass, but they won't handle Anthony Davis. He has too much length and size for them to compete with. 
This one will get out of hand pretty quickly. There won't be any doubt about who the better team is here. 
Prediction: Kentucky 84, Louisville 69
Semifinal 2: Ohio State vs. Kansas
This game will not be in Kansas, and Jared Sullinger will be on the floor. Those two factors will easily be enough to sway this game in the Buckeyes' favor. 
Sullinger, Deshaun Thomas and William Buford will be too much on the offensive end, while Aaron Craft is a fantastic perimeter defender. That group will combine to neutralize Thomas Robinson and Tyshawn Taylor. 
Kansas has not played strong this tournament, but they have managed to survive against some vastly inferior (or beaten up) opponents. Now that they're in the Final Four, that's not going to happen. Ohio State is too good, and they will overwhelm the Jayhawks. 
Look for this game to be close for the majority of it, but the Buckeyes will keep the Jayhawks at a distance all game long, taking a trip to the national championship game in the process.
Prediction: Ohio State 76, Kansas 68
National Semifinals: Saturday, March 31
| | | | |
| --- | --- | --- | --- |
|   | | Time (ET)  | TV |
| Semifinal 1 | Louisville vs. Kentucky  | 6:09 p.m. | CBS  |
| Semifinal 2  | Ohio State vs. Kansas  | 8:49 p.m. | CBS |
National Championship Game: Monday, April 2
| | | |
| --- | --- | --- |
| | Time (ET)  | TV |
| Semifinal 1 winner vs. Semifinal 2 winner  | 9 p.m. | CBS  |