2012 NFL Draft: The 5 Biggest Needs for the Philadelphia Eagles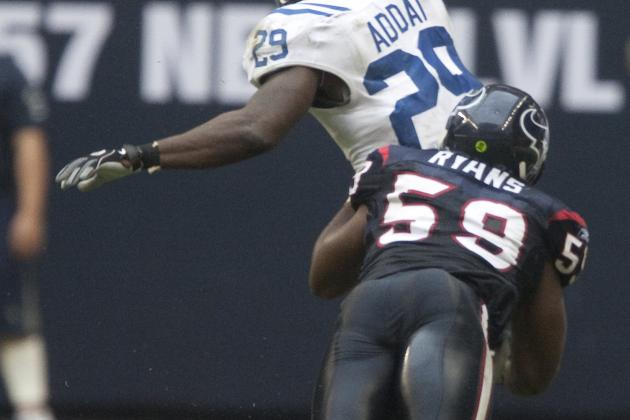 Bob Levey/Getty Images

The signing of DeMeco Ryans was a huge one for the Philadelphia Eagles. It solved a major need at middle linebacker and really opened things up for the Eagles in the draft. They no longer are forced to draft the best middle linebacker available in the first or second round. They now have the luxury of taking the best players available early on in the 2012 NFL Draft.
The Eagles still have some minor needs to address in the draft such as outside linebacker and a third running back, offensive tackle, defensive line and tight end. None of these needs will make or break the Eagles this season. Middle linebacker was one of those needs as we saw from poor play at the position last season, but with Ryans they get a Pro Bowl player.
Don't expect the Eagles to reach on any of these needs during the draft. They will be looking at who are the best players available at each pick, who fits their system and what they can bring to the team right away.
Begin Slideshow

»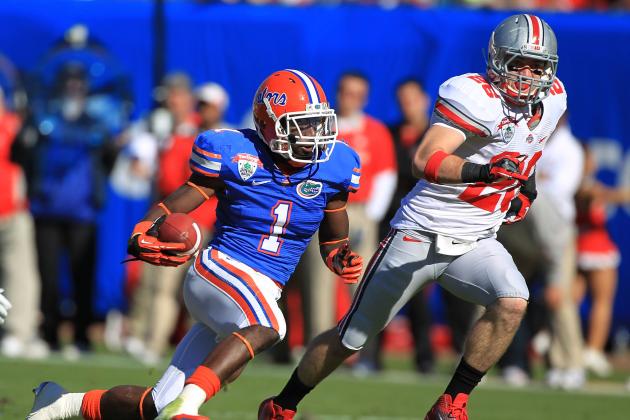 Scott Halleran/Getty Images

The Eagles aren't just looking for a typical running back to fill out the depth chart; they are looking for someone who can fill multiple needs at the position.
The Eagles will be looking for a player with good speed, receiving and return skills. Chris Rainey is the only player that really fits that bill in this year's draft class.
Rainey improved his draft stock with a very fast 4.33 40 time at his pro day. He ran a 4.45 40 at the NFL Combine.
Rainey has experience on both kickoff and punt returns and was used as both a runner and receiver at Florida along with being used on punt coverage where he blocked seven punts.
If the Eagles don't address running back before the draft I see Rainey as the Eagles' top prospect in the third round.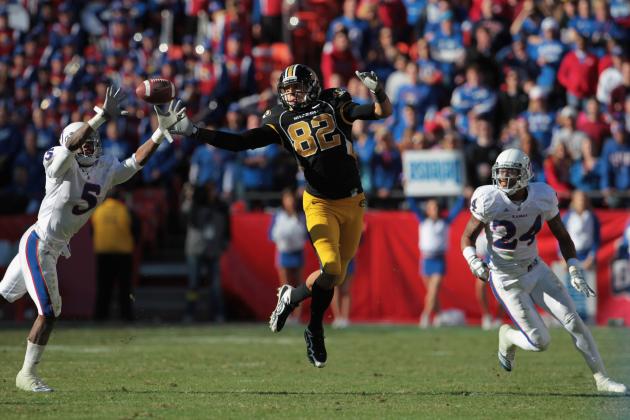 Jamie Squire/Getty Images

I fully expect the Eagles to utilize a lot more two tight end sets this season. This is why they havn't signed a full back in free agency. There isn't a full back out there that can really generate much offensive production. The Eagles would rather put an extra wide receiver or tight end in the offense than a full back that can't do much with the football.
The Eagles already have two good tight ends in Brent Celek and Clay Harbor, but if you want to run a lot of two tight end sets you have to have a third tight end in case of injury. Harbor hasn't proven to be much a dynamic receiver at this point in his career. He has the ability, but he hasn't shown it yet. The Eagles should take one of several really good receiving tight ends in this year's draft class.
Three tight ends really stand out to me: Ladarius Green, Michael Egnew and James Hanna.
Green is a little thinner than you would like at tight end at 238 pounds, but he is really long at 6'6" and is a really good jump ball receiver. He can make an immediate impact in the red zone.
Egnew is a more polished receiver but has very little experience as a blocker coming out of Missouri's spread offense. He racked up 140 receptions the past two seasons to go along with eight touchdowns. He runs incredibly well for a tight end at 6'5", 252 pounds. He is a great fit for a team that wants to use him as an extra receiver who can line up just about anywhere but is more of a project for a team that wants him to be a number one tight end.
James Hanna is a really interesting prospect. He was by far the most athletic and fastest tight end at the combine with a 4.49 40 and a 36.5 inch vertical leap. He had just 50 catches for 702 yards and nine touchdowns in his four-year career at Oklahoma. He will be a project at the next level but so were Jimmy Graham and Antonio Gates at first.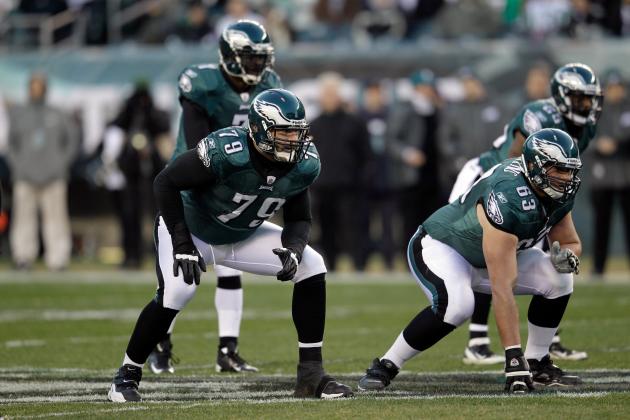 Rob Carr/Getty Images

The Eagles are set at offensive tackle with two really solid starters in Jason Peters and Todd Herremans. Peters is signed through 2014 and Herremans is signed through 2016. The Eagles don't need a starting offensive tackle but they need a backup.
The Eagles will be looking for an athletic tackle who can fit into Howard Mudd's blocking scheme right away. Nate Potter out of Boise State and Tom Compton out of South Dakota are the best fits for the Eagles at this point. Potter is a fourth-round projection and Compton is a fifth-round projection.
Both players are really good athletes at the position who need to clean up their blocking techniques at the next level. Compton is a little bit more athletic but Potter is probably a little more polished. I would expect the Eagles to wait until the fifth round before they add an offensive tackle for depth.
Brett Deering/Getty Images

The Eagles are almost set at linebacker with Brian Rolle and DeMeco Ryans set as starters. Jamar Chaney figures to compete for the strong side linebacker position with either Akeem Jordan or Moise Fokou. One of those two players will be released at some point this summer.
Casey Matthews and Keenan Clayton also figure to be in the mix at linebacker for their coverage skills but neither is expected to be a starter this season. The Eagles will add one more outside linebacker capable of competing for a starting job on the strong side.
Travis Lewis is the best fit for the Eagles in the draft. He was a team leader at Oklahoma and his maturity and intangibles would be a welcomed addition. He is also a good coverage linebacker and a textbook tackler. He can play all three linebacker positions as well as he bulked up to 246 pounds prior to the NFL Combine.
The Eagles will be looking for a outside linebacker that is versatile and has a good track record against the run. One of the biggest problems for the Eagles in 2011 was open field tackling and they won't be looking to add a player who wasn't an excellent tackler in college.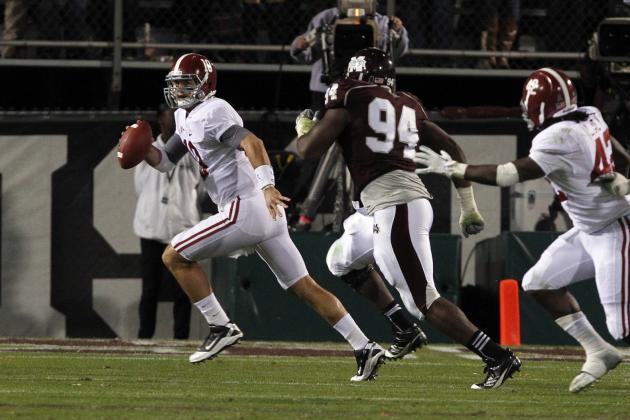 Butch Dill/Getty Images

The Eagles are loaded with talented veterans on the defensive line. Mike Patterson, Cullen Jenkins, Jason Babin and Trent Cole are all in the prime of their careers. They are also either approaching 30 or over years old. The Eagles front office has always looked at the future of the team just as much if not more than the present of the team. They will look to add a defensive end and tackle in the draft this year.
Phillip Hunt and Brandon Graham are both really promising young defensive ends, but Hunt is still a bit raw entering his second season removed from the CFL while Graham has to prove he is fully recovered from a torn ACL he suffered late in 2010.
The Eagles will look to add a defensive tackle to Jim Washburn's rotation as well. Mike Patterson and Antonio Dixon are more of run stuffers than they are pass-rushers. They both can get after the passer, but it's not their speciality. There are far too many talented pass-rushing defensive tackles in this year's draft class to overlook the position—especially when it appears that both Derek Landri and Trevor Laws will sign elsewhere in free agency.
Fletcher Cox is the popular choice right now, Dontari Poe has the highest ceiling and Michael Brockers is the highest rated defensive tackle.
Brockers is a really good prospect at defensive tackle, but he doesn't fit in with Washburn's defensive line scheme. He is better apt at covering gaps than attacking the backfield. He will be a really good player for some team, but not the Eagles.
Dontari Poe put together a workout for the ages at the combine, but has little to show on film against inferior Conference-USA competition. A player that strong and that athletic should have dominated in a non-BCS conference.
Fletcher Cox is really the perfect fit for the Eagles in their scheme. He is the most versatile and the most athletic lineman in the draft. He played all over the line while at Mississippi State and proved his athleticism with a 4.79 40-yard dash at the combine. He will be an excellent pass-rusher right away in the wide-9 scheme.