New Jersey Devils: Who Will Ride Pine in the NHL Playoffs?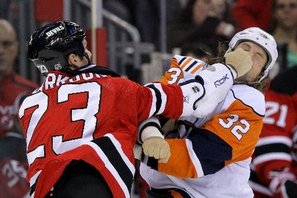 With no salary cap and everybody getting paid the exact amount, the playoffs are all about who wants it the most.
If you're under-performing, you're headed to the press box with the rest of the fans to watch your teammates play.
The following is a list of players who are going to lose significant ice time and players who just simply won't start a game all postseason barring some major injuries to starters.
Begin Slideshow

»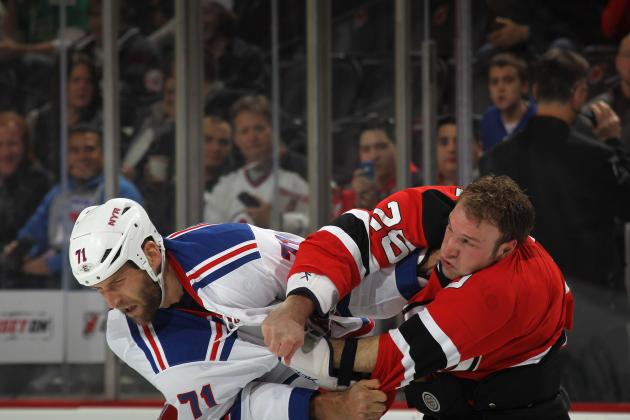 Bruce Bennett/Getty Images

Playing a team low four minutes and thirty-five seconds a night, we definitely won't see Cam Janssen in any playoff games, no matter the opponent.
Nobody should expect to see Fight Night Round Two at Madison Square Garden or the Prudential Center should the Devils play their arch rivals, the New York Rangers.
Fighting in the playoffs is an extremely rare occurrence. Coaches aren't willing to sacrifice skill for toughness, and being that Cam Jan possesses no offensive ability whatsoever, he'd be lucky to get a sweater even if another winger is injured.
Bruce Bennett/Getty Images

The return of Travis Zajac will push a center out of a roster spot, that center is Jacob Josefson.
The rookie center has under performed this season and has been relegated to fourth line duties most of the season. Josefson was surpassed by fellow rookie center Adam Henrique who manned the first line with Zach Parise and Ilya Kovalchuk for most of the season
As with fellow Swede Mattias Tedenby, it is possible Josefson may have been called up to the majors a bit too early as it seems his game needs more refinement.
Sending Jacob back down to Albany to get more time as a top six forward might not be a bad idea. Josefson is still adjusting to the North American game, and getting as much playing time as possible is a great idea.
Expect Josefson to be called up in case of injury or if Ryan Carter is downright horrible.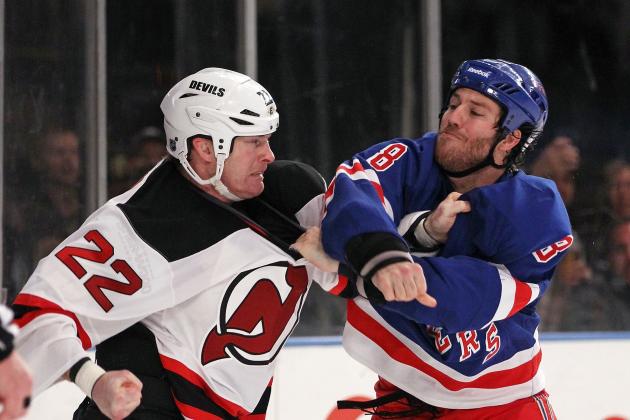 Bruce Bennett/Getty Images

Enforcer Eric Boulton has a mind blowing zero points in fifty games played this year.
A bigger brawler than Cam Janssen, Boulton has a better chance of playing a game or two because he can fight anyone in the NHL and has a good chance of winning.
Boulton has had flash in the pan moments of offense with other teams in his NHL career, but such an occurrence has not yet taken place with the Devils.
Expect Boulton to watch from the press box in any series that doesn't involve the New York Rangers or Boston Bruins.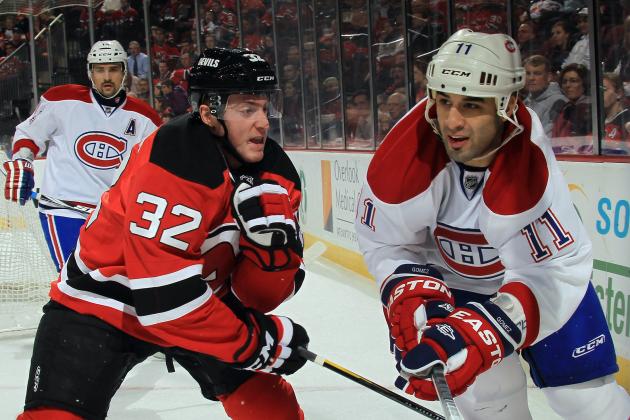 Bruce Bennett/Getty Images

Taormina has filled in beautifully for injured veteran Henrik Tallinder. Some would say that Taormina has outperformed Tallinder in his limited duty as an AHL call up.
Unfortunately for Taormina experience is usually favored over streakiness, and when Tallinder returns from his blood clot injury Taormina will be the odd man out.
Henrik has had plenty of playoff experience with the Buffalo Sabres, and it is this experience that will push him past the former collegiate athlete on the depth chart.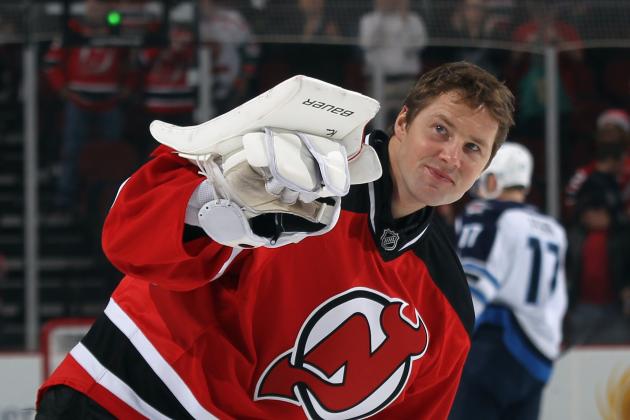 Bruce Bennett/Getty Images

Despite being statistically better than Martin Brodeur in every category there is for a goaltender, Hedberg will see zero starts.
If you've been watching the Devils for any amount of time, you haven't seen another goalie start a playoff game that wasn't No. 30.
Even in the season where Marty hurt himself and Scott Clemmensen filled in admirably, boosting the Devils to the playoffs, Brodeur started every single playoff game which resulted in another first round exit.
Like Clemmensen, there are going to be nights where you are shouting at the television wondering why on Earth Hedberg isn't being played.
The Devils will live or die on the back of the three time Stanley Cup champ who is still looking for his first Conn Smythe.