Chicago Bulls: 5 Keys to Dominate the Eastern Conference Playoffs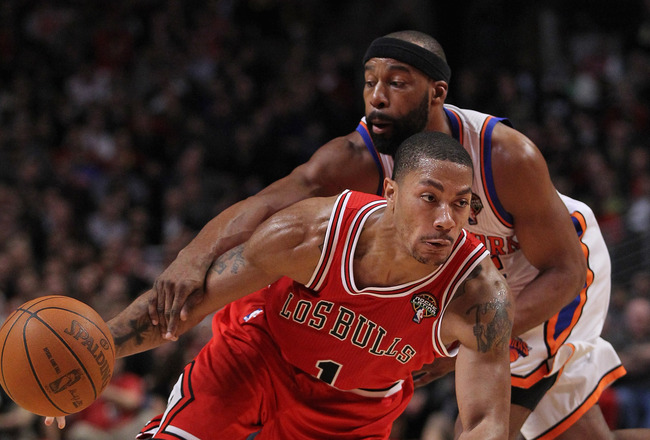 Jonathan Daniel/Getty Images
The Chicago Bulls will most likely be entering the 2012 NBA Playoffs with the first seed. With the first seed comes home court advantage and a chip on their shoulder for the entire playoffs. Many thought the Miami Heat would be the team coming away with the best record in the NBA, but the Bulls thus far have given them a run for their money.
Even with that chip on their shoulder, it's still likely that the Bulls could find themselves out of the playoffs sooner rather than later. To avoid such a devastating upset, here are five things the Bulls need to remember in order to dominate the Eastern Conference playoffs.
Carlos Boozer's Lack of Delivery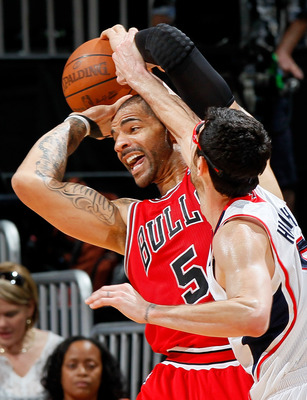 Kevin C. Cox/Getty Images
Carlos Boozer needs to play up to his potential. While Joakim Noah doesn't post much offensive production, the key to the low post offense will lie with Carlos Boozer. Whether or not he can break out and dominate will be one of the keys to the Bulls' playoff success.
As early as the first round, the Bulls will be facing a dominating inside presence in the New York Knicks. If Amare Stoudemire returns soon, Chicago will have to deal with both STAT and Tyson Chandler, the latter coming off an NBA Championship and knowing exactly what it takes to win it all.
Not only does Boozer need to score (currently he's posting career lows of 15.8 points and 8.2 rebounds), but he needs to dominate the boards. As of March 14, the Bulls have grabbed 50 or more rebounds in a game 16 times. When the Bulls do this, they have a record of 15-1. Boozer and Noah together can accomplish this and pull these guys straight to the Finals. Taj Gibson should also be relied on heavily as the first guy off the bench.
The main concern the Bulls will face in the playoffs will be the Miami Heat. These guys do not have a low-post presence. While Ronny Turiaf may bring some hustle, Chris Bosh is afraid of the paint and Joel Anthony is a joke at this point. If the Bulls hope to move past the Big Three, rebounding and low-post offense will paramount.
If Boozer plays any less than he's capable of, he could find himself shipped out of Chicago sooner rather than later. Chicago is almost as unforgiving as New York when its superstars under-perform.
Tom Thibodeau's Defensive Schemes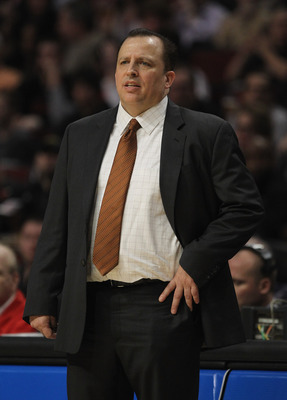 Jonathan Daniel/Getty Images
The Bulls easily have the best defense in the entire NBA. Most of this is obviously because of defensive-minded Coach of the Year Tom Thibodeau. The guy knows how to teach defense. We saw it in Boston and we are witnessing it to a much bigger degree in Chitown.
And you know how the old saying goes, "Defense wins championships."
Here are some stats for you: Chicago has held its opponents to less than 100 points in 40 of its first 52 games. When holding opposing teams to under 100, the Bulls are 33-7. They are 23-0 when holding opponents to less than 90 points. Hmmmm...we may be onto something here.
If they can keep this up, I predict they will be holding the trophy at the end.
Bench Production
Jonathan Daniel/Getty Images
Count me among the people who doesn't understand why Taj Gibson doesn't ever start for this team. Of course, Carlos Boozer is the more proven of the two, but I honestly would rather have Gibson playing down the stretch. That may just be my Utah bias which requires me to hate the Booze for the rest of his playing career.
Even so, another key to the Bulls' playoff hopes will be the bench. With the recent injury woes that may continue into the postseason, the Bulls will need their bench players to breakout just as they have in past weeks.
John Lucas has proven himself. He needs to carry that over in April. CJ Watson, Taj Gibson, Kyle Korver and Ömer Aşık will be relied on just as heavily.
Richard Hamilton's Potential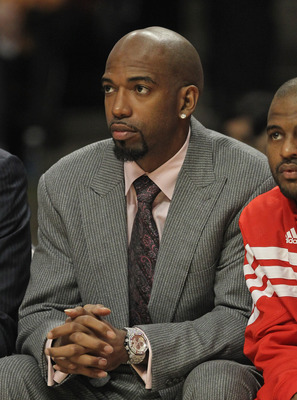 Jonathan Daniel/Getty Images
Richard "Rip" Hamilton is the Bulls' big offseason acquisition and he has played in a total of 16 games all season. I hold out hope that we will see him in the playoffs, but time will only tell. So far, his shoulder has not been good to him.
His sharp-shooting is definitely needed and, without it, the Bulls may find themselves struggling to keep up with offense heavy teams such as the Knicks, 76ers and even the Heat.
Without him, they will need to rely a little too heavy on the stroke of Kyle Korver and Derrick Rose. While Luol Deng is a proven All-Star and the glue to this team, Rip is also a key contributor who has won a title in the past. His presence is most necessary and almost more so than Deng's.
Derrick Rose's Groin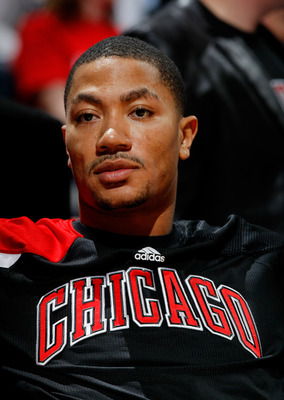 Kevin C. Cox/Getty Images
Unfortunately, the Bulls' postseason dreams rely most heavily on the status of Derrick Rose's groin. As crazy as that may sound, it is only the truth. Already missing 18 games this season with various injuries, eight of those have been due to his groin. Ouch.
Without Rose, the Bulls may be able to experience a little bit of success in the playoffs. But with him, they would win it all. He is a past MVP, an All-Star and the heartbeat of Chicago. They live and die by him; they will die without him.
I expect him to be healthy come playoff time and we might see him rest more and more as the playoffs draw near. Lately, they've been able to win without him. But the playoffs are a whole new ball game. They need his 22.8 PPG and nearly 9 assists.
If he is healthy, we may finally see another banner hanging in Chicago. The first since Michael Jordan himself.
Keep Reading

Chicago Bulls: Like this team?