Why the NBA Needs a New Story in 2012: Kobe Bryant & Mike Brown Is Getting Old
March 28, 2012

Ezra Shaw/Getty Images
Enough is enough. Now we are spending two days analyzing a single substitution? What's next: the media will dissect why Mike Brown is wearing a black tie instead of gold? Or why Kobe spent 45 minutes in the locker room after a game instead of an hour?
Tebow-mania is one thing, but it's the offseason for the NFL, so these lame storylines are acceptable. On the contrary, the NBA is in its stretch run and all the media wants to talk about with the Lakers is the uneasy relationship between Kobe and Coach Brown.
I get that the Lakers and Knicks get the most media attention, but it's getting bad. Granted, Linsanity has calmed down. Amare is out with an injury. Gasol is his usual quiet, efficient self. Metta World Peace and Matt Barnes have been unusually calm lately. But can we please get some new stories?
The Lakers have had an eventful season to say the least. A coaching change. Two Laker stalwarts traded in Odom and Fisher. A rough start to the season. Players questioning the offense.
But the focus is now on a substitution? Saying Kobe was "benched" is ridiculous. He sat for a few minutes as a result of a rotation aberration. End of story, right? Nope, because those few minutes Kobe sat really caused the Lakers to lose to the Grizzlies (note the sarcasm).
Next time I click on ESPN.com or SI.com, here are 10 stories I'd rather read about:
1) What Shawn Bradley is up to these days
2) How Antoine Walker is progressing in the D-League (wait, I read that one last week)
3) The long-term prognosis of Andrew Bogut and Steph Curry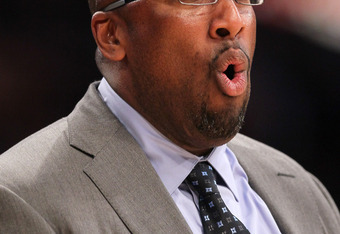 Stephen Dunn/Getty Images
4) How likely the Celtics are to acquire Austin Rivers in the NBA Draft
5) What the Charlotte Bobcats are shooting from the foul line this season
6) Which team will end up with Kwame Brown next season
7) If Lamar Odom will snap out of his funk
8) How Kris Humphries is coping post-divorce
9) What Steph Marbury's scoring average is in China this season
10) When some random Laker bench player starts griping about Kobe's shot attempts per game
None of those sound too appealing. The point is the media should focus more on the important stuff. How tough is the Lakers schedule down the stretch? How intriguing would a Lakers-Heat finals be? The offensive efficiency of the Lakers offense pre- and post-Ramon Sessions. There are better stories to write about; there have to be.
How about a story on why the Lakers allowed Golden State to almost beat them despite missing half their team? Or why all of LA's offense late in the game seems to be Kobe going one-on-one and jacking from 23 feet?
Bottom line is enough's enough. Find some new stories. Focus on the playoffs. Gossip about where Gasol might get traded this summer--something, anything else but multiple stories on a substitution. Sheesh.