Final Four 2012 Schedule: Jared Sullinger and Stars Who Will Flop on Big Stage
March 27, 2012

Jim Rogash/Getty Images
Being a star player in the NCAA tournament can be a humbling experience—or a coming out party, depending on how the player and team performs. There are a few high-profile studs left dancing in the Final Four, but their luck will likely run out on Saturday night. 
There are a lot of reasons for a player to struggle—bad matchup, playing poorly at the wrong time, not peaking at the right time, etc. The trick is to make sure that other players around them step up so the team doesn't suffer. 
With that in mind, here are the biggest stars playing this weekend who will have a lot of problems playing up to their potential. 
Jared Sullinger, Ohio State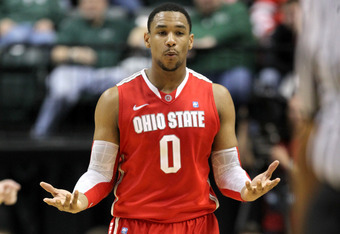 Andy Lyons/Getty Images
As great as Sullinger has been for the Buckeyes throughout his career, the Final Four will not be his stage to shine.
Being matched up against Thomas Robinson is not likely to make things easy for Sullinger, either. He doesn't have the athleticism that the Jayhawks star forward does. He is going to be throwing up contested shots all game long. 
Even if Sullinger is able to get his points, his overall shooting will leave a lot to be desired. In what could end up being his final college game, Sullinger will not make it one to remember. 
Tyshawn Taylor, Kansas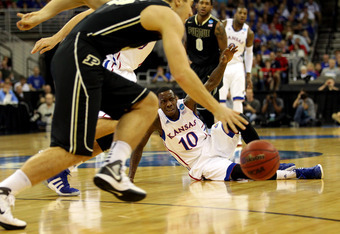 Doug Pensinger/Getty Images
On the opposite side of the court, Taylor will make his final appearance in the Final Four. The senior guard has been outstanding all season for the Jayhawks. His all-around game just keeps getting better and better. 
However, he has not had a banner tournament up to this point. He has scored more than 10 points just once, against North Carolina in the Elite Eight. 
Teams have geared up to stop him on the perimeter, which is making it difficult for him to find open shots. He had success against the Tar Heels because they don't play defense. 
It won't happen for him against Ohio State on Saturday night. 
Michael Kidd-Gilchrist, Kentucky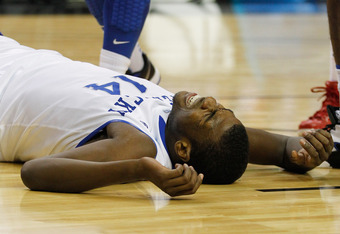 Streeter Lecka/Getty Images
After a slow start to the tournament, Kidd-Gilchrist has finally hit his stride with two great performances against Indiana and Baylor.
He did look great, but those teams tried to run with the Wildcats. Louisville knows that it can't keep up with them offensively, so that lock-down defense Rick Pitino has instilled in this team is going to make life miserable for Kentucky. 
Kidd-Gilchrist is going to be forced to pass the ball or take bad shots and hope they go in. 
Final Four Schedule (Times Listed As EST)
No. 1 Kentucky vs. No. 4 Louisville at 6:09 p.m. on CBS
No. 2 Ohio State vs. No. 2 Kansas at 8:49 p.m. on CBS