Cleveland Browns Mock Draft: How the Browns Can Return to Glory
March 27, 2012

Jason Miller/Getty Images
The Cleveland Browns were once again bottom dwellers in the 2011 NFL season, pretty par for the course since the team returned in 1999. However, under the regime of Mike Holmgren and Tom Heckert, the Browns have something that they have lacked since their return: direction and common sense.
This front office has a very definite direction of where they want to go and how they want to get to that point. The first step in their plan is to develop a stout defense, which they are very close to solidifying.
Secondly, they want to bring in playmakers to surround their quarterback (Colt McCoy, or whomever they choose) to provide a stable, effective, but not flashy West Coast offense. Notice the words "not" and "flashy" together; they will not make any super sexy free-agent signings as many fans have been clamoring for recently.
They are choosing to build through the draft, which in my opinion is the best way to reverse 13 years of losing and poor management from other regimes.
Folks must keep in mind that when a team lets a player walk into free agency, most of the time there is a reason they did not bring that player back. Granted, sometimes its for salary reasons, which could land a fantastic player, but most of the time it's due to the player's play. Whether it's a decline in performance, injuries, or being a pest in the locker room, there is a reason his former team didn't bring him back.
I may be in the minority, but I no longer want old, past their prime castoffs from other teams like we have done in the past with Shaun Rogers, Willie McGinest and Ted Washington, none of whom worked out well for us.
With that all being said, I do think the Browns are extremely close to being competitive this season and could be only a year away from making serious noise. This is why this draft is of the utmost importance from top to bottom. Below is the scenario that I feel gives the Browns the best value and quickest turnaround for the upcoming season.
Let me precede the first selection by saying I do think the Browns will trade down. No, not a blockbuster 20-pick trade down like last year, but I can definitely see a trade which still keeps them in the top ten while adding an extra second rounder or two.
But for the sake of keeping it simple, I think they would end up with the player being selected here anyway so I will not include a trade projection in this edition.
No. 4: Trent Richardson, RB, Alabama
The Browns need just about everything…but really, they do. However, Richardson offers the widest array of threats to fit into the Browns offense and help out Colt McCoy. Richardson can run through and around defenders, pass block and catch balls out of the backfield—it's hard to pass that up.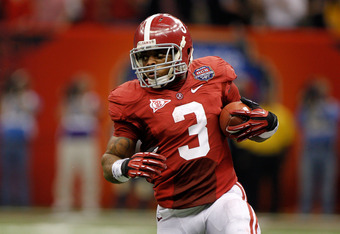 Chris Graythen/Getty Images
No. 22:  Kendall Wright, WR, Baylor
The Browns need playmakers, and that's what they will get here with Kendall Wright. His value dropped a little with a lackluster combine performance, as he showed up heavier and slower than expected, but the dude showed he is a burner on the field and would be a perfect target for Colt McCoy in the West Coast offense.
If Jonathan Martin or Riley Reiff happen to fall to our spot here I think they will take them. However I don't see either making it to this spot, especially Reiff. Which leads to the relegation of offensive line to the second round instead of reaching for it here.
No. 37: Bobby Massie, OT, Ole Miss
 Massie would give the Browns a much-needed face lift at the right tackle position. He is big and talented, has excellent footwork and in my opinion would become a stabilizing anchor on the right side of the offensive line. Colt McCoy and whomever our running back may be going into the season still won't be able to do much if that right tackle void is not addressed.
No. 68 Chase Minnifield, CB, Virginia
 This pick, if he is still available, makes a ton of sense to me. Not only would the family ties reignite sparks of the glory days for fans, but he also brings talent to a position where depth is needed. Minnifield would be a great option down the depth chart.
With Sheldon Brown aging, the Browns definitely need more depth and someone with promise to take over in the near future. Brown would, however, be a great mentor. Minnifield also brings his returning abilities to the table. Josh Cribbs has just not looked like himself as of late and could be nearing the end of his run.
No. 100: Nigel Bradham OLB Florida State

With the resigning of Chris Gocong and D'qwell Jackson they are one linebacker short of having a pretty formidable corp. Bradham is a nice balanced linebacker who would be a great asset against the run. He could make an almost immediate impact for this defense.

No. 118: Nick Foles, QB, Arizona
To me, this move is so Mike Holmgren: find a quarterback with good potential late and try to mold him into something in the future. Foles has a solid arm and would be a great fit in the West Coast offense. He won't be ready immediately, but he could give McCoy a little competition and may pan out to be something in the long run.
Now I am not saying that past the fourth round of the draft doesn't matter—that couldn't be further from the truth. The Browns definitely need to find gems in the next three rounds of this draft to build rotational depth and find future stars.
However, this is where I end this scenario, because after this point and until draft day, players in this range rise and fall at a constant rate depending on each team's personal opinion.
However, with this set of players drafted, the Browns, with a full offseason, could pose a much larger threat this season than many teams thought possible.
This is what I will leave you with my friends: Stay patient and be hopeful for the future of the Browns because, no matter how much negativity floats around out there, this team truly is looking up.