Kobe Bryant Hits the Bench and Why It's Not That Big a Deal
March 27, 2012

Christian Petersen/Getty Images
So the big news out of the weekend in Lakerland is Mike Brown "benching" Kobe Bryant late in the fourth quarter against Memphis. Whatever. This is really not worth getting worked up about.  Why Brown did it, I'll never know.  Of course he will never give the real reason, instead mumbling some lame excuse about how he didn't want to burn Bryant out (Mike, get your story straight with your spin. You are on  record earlier in the year saying you didn't care how much you played your starters as long as you got the win).
But the game was not lost because Kobe didn't play late in the fourth. It was lost much earlier with the Lakers' half-hearted defensive effort. There was an abject failure to hustle back on transition defense, to say nothing of turnovers. Sloppy, sluggish basketball. That's why you lost the game.  
And then Brown had some other lame excuse about how he saw a substitution he wanted to go with. Again, whatever.  
Or there's the idea that Brown benched Kobe because his production wasn't (and hasn't) been great the last few games. This is stupid and I think it's ignoring two key things. The shooting production has dropped off ever since Kobe stopped wearing the protective face mask. Coincidence? I don't know.  Maybe it's just that Mamba, after carrying this team for two months, has decided to pace himself in order to avoid re-injuring his nose.  
But I think Kobe's lower numbers lately has more to do with the addition of Ramon Sessions. Kobe has decided to give the Lakers' new point guard some space to find his Lakers legs, especially now that Sessions is starting. Kobe doesn't need practice ― he knows the plays and his teammates. But Ramon needs as many touches with the starters as possible so that he can gain familiarity with their tendencies.  
We don't have a lot of time here. Kobe has done this over and over. If he sees you have game and can help the team, he will make the message abundantly clear: It's not the Los Angeles Kobes. It's the Los Angeles Lakers. They're here to win championships.
Play your game. He did it with Pau Gasol when he came to the Lakers in 2008. He did it again with Ron Artest (his name back then) in 2009. Why, he even did it this year with Andrew Goudelock.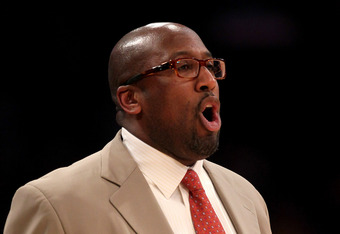 Stephen Dunn/Getty Images
I think the much more interesting idea is Kobe choosing not to engage. Here's what he had to say when asked about the "benching". 
Translation: this is not the hill I wish to die on.
He could have fired back through the media (who would've eaten it up) and caused a full blown controversy. Instead, by choosing not to engage, he pulled a much smarter power move. Metaphorically speaking, he left his arrow in the quiver.
I can take you down Mike. But I choose not to. Do not be surprised, however, if I take said arrow out of the quiver occasionally and turn it over in my hands examining it as I sit in front of my locker. 
Major alpha male move. It's basically: I decided not to take you out even though I could.  
Don't mess with Kobe.  He's three steps ahead of you.
Kobe's only goal this season is ring No. 6. He will do whatever it takes. Every action he takes is informed by that calculus. It's not worth it to stir up a media hornets' nest over a slight, real or perceived.  
But I think there is one other possibility why he held back no one has considered. I think Kobe deliberately avoided letting this escalate out of respect to Mitch Kupchak.  
There is almost no one left from the old Phil Jackson/Dr  Buss regime. It was a draconian house cleaning, Mitch Kupchak is one of the few left with real power. And Kupchak (after being kneecapped by David Stern in the aborted Chris Paul trade) somehow went out and got Ramon Sessions, who has been the missing piece the Lakers need to compete with the new Mike Brown offense. Kupchak unloaded salary and got a true point guard, thereby satisfying his boss Jim Buss and giving the Lakers a competitive advantage.  
I think Kobe knew the minute the Chris Paul deal was killed that this Lakers team had no chance to make it to the finals. Playoffs....yeah probably. But advancing and seriously competing for a championship? No way.
And now? It looks very possible. Not a sure thing, but a much much better chance. Without Kupchak, that deal never gets made.  
So Kobe made the smart decision to avoid controversy and not upstage his coach for the benefit of team unity. The little flourish at the end also showed that he'll decide when things escalate. Not a bad day's work.  
Rule No. 1 of a championship run:  No distractions.