WWE WrestleMania 28: My Predictions for the Show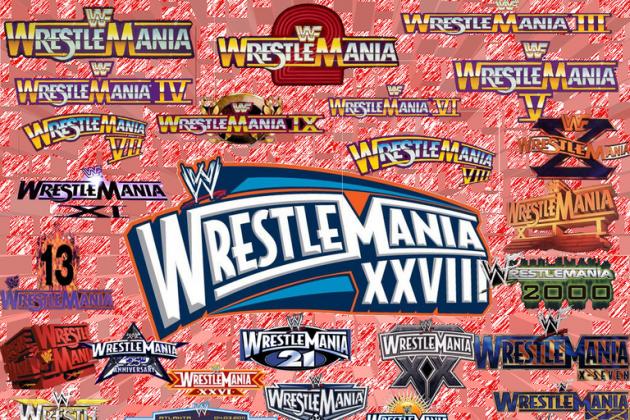 Property of Enigmaticwrestling.com
We are only a couple of days away from the biggest show in professional wrestling's year-long and grueling schedule. Show after show and live event after live event, this is what the wrestlers live for. Furthermore, this is what the fans live for.
A show where everything is put on the line, and many believe this is how they put their names on the map forever intertwined in history.
This year's monumental show is backed up by unforgettable matchups and ones that have been anticipated for even an entire year. That would be the Rock and John Cena as well as the Undertaker's annual battle to hell and back.
It is quite hard to summarize and predict these kind of matches, because anything can happen. Vince McMahon noted in the "True Story of WrestleMania," that all the cards are put on the table in this pay-per-view. On the grandest stage, anything can happen.
For the year 2012, the match listing goes as follows: Chris Jericho vs. CM Punk for the WWE Title, Maria Menounous and Kelly Kelly vs. Eve and Divas Champion Beth Phoenix, Cody Rhodes vs. the Big Show for the Intercontinental Title, Kane vs. Randy Orton, Sheamus vs. Daniel Bryan for the World Heavyweight Title, Triple H vs. the Undertaker in Hell in a Cell with Shawn Michaels as the guest referee, a 12-man tag match with Team Teddy Long vs. Team John Laurinaitis and John Cena vs. the Rock.
Predictions are based on deductive reasoning, pure and compelling logic as well as pure luck. All the variables are put into play during WrestleMania.
Let's dive into the show with the match that I believe will be first on the card...
Begin Slideshow

»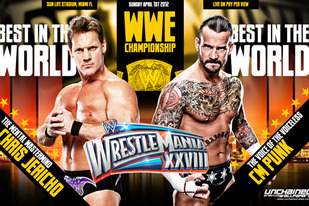 Who is the best in the world?
Jericho and Punk have built this match very well in my opinion. In the image it has Jericho as the "Mental Mastermind" and Punk dubbed as the "Voice of the Voiceless". Both with exceptional wrestling ability and overall star quality.
This match has been a fan's dream for quite some time. It was one of those matches that were like, "what if these guys would duke it out for an iron man match?" The dream match has been anticipated and now is an absolute reality.
If Jericho wins, he will establish himself as the best in the world and there is a definite possibility that the feud will not stop at WrestleMania. As for Mr. Punk, the same rules apply.
Y2J is a definitive Hall of Famer when he is all done with wrestling. He has ruled the pro wrestling world for over a decade and has many championships to his claim. CM Punk just began his reign at the top of World Wrestling Entertainment.
In the end, there has to be a loser, but in this case he won't be down for the count that long.
Prediction: Chris Jericho will prevail in this excellent match. Reason being, WWE can become quite predictable and the next pay-per-view is the Extreme Rules at the Allstate Arena in Chicago, Illinois. That being Punk's hometown, give him the title back at that PPV.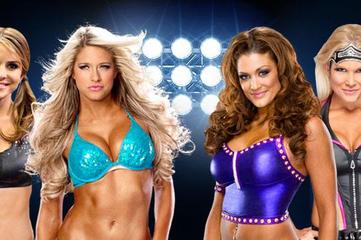 I will be absolutely honest with all of you because I felt that I have earned that respect in the past seven months of writing on this website. This match is a joke to the whole Women's division. If Trish Stratus and Lita were to see this, it would probably make them sick.
That being said, I understand where Vince is coming from when he put this together. You need the celebrity status to sell the program and Menounous is an established celebrity. Eve is riding a heel turn and is finally coming into her own.
Beth Phoenix is self-explanatory, which means she is being insanely misused. Kelly Kelly is a fan favorite and should be performing at WrestleMania.
I just believe in my own personal opinion that McMahon could've used his tools to his advantage. Natalya should be wrestling. That is obvious just by the skill she portrays in the ring and Phoenix should be putting her title on the line.
Sorry for the rant, but I felt it needed to be said. Agree to disagree, the Women's division is being disrespected.
Prediction: Kelly Kelly and Maria Menounous will prevail in this matchup. I'm just going off of what has been done in the past. Menounous with the roll-up pin (as I sigh with disgust).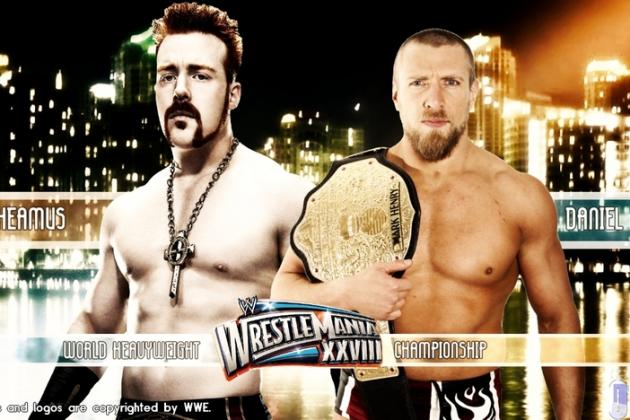 This match might be the most difficult to predict, well disregarding the Rock/Cena match. Sheamus has been on a rocket to the moon over the past few months. His Royal Rumble victory really summed up his rise to the main event in WWE.
I firmly believe that Sheamus, along with Dolph Ziggler on Raw, are the next two mega-stars in the business and the Irish-born former champion will prove that come Sunday as he faces Daniel Bryan.
Bryan himself has put together a string of victories, most coming from the aid of his lovely girlfriend AJ. Just like Edge did with Lita, he uses his valet to gain wins and make the crowd hate his guts. For those who despise the American Dragon, that's the point. He is good at what he does.
Each wrestler isn't solidified at the top of the food chain like Cena, Punk, Jericho and Orton, but with a win in Miami, Florida, they could achieve that and then some.
Expect AJ to be a big factor in this matchup especially nearing the match's end, but again this is WrestleMania, so we might be in for a treat. For all we know, Sheamus could be sweet-talking a diva, maybe even Natalya to come down and take out AJ so the Great White could secure his first WrestleMania victory.
Prediction: Despite all of my thoughts, I have the "YES,YES ,YES ,YES ,YES ,YES ,YES ,YES ,YES," man taking advantage of AJ and pinning Sheamus to retain his title. Reason being, if Bryan loses he could slip to the mid-card where he certainly doesn't belong. As for Sheamus, he can propel himself back up with a title victory at Extreme Rules.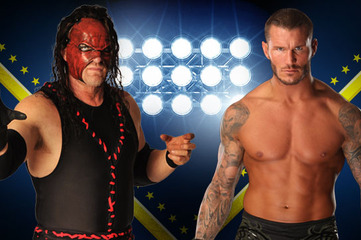 A match that I cannot come to think of a logical reason for it to take place. Maybe it is just to keep them busy? I'm not sure, but if Wade Barrett was to be healthy, replace the Big Red Monster.
Anyway, I haven't thought about this match too much, because it carries significance to any storyline or have further implications to either man's career except in the wins and losses column. Come on, though, neither of them have the abysmal Big Show WrestleMania record.
There have been rumors swirling about a wrestler calling it quits for a while after this year's big event. Is it Big Show or Kane? Chances are it will lead to my prediction for this match.
Prediction: Randy Orton will reign supreme in this match over the Big Red Monster. If it is Kane that will step down, then he needs a much deserved rest. Let's say SummerSlam or even Survivor Series of this year, if Orton is the champ of Smackdown then maybe Kane can return for one last title run.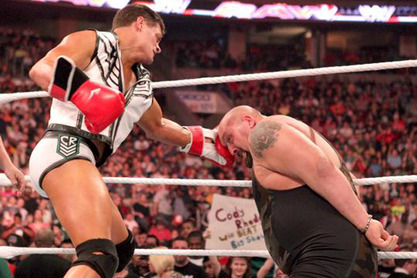 Definitely another match I'm looking forward to is the rising star Cody Rhodes vs. the winless WrestleMania wrestler, Big Show. Man, what ever happened to the dominant Paul Wight? He seemed to be knocked senseless by Floyd Mayweather and fell to obscurity.
That punch by Rhodes is what happened to Show's career after his dominant tag-title runs with Chris Jericho and the Miz. Imagine that, he became as relevant as the tag-titles currently. I'll give you his very brief nine second title run and his feud with Daniel Bryan was pretty good.
Cody is on his way to greatness very slowly and along with Ziggler were built up the proper way. Nothing has to happen as fast as Sheamus, because Rhodes will be ready soon and will continue to be a force in World Wrestling Entertainment for years to come.
Big Show just doesn't have it anymore. He hasn't won at WrestleMania, and that will continue this Sunday. He is used to build up younger stars, hence Bryan and now Rhodes. Honestly, I have tons of respect for the man, just not he confidence to pick him in this match.
This match is somewhat obvious, but then again, predictability often times gets thrown out of the window for WrestleMania.
Prediction: Regardless, I see Rhodes retaining his belt and prolonging his title reign until it is relevant once again just like it used to be.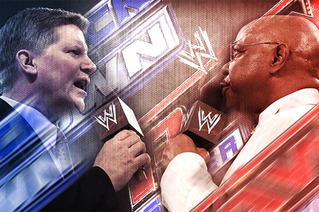 The winner of this match will gain control of both Raw and Smackdown. It could either be John Laurinaitis or Teddy Long. Both generate emotion—mostly bad, however. Ace is good at making you hate him and Long knows how to set up tag-team main events.
All jokes aside, this match has the potential to be really good.
Team Teddy consists of captain Santino Marella, R-Truth, Kofi Kingston, the Great Khali, Zack Ryder and five-time, five-time, five-time champion Booker T. As for Team Ace we have the captain David Otunga followed by Jack Swagger, Drew McIntyre, Mark Henry, Dolph Ziggler and the Miz.
There is certainly star power throughout the match, and Miz, Ziggler and Kingston highlight the group. Two coming from Ace's team which is destined for greatness. By that I mean a victory and Laurinaitis' ultimate control of WWE programming.
The feud between these two businessmen has been nothing short of exciting. Maybe I'm just not that picky, but both have generated a hatred out of each other and got people like Otunga and Marella on TV for large amounts of time.
Ace proved he could work it on the main stage. He was entangled in the main event with HHH and Punk earlier in the season. Long has been flirting with Aksana for the past few months before the initial feud began.
Prediction: That should be enough reasoning to pick Laurinaitis' team to pick up the victory. I just feel that if Ziggler and Miz lose that would crush any kind of momentum. Plus it makes sense because Ace is a good bad guy. Killing his TV time wouldn't make sense for the company and future storylines.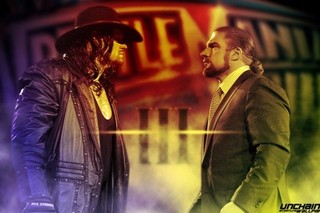 An end of an era.
These two men have been gracing the stage for as long as I can remember, and each time I changed the channel, I expected to be watching the Undertaker or Hunter Hearst Helmsley cutting a promo or wrestling for a belt.
An historic past shadows these two combatants in a way that many cannot replicate or even get close to in their lifetime. The Undertaker comes into this match with an unprecedented 19-0 and just one win away from the historic 20. Only one man is standing in his way, one of which he has defeated two other times.
That man is Triple H.
The man behind the suit currently is Paul Levesque. He defined the ruthless aggression era and played a major role during the era of attitude with his famed group Degeneration-X.
Both have reasons for winning and the Undertaker seemed to get under HHH's skin three weeks ago. He claimed that HBK is better than HHH, which means he cannot defeat him.
In comes Shawn Michaels with an intervention of sorts as the special guest referee for the legendary third battle. It can go three ways. One will be screwing over HHH by siding with Taker proving that HHH cannot win. He can screw Taker to bring back DX and prove friends are more important.
Alas, the third option is to call it right down the middle.
All of you know as well as I do that sometimes it just doesn't feel like Taker will win. I believed Michaels was going to win at WrestleMania 26. I firmly did, but WWE made me laugh at myself for betting against the Deadman.
I'm certain of one thing: this will be a match to remember and could lead to something even bigger and better—perhaps at next year's WrestleMania...
Prediction: Undertaker will claim his 20th victory at WrestleMania, but with the help of Shawn Michaels. This will lead to a back and forth with HBK and HHH the following night, setting up a match between HBK/HHH at WM29. That is as bold as they come. I stand by it.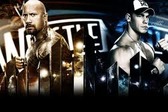 The headline of WrestleMania 28. The main event that was built and set a year from this point in time. The match where everything stops and two era's are defined by the men who defined them.
Dwayne "the Rock" Johnson vs. John Cena.
John Cena is a man of passion who wears the WWE on his sleeves every single day. He isn't the greatest technical wrestler in the business but busts his rear to get better. His promo work, as of late, is excellent even for my high standards. His relationship with Rock isn't the best off camera, which makes this match personal.
Johnson, a WWE Hall of Famer, is the most electrifying man in all of entertainment and captures the fan's gaze. He can roll you in and spit you back out, which will always keep you crawling back.
I've noted in the previous slides that is was quite hard to predict some of the matches. Daniel Bryan vs. Sheamus could go either way and even CM Punk vs. Chris Jericho had some difficulties in endings.
In each of their promos this past Monday night on Raw, they gave some of their reasons for winning this Sunday. Rock said he needed to beat John Cena to finally claim that he is the best WWE Superstar of all-time. Cena needs the victory because he doesn't want the Rock who departed from WWE years ago to come take his life away from him.
How do you argue with either of these men?
Obviously, most fans have their favorites whom they will back up through thick and thin. In my previous article about Rock and Cena, a few comments were just backing up Rock and throwing Cena under the bus.
One man did point it out directly. He claimed that if there was one match to "mark" out on, it was this one. I had no choice but to agree with him. The result can go either way.
Prediction: This is the hardest prediction I had to make since Cena vs. Punk at Money in the Bank. I am going to take the Rock. Something tells me that Vince has something up his sleeve. I can't provide more reasons because I am literally out of them. I have one piece of advice for everyone:
Be a fan and enjoy the wrestling spectacle.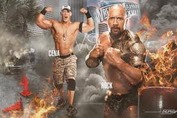 Thank you all for enduring my predictions today. I greatly appreciate all of the reads and comments that I receive from this article. Who do you think will win each match?
Drop me a comment below. Have a great Friday and enjoy WrestleMania this Sunday!