Purdue Boilermakers Football: 8 Things to Watch for in Spring 2012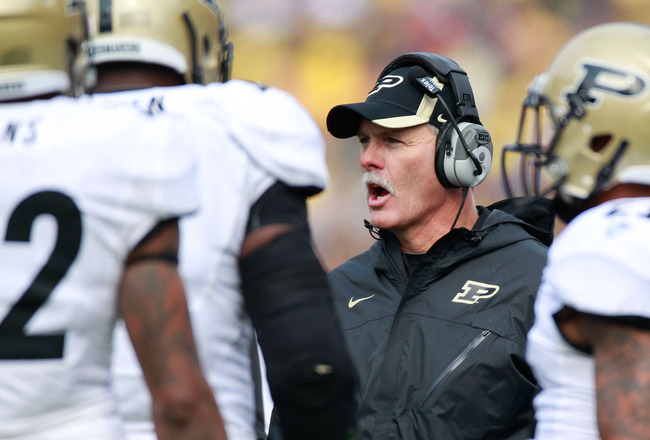 Gregory Shamus/Getty Images
After earning their first bowl berth since 2007, the Boilermakers are looking to improve on a 7-6 season and potentially make a surprise run at the Big Ten title.
The Boilermakers will be returning their leading passer, leading receiver, and several key defensive players, and are looking to be one of the best Purdue teams to have been produced under head coach Danny Hope.
Here are some key things to look for this spring for the Purdue Boilermakers.
Who Will Emerge as the Starting Quarterback?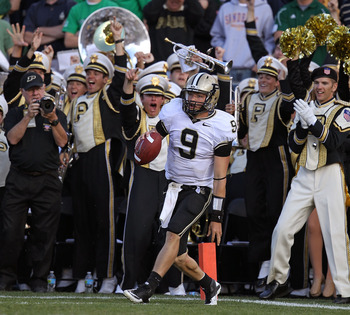 Jonathan Daniel/Getty Images
Going into the season last year, sophomore Rob Henry was set to be the starter at quarterback before he suffered a torn ACL.
After the injury to Henry, Caleb TerBush became the starter at the quarterback position, but by the end of the year, the time at quarterback was split between him and Robert Marve, with Marve attempting 109 passes and TerBush attempting 277 passes.
With Rob Henry returning to the team this season, it will be interesting to see if he can also return to his role as the presumed starter.
Robert Marve, the sixth-year senior, seems to be back to top form after several injury plagued seasons weighed down his collegiate career, and Caleb TerBush did much more than was expected of him last season and assumes that he has secured the starting spot.
It seems like Danny Hope would like to use Rob Henry for a Wildcat-type of offense and another quarterback to be used in a more traditional sense.
It will be interesting to see how the offense responds to this new style, and who will emerge as the starter at the quarterback position.
Who Will Be Available at Running Back?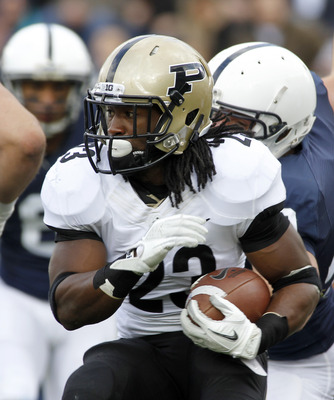 Justin K. Aller/Getty Images
Last year, the Boilermakers were 33rd in the nation in rushing and relied very heavily on their rushing attack.
This year they will potentially be returning both of their leading rushers—that is, if leading rusher Ralph Bolden can return from his third ACL tear, which he suffered at the end of last season.
Bolden rushed a team-leading 148 times for 674 yards and 6 touchdowns.
Behind Bolden was Akeem Shavers, who rushed 111 times for 519 yards and 6 touchdowns.
It will be interesting to see whether or not Bolden will be able to rush effectively, since he was just beginning to regain his form last season when he tore it again, a year and a half removed from his last ACL tear.
If Bolden can't play this season, or if he is not as effective as he was, it will be interesting to see how Akeem Shavers can handle the burden at running back and if he can bolster the rushing attack that Purdue needs to effectively run their offense.
What Effect Will Tim Tibesar Have on the Defense?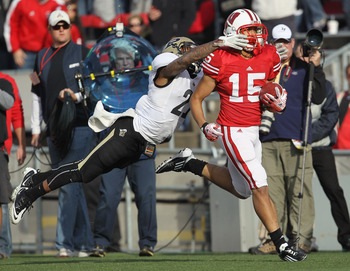 Jonathan Daniel/Getty Images
This year, Purdue brings in Tim Tibesar as the new defensive coordinator.
Tibesar has spent the past few years in the Canadian Football League where he produced one of the league's best defenses.
Coach Danny Hope is excited with Tibesar's experience with coaching on the wider Canadian fields, and hopes that the experience will translate to defending against the spread offense.
It will be interesting to see whether or not Tibesar will be able to use his experience in the CFL to help to energize the Purdue defense, which had its fair share of poor performances last year.
How Well Can the Offensive Line Play?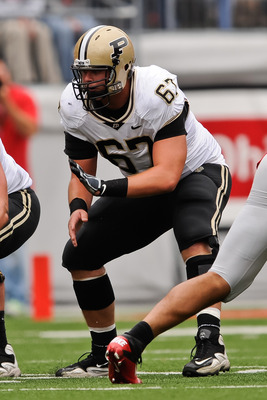 Jamie Sabau/Getty Images
The Boilermakers lost two of their starting lineman to graduation and now have to fill their spots. It will be interesting to see who will show that they are able to replace the experience that they lost on the line.
Coach Hope has said that Richard Schmeig is going to play center or some guard, Kevin Pamphile is going to play left guard, and Cody Davis will be playing at right guard.
The offensive line is very important to Purdue, since it will largely determine how capable their rushing attack can be this season.
How Will Bruce Gaston and Kawann Short Develop?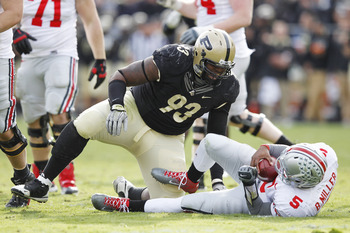 Joe Robbins/Getty Images
Junior Bruce Gaston and senior Kawann Short, an All-Big Ten selection last season, will return this year to anchor the Purdue defensive line. Last year, they were able to bring a surprising consistency on the defensive line that the Boilermakers needed in the absence of Ryan Kerrigan.
This year, with Kawann Short deciding to forego the NFL Draft and stay for his senior year, it will be interesting to see if the two will be able to develop into a defensive force in the Big Ten and sustain their development.
What Will the Safety Position Look Like?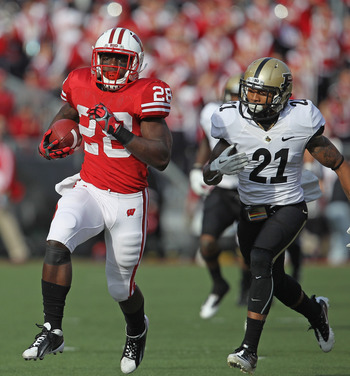 Jonathan Daniel/Getty Images
The Purdue secondary could go either way this year.
They are returning starting cornerbacks Ricardo Allen and Josh Johnson, but they now need starters at the safety position after losing Albert Evans and Logan Link to graduation.
It will be interesting to see who is going to earn the starting spots available at safety, and whether or not Coach Hope will look at moving over one of his returning cornerbacks to potentially strengthen the safety position.
How Can the Boilermakers Deal with Injuries?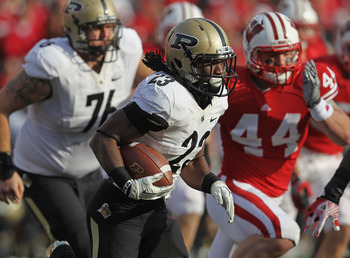 Jonathan Daniel/Getty Images
Purdue starts this spring with very little depth in their roster.
Coach Danny Hope stated that Purdue has about 15 players out, including about 10 starters.
Obviously, Purdue is not going to be able to play up to their full potential if they don't have all of their starters.
It's going to be interesting to see who is going to be able to play for Purdue this season, and how those injuries are going to affect Purdue's season in the long run.
How Can Carlos Carvajal Contribute?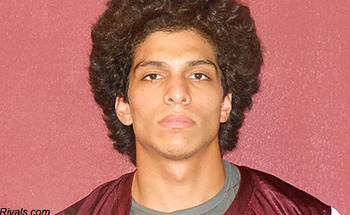 Rivals.com 2011-09-08 05:00:00
This year will be the first season for Carlos Carvajal.
Carvajal was originally in the class of 2011 but attended prep school and joined the team in the winter. He's one of a small number of four-star recruits that Danny Hope has landed in his time at Purdue, so there are some large expectations for him.
Carvajal is a 6'7", 215-pound tight end who could potentially be a huge part of the offense, depending on how well he can play this spring.
Look for Carvajal's development and how comfortable he looks in the offense.
Keep Reading

Purdue Football: Like this team?