2012 NBA Free Agents: Power Ranking This Summer's Biggest Buyers
March 27, 2012

Chris Chambers/Getty Images
The 2012 NBA free agency class certainly isn't going to be the most anticipated one in recent memory, but there are a number of good players who will be hitting the open market and will be available for the right price.
Deron Williams, Steve Nash, Eric Gordon, Ray Allen, Nicolas Batum, Ryan Anderson, Tim Duncan, Kevin Garnett and Roy Hibbert are just a few of the big-name guys that may find a new home this summer.
Which teams are most likely to snatch up these stars?
Let's take a look.
*Salary Figures from HoopsWorld.com
Boston Celtics
The Celtics know the Big Three era is over in Beantown, and it's time to reload.
They completely whiffed on many of their offseason moves in 2011-12 and are extremely unlikely to seriously contend in the postseason.
Fortunately, they only have $35.5 million of payroll on the books with an expected cap to be at or above $58.044 million.
Paul Pierce and Rajon Rondo will be the two key players to build around, and they are almost guaranteed to be looking for a few bigs this summer.
Expect them to splurge on some younger players as they start the rebuilding process.
Cleveland Cavaliers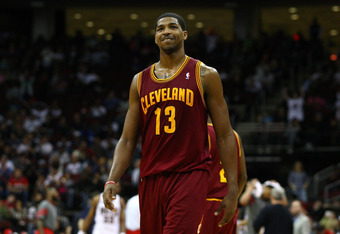 Chris Chambers/Getty Images
Owner Dan Gilbert wants nothing more than to win a championship before LeBron James does down in Miami. He can't even start dreaming about that until this offseason when his team is only paying a handful of players $31.6M next year.
This means the Cavaliers have a ton of spare cash to dish out to impact free agents that will fit around Kyrie Irving, Tristan Thompson and Anderson Varejao.
Look for them to make a run at a few veterans to round this team out and get it back in the postseason.
New Jersey Nets
If the Nets lose Deron Willams, they will have an extremely large amount of excess cap room and they will be desperate to use it to bring in some star power for the move to Brooklyn.
Unfortunately, there are no bigger stars than D-Will, and the team will have to settle on lesser players for the transition.
It's not a desirable circumstance, but owner Mikhail Prokhorov certainly isn't afraid of making brash decisions, and this team has a chance to pull off something wild.